Whipstitch Sewing Cafe Opens in North Providence
Whether you're an experienced sewer or would just like to try it out, a new cafe has machines you can rent and a library dedicated to crafts for inspiration.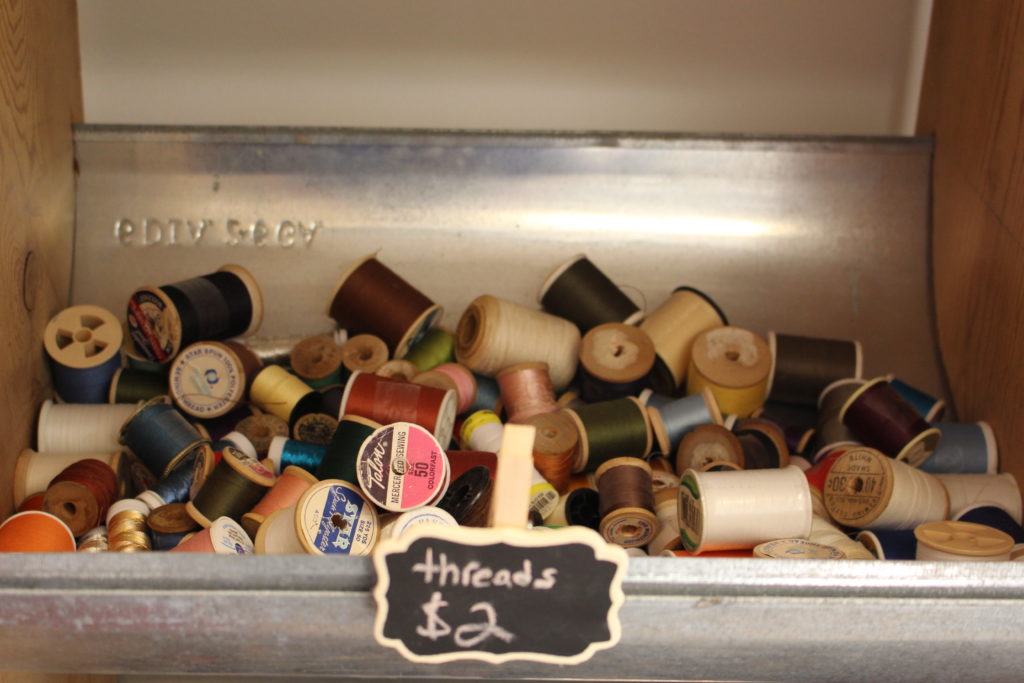 When Stephanie Simas was growing up in Providence, she'd skip out of school a little early and head down to the cathedral to work on arts and crafts. And when she was getting married years later, she and a friend at the dental office where she worked closed the office door at lunch and made her wedding veil.
She and her husband have always liked making things for themselves. Now after two years of planning and collecting, Simas has turned her passion for crafts into a business: the Whipstitch Sewing Café.
"The whole idea came from my grandmother," Simas says. "She was a thrift shopper and she would take me when I was a little girl. We'd go to all the thrift stores and the churches and the shoe auction. My other grandmother, my father's mother, was Portuguese, and she sewed and crocheted. That's what she did all day long. So this is basically them, all wrapped up in one."
The café is designed to be a place where people who might be afraid to try sewing can give it a chance. Simas says she's found a lot of wannabe crafters out there. She took a sewing class at RISD and discovered that a lot of people found sewing difficult.
"You find out a lot of people don't want to waste their money on a sewing machine or a class if they're not going to like it, so I thought wouldn't it be great if someone could just give it a try for a small fee. And if they're over it, they're over it, but if they love it, it inspires them to start sewing."
The front room of the café features row of sewing machines, three specially designed for beginners and two vintage machines for more advanced sewers. For $6 an hour, people can rent a machine, and get a free cup of coffee or bottled water.
There's also a library in the back with vintage books and magazines that Simas has collected, such as the series "Stitch by Stitch" and old copies of Threads and McCall's magazines. She's also selling thread, buttons and fabric she's collected from her searches, such as bridal lace for $4 a yard. Almost everything in the store has come from the couple's home, their garden, treasure hunts or something they made themselves.
"We really want people to understand that they can come here and feel comfortable, like they're at home. They can eat and they can drink. I'm a people person and I want people to enjoy being here."
Simas also plans to host parties for all ages. Children's parties would involve making aprons and decorating cakes. Teenagers can make a necklace pouch and adults can make pillows at their parties. All the materials are supplied as part of the cost and the attendees would also each get a mini cheesecake made by her husband, and the option for coffee or wine at the twenty-one and older party.
She also encourages established craft groups to consider holding meetings there. Simas points out that the café is on the way to Lorraine Fabrics in Pawtucket, a popular destination for crafters.
The café also has some outdoor seating for the warmer months, and they are planning to expand the offering beyond coffee, bottled drinks and packaged snacks into sandwiches and salads as the business grows.
The Whipstitch Café is open Tuesdays through Saturdays from 9 a.m. to 7 p.m. and closed Sundays and Mondays (though they are holding parties on those days.) 1006 Charles St., North Providence, 401-305-8576.