Where You Can Meet a Zedonk in Rhode Island
The rare zebra and donkey hybrid is the main attraction at this exotic animal menagerie.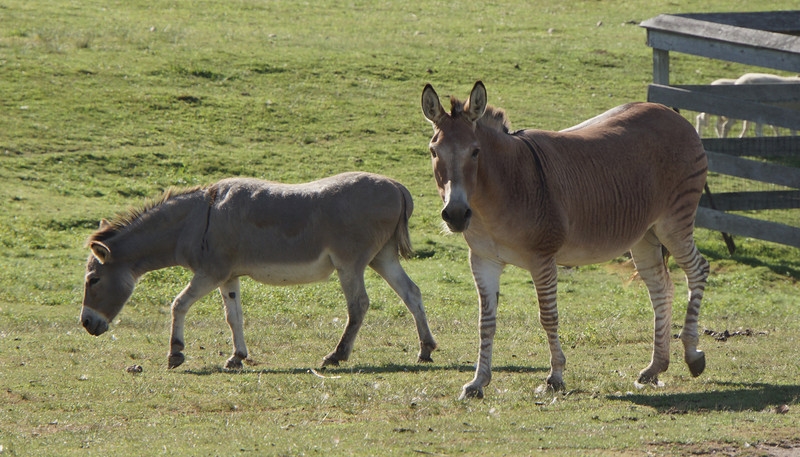 Ever heard of a zedonk? It's a zebra/donkey hybrid and you can see one thirteen miles out to sea at Abrams Animal Farm on little Block Island.
Visitors to the island are often surprised to find an exotic animal menagerie in the most unlikely of places, behind the Hotel Manisses on Spring Street. You might not even know it was there unless you followed the sounds of excitement coming from crowds of families with small children. "It is such an open area, and they can see the animals without paying, besides $1 for a cup of grain for feeding," says Rita Draper, daughter of Justin Abrams, who started the farm. "People are amazed to come to an island and find something so unique."
The farm was started by animal-lover Justin Abrams in the early-1970s with a single goat behind the 1661 Inn, explains Draper. After the goat, he welcomed cows and llamas, and then they made room for Sicilian donkeys and Australian black swans. Next came Scottish Highland bulls, kangaroos and camels. Now they have enough animals for a small zoo, including three lemurs, two camels Rusty and Lucky, a giant tortoise named Tank, alpacas, a miniature horse, Justice the yak, lots of fowl, a Zebu, an emu and the famous one-eyed zedonk, Cindy.
Cindy was born in 2003 as a result of the intentional pairing of a zebra stallion and a donkey mare. Like most hybrids, Cindy will never produce young and her missing eye is due to a birth defect, possibly the result of being a hybrid. The hybridization of zebras began at the Colchester Zoo in England in 1971, when a zebra stallion accidentally paired with a donkey mare. As you can see, Cindy loves hanging out with her cousins, the Sicilian donkeys.
Tank the Tortoise can live another 150 to 200 years.
"We were very fortunate to have her because there are only 200 in the United States, because they are crossbred," says Rita Draper. "A friend heard there was one in Rhode Island that was looking for a home and we were very lucky to come across it."
Some of the animals have come from the Southwick Zoo in Mendon, Massachusetts, but the camels came from Amsterdam, New York and Tennessee. The camels spent the winter back in Tennessee for obedience training, though they were never unruly; the family just wants to raise them properly, and winters on Block Island are typically harsh.
Abrams Animal Farm also has an on-site vegetable garden, and they collect produce and eggs from the chickens to use at their restaurants at the Hotel Manisses and 1661 Inn. Fibers from the alpacas and other animals are collected by North Light Fibers, and made into handwoven yarn for sweaters and scarfs. You can also purchase the yarn on-site at the mill located in the center of the animal farm. Take home a souvenir spool of yarn and knit a favorite accessory of your own.
The fourth-generation family farm continues with Rita's son, Seth, who helps take care of the animals and is building an aviary for the birds. Her nine-year-old granddaughter helps out, too. "She loves getting eggs in morning for breakfast and petting the kangaroos," says Draper. One Spring St., Block Island, 401-466-2421, blockislandresorts.com/accomodations/hotel-manisses-2