Where Are They Now: Anne Bogart
We caught up with Trinity Rep's most controversial artistic director.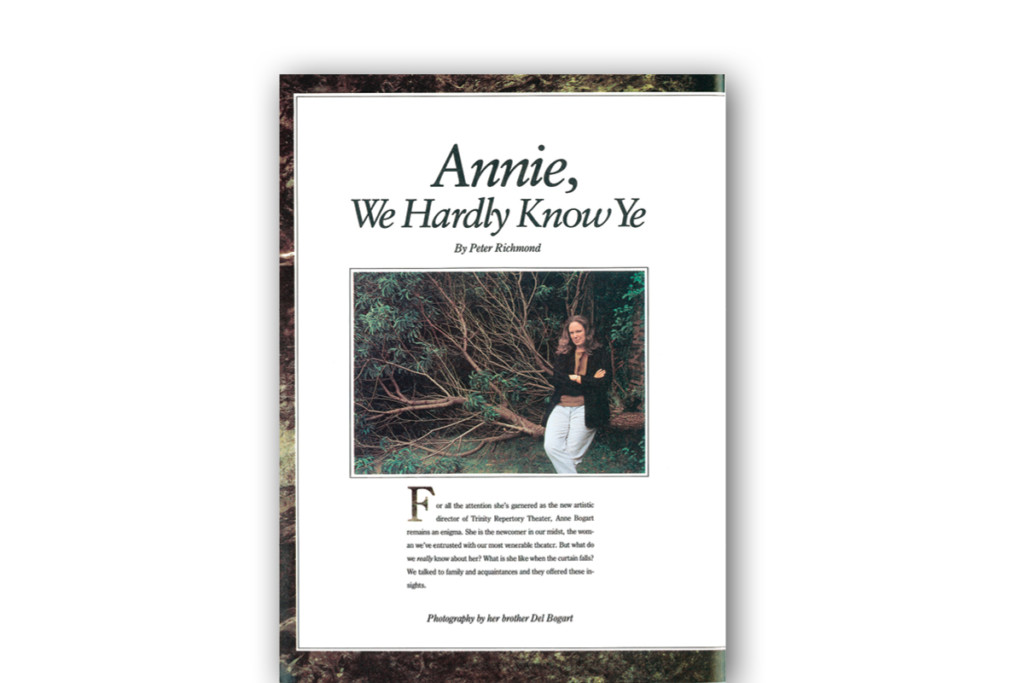 When we featured Anne Bogart in the fall of 1989, it was her first season as Trinity Rep's artistic director. Turned out, her controversial choice of plays didn't sit well with some audiences; Trinity also had longtime financial woes. When the board cut her budget, Bogart abruptly resigned and moved to New York, where she cofounded the Saratoga Theater Institute and won two Obies. This fall, she'll direct the Boston Lyric Opera's The Handmaid's Tale.
You were born in Newport and went to Middletown High School.

 

What was it like growing up here?
I remember being part of Project Discovery and going, for the first time, to see professional theater at Trinity Rep and being won over by the experience so much that I resolved, at fifteen, to become a professional director. I was the directing assistant for most of the productions during high school.
Do you come back to visit? What changes did you notice?
I always felt that I would be escorted to the border by the Rhode Island police if ever I returned. I realize that's an exaggeration, but it is how I imagine it. I was so sad to leave Trinity Rep because I truly loved Rhode Island. The one time that I've been back I was astonished by the transformation of Providence into a beautiful cosmopolitan city. 
What do you remember from your time at Trinity Rep?
Since leaving, I have often met Rhode Islanders who tell me that my season at Trinity was their very favorite. I am proud of the season that we put together and the lively responses that the productions engendered. I was inspired by the acting company and the culture and history of the theater. I learned from both.