When You're Not Eating
Sure, you may journey to the Hill for the food, but there's plenty to do after your carb load.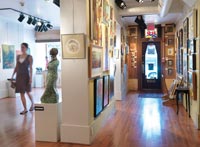 1. Slice and dice.
Hill fixture chef Walter Potenza begins his twelfth year of hands-on cooking classes this month. These one-night classes ($75 per person) focus on specifics: whole sessions are dedicated to things like risotto, terra cotta cookery and seafood from the Ligurian Coast. 286 Atwells Avenue, 273-2652, chefwalter.com
2. Get your palm read.
At Lilly's Astrology Readings, Lilly will spell out your past, present and future for $20. She's been perched on Atwells for ten years, but her practice started back in childhood when her grandmother, also a psychic, helped her develop her gift. 228 Atwells Avenue, 276-0333.
3. Listen-up, old-world style.
De Pasquale Square becomes a Florentine piazza Sunday evenings in July when singers from Opera Providence perform an all-Italian program as part of the free Opera on the Hill series. If you missed it this year, don't fret; the company moves to the nearby Columbus Theatre in the fall. 331-6060, operaprovidence.org
4. Take in some fine art.
Photographer Bérge Ara Zobian opened Gallery Z to highlight both emerging and established artists. Zobian is of Armenian descent, and the gallery regularly shows the country's artists and artisans. Check out "Armenian Artists" through October 13, or head to the more local "Rhode Island Latino Artists" October 16 to November 10. 259 Atwells Avenue, 454-8844, galleryzprov.com
5. Sip vino.
Every Saturday at Gasbarro Wines, owner Mark Gasbarro hosts free wine tastings where you can sample four to six of the store's 1,800-plus wines. He puts out new vintages or bottles he's excited about. And if you fall in love with one of them, he'll give you 10 percent off a case. 361 Atwells Avenue, 421-4170, gasbarros.com
6. Burn off that fettuccini carbonara.
Every Saturday at 11 p.m., Mediterraneo's second floor transforms into a dance club where you can move to the rhythms of Latin America and Cape Verde. 134 Atwells Avenue, 331-7760, mediterraneocaffe.com