Wheeling and Dealing – Food Trucks
Food trucks are gaining more and more popularity in Rhode Island, and while Providence embraces them, there's an escalating rivalry among some restaurants and trucks, and sometimes even the trucks themselves.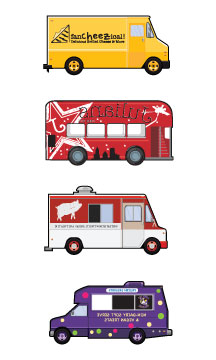 The clock ticks to noon on a late summer Thursday, and six food trucks are lined up in front of Burnside Park across from Kennedy Plaza. Orange, red, yellow and white vehicles are tricked out with kitchens, walk-up windows and modern logos. They serve everything from L.A.-style tacos and gourmet grilled cheese sandwiches to French and Korean cuisine. The sleekest is mobile French bistro Plouf Plouf Gastronomie, red with a rooster logo, fancy lighting fixtures and a retractable awning. Mijos Tacos is bedecked with stickers promoting tattoo parlors and equality.
Men in shirts and ties and women in business casual approach the brigade, forming lines that are six deep. Operators swipe credit cards on iPads and hand out change for $10 bills, then they give numbers for kimchi dumplings at Mama Kim's or call names at Rocket for sliders. Groups split up to order different options, then carry lunch back to the office. Others take seats at tables and chairs inside the park. It's like a food court. Except it's outdoors. And it's mobile.
While the gourmet food truck scene has already exploded across the nation, Providence was the first city to host a mobile vendor. Haven Brothers Diner can be traced to 1872 when Walter Scott served from his horse-drawn lunch cart. It evolved into a truck that earned a permanent spot next to City Hall, rolling in every afternoon to serve Murder Burgers until the early morning hours.
Today there are more than forty licensed food and beverage peddlers in Providence, according to the city's Board of Licenses. That includes everyone who works on the trucks. Chez Pascal's Hewtin's Dogs Mobile began selling housemade sausages in 2009. Then the Julians omnibus catered events. Soon after that, Brown University graduate Hyun Kim and his mother, Sook, launched Mama Kim's. Now they have two trucks: one for College Hill and one for downtown. Hyun says business has been so good that next year, they plan to open a storefront in Providence. Poco Loco, another successful taco truck, already opened a restaurant in Edgewood.