What's It Like Atop the First Unitarian Church?
This tour awards prime access into the state's hidden places.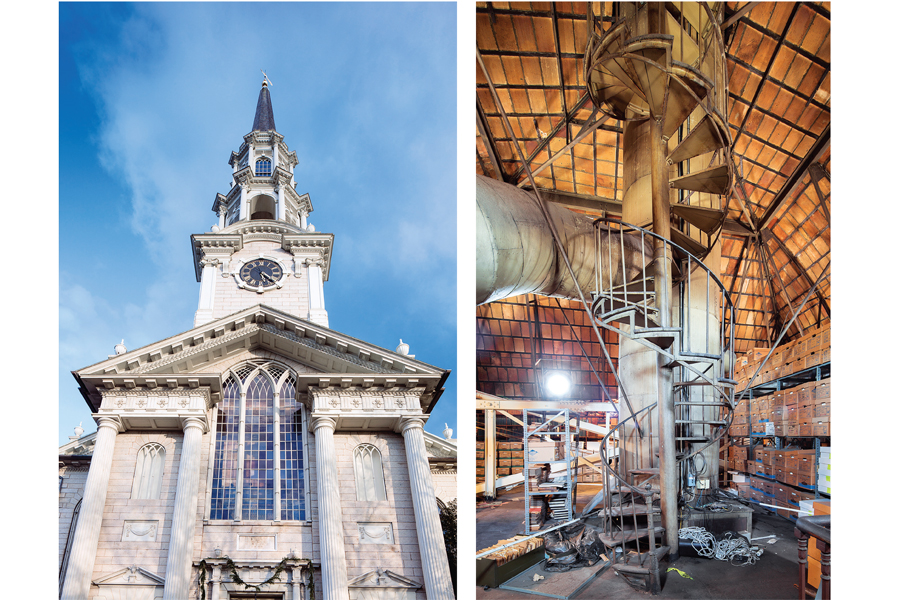 "Up" is the only word I can think of as I breathe deeply and climb the soaring steeple of the beautiful, white First Unitarian Church of Providence. After meeting the friendly staff of the church, Caroline Stevens, director and founder of Doors Open Rhode Island, and I begin our ascension alongside tour guide Jaime Durango, the church's building manager.
Behind every door is a story, and Doors Open Rhode Island's program series allows people to explore secret sites — places that might include the attic of Providence City Hall, a storied mansion on the West Side of Providence and a Woonsocket church that has the largest collection of fresco paintings in North America. Stevens, in partnership with community and cultural organizations, is opening doors for behind-the-scenes chances to learn more about the state's forgotten past.
"I'm the matchmaker between people and places," she says.
We walk through the church and admire the size of the dome. Later, we will stand on top of it. From the main area, we open a door and scale a wooden staircase. Once we get to the steepest part of the tight quarters, there are large planks nailed together in disorganized ways making our journey all the more challenging. The final steps lead to the largest bell forged by Paul Revere and Son that sits within the steeple of the church. They are the narrowest stairs I've climbed in all of my twenty years.
I ponder the height, the view and the history, absorbing it all at once while looking down below. On my descent, I think about what I just experienced. Back on the ground, I look up at the steeple; I was just all the way up there. Now whenever I see the church on the corner of Benevolent and Benefit streets, I'll have a memory of the view I'll always remember.
The program series will be announced on the Doors Open Rhode Island Facebook page and through its mailing list. Explore Barnaby Castle on January 28 from noon to 3 p.m. A Doors Open Festival will also unlock twenty doors all over Providence for an open house the weekend of September 23. "We want to boost civic pride," says Stevens. "Once you have access to these places, then you care more about them." doorsopenri.org
Left: Peek inside the storied mansion, Barnaby Castle, in Providence on Jan. 28. Right: Explore Providence City Hall's archives, including the 1648 charter and early town records.