What's in a Name?
The "State of Rhode Island and Providence Plantations" was founded on the principles of freedom. Now that name suggests slavery and it's time to change it.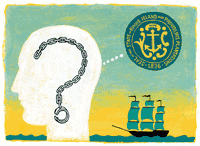 Slave monuments are common in the South; Rhode Island has but one. It's an uncut chunk of quartz, leaning in the farthest corner of Prince's Hill Cemetery. On its rough white face is a bronze plaque inscribed with the thanks of a grateful town: "In memory of the slaves and their descendants who faithfully served Barrington's families." The memorial was erected in 1906 by Thomas W. Bicknell, whose antecedents lie before it in straight rows of polished gray granite.
The Bicknells were among New England's earliest European immigrants, first settling in Weymouth, Massachusetts, in 1635. Thomas Bicknell, of the Barrington branch, was an eighth generation American and a celebrated son. An educator, lecturer, publisher, historian and relentless organizer of societies and organizations, Thomas Williams Bicknell was the type of nineteenth-century man for whom the term indefatigable was coined. As a twenty-something Brown University junior, he was elected state representative. Bicknell went on to become Rhode Island's commissioner of public education, to found the New England Journal of Education and to head the National Education Association. (These are slender slices of a career of civic hyperactivity.)
When Bicknell was born in 1834, slaves were still counted in the state census. His ninety-one years of life spanned the Civil War, and his family had once owned slaves. But Bicknell himself was a reformer. His first speech before the General Assembly urged the abolition of separate Negro schools. He launched Booker T. Washington's speaking career by inviting him to address the NEA in 1884. And yet, Bicknell's chronicles of Rhode Island slavery are fantastical, to say the least: "The Narragansett country was the slave paradise of the Northern colonies," he wrote in his five-volume opus of Rhode Island history. "Every farm had its quota, and the family life of the slaves was recognized and protected. Labor indoors or out was not excessive, the relation of master to slave was kind and humane, and punishments for offenses were usually mild and corrective. The social and convivial life of the masters, mistresses and young people was communicated to the servant class and the natural happy-go-easy spirit of the slaves was made more joyous by the examples of their superiors."
No historian today would cast slavery in a rosy glow. But how we remember slavery in Rhode Island is less settled. This session, for the third time, Joseph Almeida, a state representative from Providence and chairman of the minority legislative caucus, introduced a bill to drop "and Providence Plantations" from the state name. Rhode Island and Providence Plantations, on everything from buildings to checks, was granted by royal charter in 1663. "Plantations" literally referred to the farms of the mainland. That mouthful makes Rhode Island the smallest state with the biggest name—people love the irony. There is another irony in a state founded on the principles of freedom saddled with a name that now connotes slavery. This irony, Almeida doesn't love so much. And he bristles at critics who suggest that the House Finance Committee, which presides over the bill's ultimate fate, has more important matters to consider.
"There is no right time for civil rights; every time is the right time for civil rights," he says. "When can I bring it up? I'm not going to let this go. Eventually, somebody is going to listen."
New Englanders tend to be deaf to the region's story of slavery, says Joanne Pope Melish, a University of Kentucky historian and author of Disowning Slavery: Gradual Emancipation and 'Race' in New England. The myth of happy slavery—that Northern slavery was more like having servants than owning human beings—persists today, she says. But New England slavery was qualitatively little different from that of much of the South.
The first black slaves arrived in Rhode Island eleven years before the colony adopted its official name. Although Rhode Island originally had a law prohibiting slavery, it was legalized in 1715, and by the mid-eighteenth century, had the third highest number of slaves in New England. Rhode Island also had the highest proportion of slaves to whites, making the slave control laws particularly severe. In South County, slaves provided the work force for large-scale farming. Newport, Providence and Bristol prospered as active slave ports and served as major enablers of Southern slavery. The economical and political effects of the American Revolution ushered in the end of Northern slavery. In 1784, Rhode Island's gradual emancipation freed the children of slaves born after the law's enactment, but only after another twenty years of enforced service.
Those are the facts. History is definitely more elusive.
"Historical memory is never static," says Yale University historian David Blight, author of Race and Reunion: The Civil War in American Memory. "It changes with time; it changes with assumptions, with politics and culture. Sometimes it changes with who is remembering and what one is remembering."
America argued for decades over the name of the bloody conflict that nearly sundered it. There are more than thirty of them, including "The War of Northern Aggression," "The Great Rebellion," and Blight's favorite, "The Late Unpleas-antness." The South still struggles with this burden of public memory and every attempted erasure of the Confederacy is hard fought. In 2000, Louisiana State University changed the name of a campus cafe from the Plantation Room to the Magnolia Room and drew charges that the administration was eradicating its "Southern heritage."
Rhode Island's reckoning has been slow to begin. Legislators have been filing various versions of this bill since 2000. The opposition, which keeps the meaning of "plantations" safely suspended in Colonial amber, has kept the bill confined to committee.
"When we look at changing the state's name, to me, it's a fundamental issue," says Representative Carol Mumford, an educator and ranking member of the Finance Committee. "I believe historically, ["plantations"] is an accurate description of the origins of our state. I totally understand the negative connotation, but it has nothing to do with our origins."
The Univocal Legislative Minority Co-alition, a group of more than thirty-five Hispanic, African American, Native American and Asian organizations, is determined to push the issue to a statewide referendum. Ramon Martinez, CEO of Progresso Latino, favors a large-scale media campaign to educate and persuade the public. Younger coalition members, such as Domingo Morel, a thirty-one-year-old academic adviser at URI, are eager to begin.
"It symbolizes something that is not a pretty thing in our past as a nation," he says. "And we still haven't really healed in our state. But we are trying to get individuals to have this conversation."
Surely the dialogue will be robust—even historians don't agree. Christian McBurney, a Washington, D.C., lawyer who has written about Colonial-era slavery history, suggests a more modest compromise: "Perhaps Rhode Island should apologize for slavery. About six states have done that to date. I think some of it is post-Civil War guilt. No one wants to admit that part of our past involved slavery as well."
Pope Melish is firmly in favor of changing the state's name. She draws an analogy to the swastika, a benign decorative motif until appropriated by the Nazis. Despite its literal meaning, the word "plantations" has been poisoned by its association with slavery.
"We need to remember this history," she says. "But the use of this word seems to celebrate it."
Blight is skeptical. More important than tearing down monuments, he says, is understanding what these symbols mean—good or bad.
"And yet," he muses, "the new American pluralism is forcing us to continually re-examine who we are, the story we live in, what we teach and what we call ourselves."
And whether the memory of Rhode Island slavery remains emblazoned on every piece of officialdom or buried in the back of a cemetery.
Ellen Liberman is an award-winning journalist who has reported on politics and government affairs for television, public radio, newspapers and magazines for more than two decades.