What We're Thankful For
Five locals tell us what they are thankful for this Thanksgiving.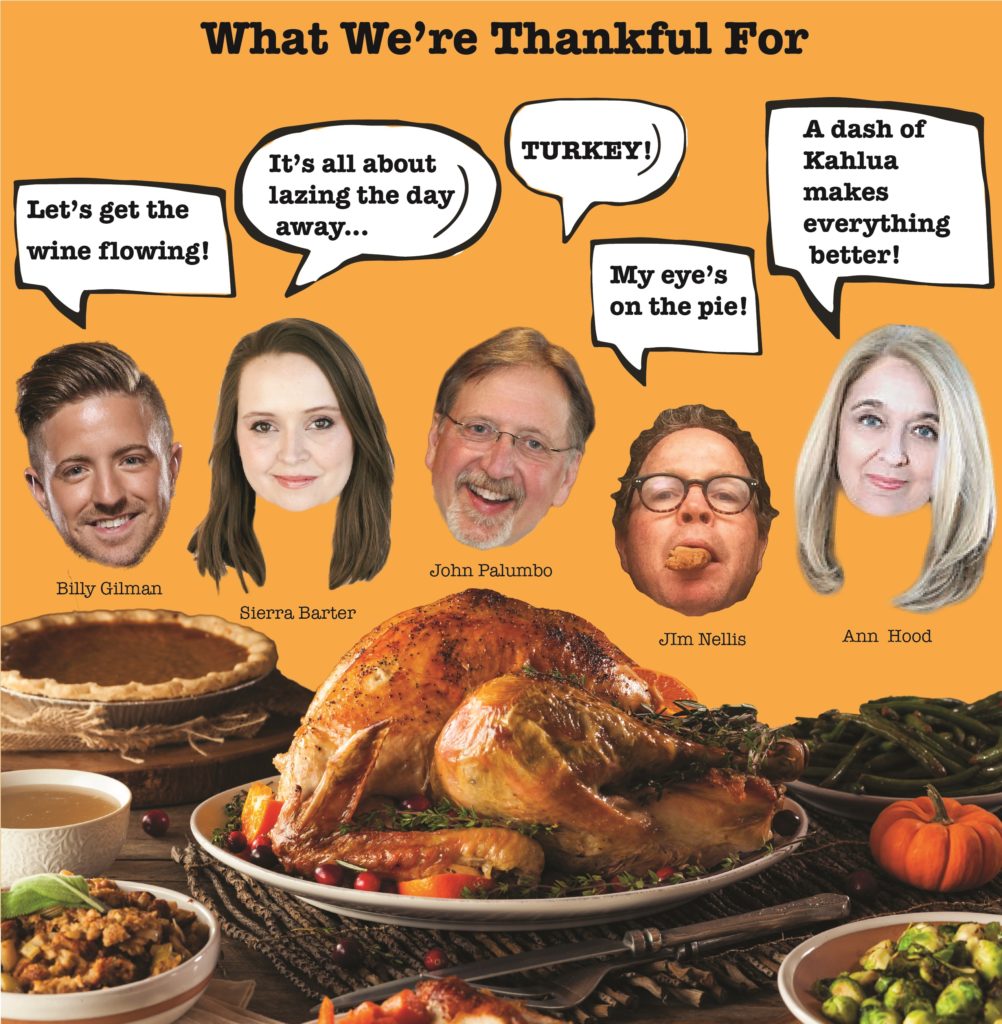 Thanksgiving is coming, the perfect time to sit back, relax and stuff your face reflect on all you are grateful for in your life. For a dash of mental inspiration on this cozy, food-filled holiday (that often leaves us comatose rather than introspective), we asked five local movers-and-shakers what thankfulness means to them, what their favorite thanksgiving food is and why they are thankful to live in Rhode Island.
Ann Hood
Hood is a New York Times best selling author and regular contributor to Rhode Island Monthly. In typical poetic form, she told us what she is thankful for this year. She also divulged her favorite Thanksgiving foods, one of which might have us running to the liquor store for Kahlua…read on to find out why:
What does thankfulness mean to you?
It's that warm, almost overwhelming feeling that seems to fill every cell in your body.
What are you most thankful for?
My fabulous children, all of my cousins and the best mother in the world.
Does writing help you to reflect on the things you are thankful for?
It forces me to always look at the positive and negative things in my life, in my mind and in my heart — and gratitude is among those.
What is your ideal thanksgiving?
My ideal Thanksgiving is to have my family and close friends at my house and to cook with my cousins and children.
What is your favorite thanksgiving food? Thanksgiving memory?
I am pretty traditional with my favorite Thanksgiving food; I like white meat turkey with lots of gravy, mashed potatoes, that sweet potato casserole with marshmallow on top — but I put Kahlua in it. And I love my dad's glazed carrots and miss that he's not here anymore to make some for me.
I don't have one favorite Thanksgiving memory. Ever since my son Sam was born in 1993, my cousin Gloria-Jean and I have Thanksgiving dinner at my house. The twenty-three years that we've been doing it are just a lovely blur of good food, good wine and lots and lots of love. Which isn't to say there haven't been lots of strange things too! That only adds to the fun!
What are you thankful for about being/working/living in Rhode Island?
I think I'm a one trick pony here! I am most thankful for being in Rhode Island because it keeps me close to my family.
Billy Gilman
Gilman, a native of Hope Valley, is a contender on NBC's "The Voice" (go team Adam!). His list of thankfulness was bubbling with good cheer (it even included a winky face that we felt obliged to leave in), divulged who his spirit animal is (hint: her name rhymes with Ima Farmer) and made us want to root for him even harder (or hug him, either one). 
What are you thankful for about being/working/living in Rhode Island? Did coming from RI impact your singing/songs/career? 
First off, I am a total Rhody. I speak like a Rhode Islander, I love my chowda like a Rhode Islander (I make a mean one too!). Coming from such a small area gives you a great foundation, as you are very, very close to your family and friends. It makes you always work hard for them because they are so supportive.
What does thankfulness mean to you?
To me, it really means being at total peace with your full self. It's not a materialistic appreciation or looking to someone else for your happiness. To be truly thankful is when you can sit back and realize you may not have all you want, but you certainly have enough and you have what you need. When you are okay with that, then a true sense of thankfulness can emerge.
What are you most thankful for?
There is quite a bit I am thankful for: I am thankful to God to have been given a gift to share with as many people as I can; to inspire with and encourage with it. I am thankful for such an amazing, AMAZING family that has had my back no matter what; that's very rare. I hope I give the same loyalty back. I am also very thankful to have such an amazing second half ;). These things motivate me more and more each day to be the best I can be.
What has being on "The Voice" taught you? 
Well, by being on "The Voice" I wanted to lead by example of how one should never, ever give up no matter how hard, tough or disgusted you may get about your own situation. You should never stop living and striving for your dream, especially if it's by someone else creating your fate. No, No. You create your life. I believe me being on the show will help inspire others dealing with what I went through until I said "enough."
What is your ideal thanksgiving?
My ideal thanksgiving is everyone at a huge table with big turkeys down the middle, candles, all kinds of side dishes —and I mean everyone. Parents, parents-in-law, aunts and uncles, cousins from both sides. Like a thirty to forty person table! Laughing, playing board games. Wine. Laughter…did I mention wine? Something the Barefoot Contessa would host. She is my spirit animal.
What is your favorite thanksgiving food? 
My favorite Thanksgiving food was my Nana's creamed onions, when I was old enough to like that kind of thing.They were something I waited for every year. How I miss her.
Jim Nellis of Rhode Island Food Fights
Rhode Island has some quirky, awesome foods (coffee milk and hot wieners anyone?) and RI Food Fights' Jim Nellis encourages people to get out there and try all of them. So what is the favorite thanksgiving food of a guy who has probably eaten circles around us? Read on to find out. 
What is the best part of doing RI Food Fights?
That's tough to say! I love watching my boys walk into a venue with 1,000 plus folks and 12,000 cupcakes! It's fun to see their reactions! It's also very satisfying knowing that RI Food Fights' monthly events introduce more than 500 folks to fifteen or more new restaurants. And by introduce, I mean they physically go and dine at restaurants they never knew existed. It's pretty cool!
 What are you thankful for about being/working/living in Rhode Island?
I'm thankful my young boys are able to grow up in the most beautiful state in the country.
What does being thankful mean to you?
To me, being thankful is being aware and acknowledging my friends and family. It's appreciating each day.
What is your favorite thanksgiving dish?
My mom's pecan pie!
What Rhode Island food are you most thankful for?
Warwick Ice Cream's coffee milk and cookies ice cream with Autocrat coffee milk.
Sierra Barter, CEO and Co-Founder of the (PVD) Lady Project
Sierra Barter started the Lady Project as a way to get kickass women together to do amazing things through events, membership and community engagement. We learned that, as motivated and driven as she is, Barter likes a super laid back Thanksgiving, complete with sleeping in, day drinking and wearing "not real pants," as she calls them. 
What does thankfulness mean to you?
It means being grateful and really counting your blessings. With so much negativity in the world and the dreariness that can impact every day, we all still have a lot to be thankful for. Whether it's thanking our body for getting us where we need to be or the roof on our head, we should all take time to give thanks.
What are you most thankful for?
So much! My health, first and foremost. My loving family, my fantastic friends, my supportive boyfriend, my adorable dogs, and of course, my incredible Lady Project family.
What are you most thankful for about working for the PVD Lady Project?
Being able to meet and collaborate with so many amazing women—my favorite thing about Lady Project is meeting such incredible women who are doing really cool things here in our own backyard. I am always so grateful when someone mentions to me that Lady Project impacted them or changed their life in some way; that means so much.
What is your ideal Thanksgiving?
As stress free as possible — I like to take it easy, sleep in a bit, not wear "real pants," day drink, eat a fantastic meal, watch a movie and go back for seconds. I love a good lazy Thanksgiving.
What is your favorite thanksgiving food? 
As a vegetarian, my favorite Thanksgiving food was always the yams. We always had the canned ones as kids and they are so nostalgic. I am also a big desserts person, so that tops the list with pumpkin or pecan pie. My favorite Black Friday deal is half of pies at Whole Foods.
What are you thankful for about being/working/living in Rhode Island?
So much. I love living in RI; living in the city but still being so close to the ocean. RI is so gorgeous and sometimes I have to pinch myself to remind myself that I live here! Rhode Islanders are a real community and look out for one another; I love being able to give back to the state I now call my home and  being able work with so many people who genuinely want to help others.
John Palumbo, Publisher at Rhode Island Monthly
We couldn't help but ask our very own John Palumbo (Publisher at RI Monthly) what he is thankful for this Thanksgiving. Turns out he's a good chum who loves a good time (no political rants please) and has a fondness for the star of every Thanksgiving dinner —the turkey — year-round. 
What does thankfulness mean to you?
There but for the grace of God go I. I am ever thankful for what I have and mindful of what I should do for others.
What are you most thankful for?
I am thankful for my children and for my blessed life in Rhode Island.
What is your ideal thanksgiving? 
Family, friends and camaraderie that evokes laughter and joy rather than political discussions or negativity.
What is your favorite thanksgiving food?
I love turkey year-round but especially on Turkey Day.
Favorite Thanksgiving memory?
When I was a child, this was the one day a year my maternal French-Canadian grandparents would make the long drive from Pawtucket to Barrington. Pots would be bubbling all over the stove with squash, carrots and potatoes (sweet and white), and every window in the house was fogged up from the moisture and the heat!
What are you thankful for about being/working/living in Rhode Island? 
Despite the challenges of owning a small business in Rhode Island I love what I do. I love our ability to tell stories that no one has read or heard before; to connect with others in this crazy, small place and celebrate the hell out of it.