The Kickerbocker Music Center Still Rocks
The Westerly icon was revamped for a twenty-first-century crowd.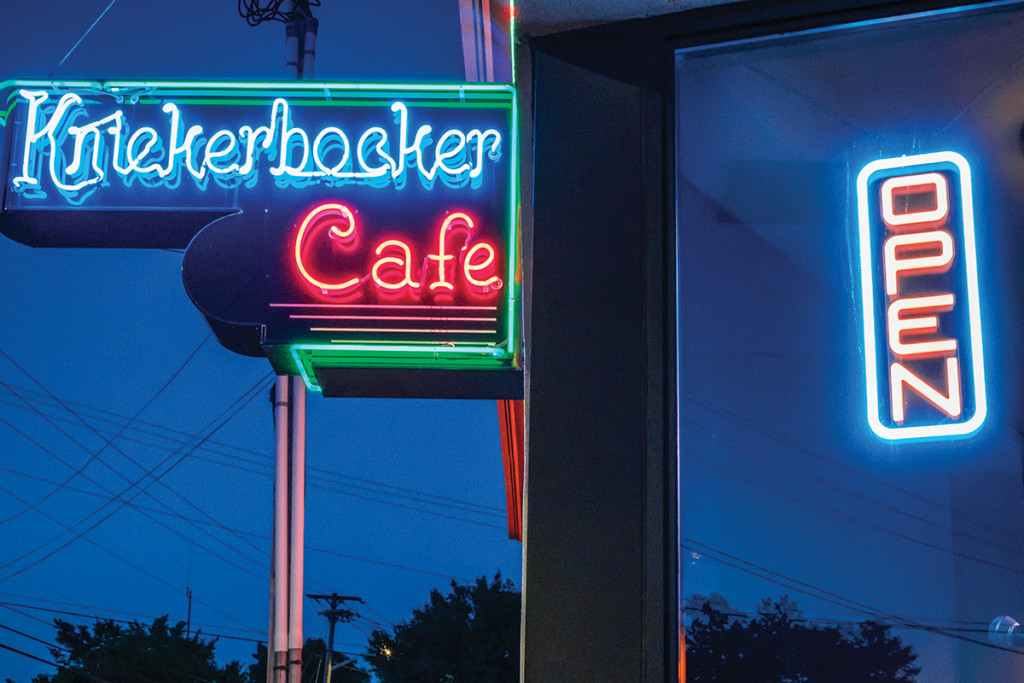 According to Merriam-Webster, "Knickerbocker" is an old-school nickname for a New Yorker, or, more specifically, a descendant of New York's early Dutch settlers (supposedly because they were known to wear loose, short trousers called "knickers"). So how, pray tell, did such a designation become the name of a beloved blues institution in downtown Westerly?
On a sunny June afternoon, Mark Connolly, executive director of the Knickerbocker Music Center, meets me on Westerly's Railroad Avenue underneath the club's iconic neon sign. Instead of heading inside, however, he beckons me to follow him to the left side of the building. As I turn the corner, I see that it is emblazoned with a magnificent, sprawling silhouette-style mural.
"Last summer, the Walldogs — a renowned group of artists that visit different communities around the country, painting beautiful murals inspired by local people, places and products — came to Westerly," he explains. "You can see the murals now all throughout town —all with different tales to tell. And the amazing thing is, the Walldogs completed them all within a few days."
The Knickerbocker (or "the Knick," as frequenters call it) was one of the lucky few to receive the artists' treatment. The original idea was to depict famous acts that have headlined, including the likes of Leon Russell and Eric Burdon and the Animals, but Connolly wanted to also highlight the club's rich history.
"Originally, two local Italian brothers operated an ice cream shop here, but when Prohibition ended in 1933, they decided to open a club that served liquor instead," Connolly says. "They named it the Knickerbocker Cafe in homage to the Knickerbocker Express train, which traveled from New York to Boston and frequently passed through the Westerly train station just across the street."
The mural illustrates the station and the train (which cleverly uses piano keys as tracks), as well as the outline of a man holding a guitar case. Connolly tells me that many musicians en route to New York or Boston often found their way to the Knickerbocker's bar and stage when its namesake stopped in Westerly for the night. This launched the club's destiny of becoming a reputable live entertainment venue.
In the years that followed, the club saw considerable success, but it really hit its heyday in the '70s when a ragtag group of Westerly-based high schoolers came together and formed a band called Roomful of Blues. Their talents gained a decent following in their hometown, but a fateful trip to Chicago, where blues music was in full swing, changed their sound for the better.
"At the time, Chicago blues was beginning to integrate horn instruments into their sets," Connolly explains. "So, when the Roomful of Blues guys returned to Rhode Island, they said, 'Okay, now we have to find a saxophonist, a trombonist and a trumpeter.' After that, they just took off."
Every time Roomful of Blues had a show scheduled at the Knickerbocker, the place sold out. The boys even became a national act, going on to appear on the "Ed Sullivan Show" and touring the country. When they played in Austin, Texas, the band ran into and befriended Stevie Ray Vaughan. Roomful of Blues told Vaughan all about a great little music club back home where they got their start, and so, when Vaughan (and even his brother, Jimmie) and his band were in town, they made sure to add the Knickerbocker to their lineup.
"Now, keep in mind that this was pre-Bowie Stevie Ray Vaughan," Connolly says with a laugh. "But still, after that, the Knickerbocker started booking even more great, well-known acts including Big Joe Turner and Johnny Copeland. Musicians just identified with it as a place that was more about music than anything else."
Vaughan has his place on the mural, depicted by a too-cool-for-school figure leaning against an illustration of a Marshall amp. To his right, a four-piece band plays the trombone, cello, trumpet and drums as they ascend a piano key staircase. To me, the eternally performing figures represent Roomful of Blues and their game-changing music.
But, like most, the Knickerbocker's story is not without its upheavals. After the devastating Station Nightclub fire in 2003, the state came down hard on all venues with a capacity of 100 or higher. To stay open, everything had to be 100 percent up to code, but the original owners found the new expenses to be too great. The Knickerbocker closed for a year.
"But then some musicians and investors who love what the Knickerbocker represents, a group called the Westerly Blues, got together and raised more than $1.5 million for the updates," Connolly says. "But they kept the facade and the look of the place exactly as it was in 1933."
And then, along came Connolly.
"In 2011, they were looking for someone to come in and right the ship, so to speak, because the club wasn't making enough money to sustain itself," says Connolly. "I already had experience running restaurants in Mystic, so they said, 'Well, this is basically a restaurant, just with bands.' I thought, 'Why not, let's give it a try.' "
With Connolly came some big changes for the historic club. For one, its interior received a bit of a makeover.
"When I first got here, all of the walls were white, and there were a lot of tables and chairs that got in the way," he said. "It didn't promote a clubby feel."
We enter the venue and, even in the middle of the day, it's easy to see that Connolly has been able to pull off the right vibe with moody lighting, sleek bar setups and dark walls bedecked in photos of blues legends. In the back, there's a giant stage set behind an even bigger dance floor, which is original to the club.
"We like to promote a lot of dancing — and not just during performances. On Wednesday nights we have a dance instructor teach East Coast swing, which everyone likes to breakout during rhythm and blues songs," Connolly says.
But these walls no longer only bear witness to tried-and-true blues acts like Al Copley and Roomful of Blues's Duke Robillard, but contemporary ones as well. When Connolly shows me a basement wall full of musicians that have blown through, I recognize posters for everyone from Deer Tick to Dust Bowl Revival to Josiah Johnson (of the Head and the Heart fame).
"It can be difficult to get older folks to come in because they're wiser, perhaps: They go to bed earlier and drink less," Connolly says with a laugh. "So, we've branched out to other genres to appeal to younger audiences, as well."
The Knickerbocker also draws in a younger crowd with its adjacent taproom. A door separates it from the main room, opening up to a hipster's paradise accented by pendant lighting, records doubling as decor, a full bar stocked with six revolving drafts and ingredients for a whole slew of delicious craft cocktails, and an intimate corner stage area that's ideal for smaller acoustic acts.
The most important change of all, however, came in March of 2015 when the Knickerbocker Cafe converted to the Knickerbocker Music Center, a nonprofit organization formed in partnership with the Rhode Island Philharmonic Orchestra and Music School.
"We're all about music here, and we wanted to have education as part of our mission," Connolly says. "The Philharmonic has done an amazing job of serving the music education community in northern Rhode Island, but now they're helping us bring that to South County and southeastern Connecticut."
Just around the block from the Knickerbocker, the once-mothballed United Theatre building (which was a go-to destination for film lovers from 1926 to 1986) and its next-door neighbor, the Montgomery Ward building, are currently undergoing renovations to become one large cultural complex on Canal Street. The plan is to build a Knickerbocker Music School within the complex and, once completed, its aim will be to foster the musical talents of people of all ages.
"It's great, because all of us — the Knickerbocker, the United Theatre, the Philharmonic School — we're all working together towards the same purpose of bringing great cultural rejuvenation to this area."
And there are even more plans in the works.
"We want everything to be walkable: Wherever you are in downtown Westerly, you should be able to get to the United Theatre, Savoy Bookshop and the Chorus of Westerly," Connolly explains. "One of the ways we're doing that is by building a pathway between the Knickerbocker and the YMCA, which flanks Wilcox Park. That way visitors can park there at night and then easily access everything that our town has to offer. We're hoping to have that finished by next spring."
It's clear that Westerly is experiencing quite the renaissance — perhaps even giving our creative capital a run for its money — and that the cool, historic venue with a strange yet delightfully fun-to-say name is at the helm. As I leave, the Knick's blue neon sign burns bright overhead, a shining beacon welcoming all creative souls to venture south and enjoy the music.