A West Side Resurrection
A surprising Christian revival is bringing young people back to church.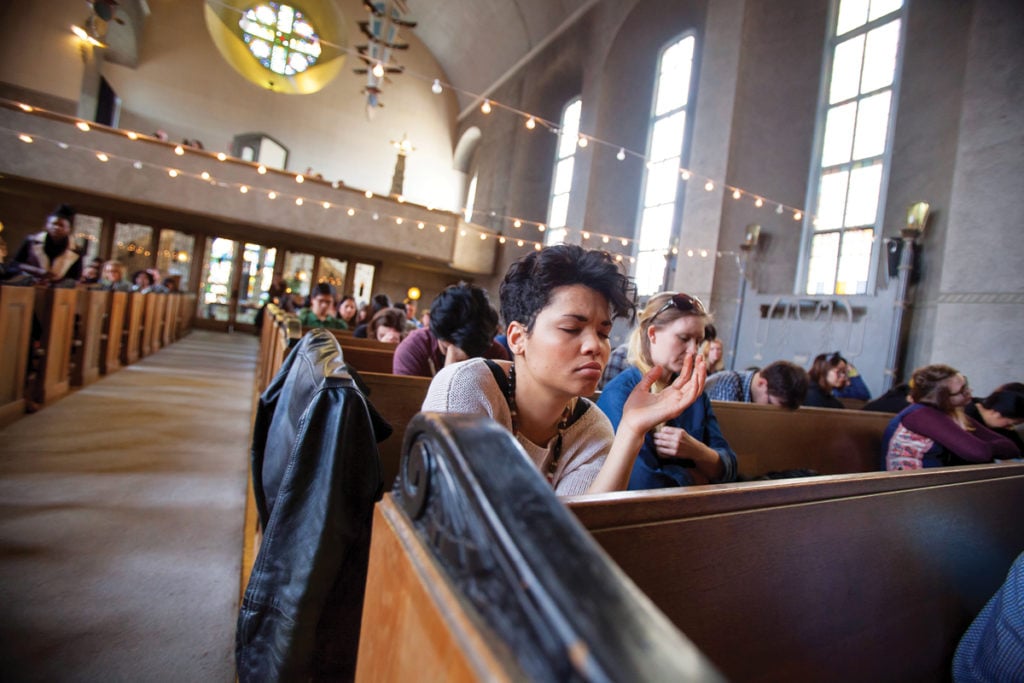 It's 10 a.m. on a warm autumn Sunday and the Feast Church is packed. It's an intimate space — only sixty or so people make it feel full — but that's enough for a celebration. The Feast is marking one year of Sunday services in its home on Bridgham Street on Providence's West Side. Faithful and curious newcomers alike have turned out. This gathering of bearded dudes, artsy millennials and young families looks not unlike the crowds enjoying brunch in one of the neighborhood's trendy restaurants, but these folks are here for a different kind of feast.
The Feast Church was founded — or, to use the parlance of their vocation, planted — by Caleb and Fran Borchers, a thirty-something couple who traveled all the way from Memphis to Rhode Island to do this work. Their church is non-denominational, which is to say it is broadly Protestant, but independent from the ecumenical structure of any particular sect like Baptist or Methodist. It might, however, be considered catholic in the lowercase "c" sense of the word: universal, broad minded, liberal, having sympathies with all.
Indeed, all are welcome at the Feast. You, the uncommitted church shopper and you, the agnostic suspicious of organized religion; there is space at this table for you. You, the gay man or woman who is drawn to Jesus's love, but has too often been repelled by the judgments of his followers, you too are welcome at the Feast. Black or white, poor or rich, devout or astray, faithful or skeptical, all are invited to gather at this table. If you have doubts, bring them; questions, ask them. If your children struggle to remain quietly seated throughout service, they will be right at home at the Feast.
There is even room at their table for a nosy writer who was raised Catholic, but has nursed a severe allergy to organized religion his entire adult life. I attended Catholic mass every week until well into my teens, but today at the Feast is the first time in my life I am enjoying church.
As Caleb and Fran welcome their congregation, other pastors and church planters in and around the neighborhood greet theirs.
Just down Broad Street from Bridgham, Pastor Scott Axtmann of Renaissance Church tends to his flock in a former Catholic diocese building that now looks from the outside like a hip bar.
Downtown, in the upstairs sanctuary of Gloria Dei Lutheran Church, Pastor Andrew Mook of Sanctuary Church greets a congregation of nearly 200, full of college students, twenty-something artists and young professionals of all races, nationalities and sexual and gender orientations.
Later in the day, Pastor John Ames of West End Community Church will convene his small congregation, mostly young Latinos and residents of the nearby Park View Nursing Home, in a rented mission space on Cranston Street in the shadow of the neighborhood's iconic Armory.
Together, these churches represent an unlikely sort of religious revival in an unlikely place drawing some of the unlikeliest congregants. The West Side of Providence, a dynamic and diverse urban neighborhood where poverty and privilege, immigrants from around the world and transplants from other cities, Section 8 apartments and swanky condos all share the same streets, has proven to be surprisingly fertile ground for a new kind of Christianity — one uniquely suited to the millennials and younger Gen Xers who have supposedly abandoned religion in droves. This unlikely confluence is the result of a new movement in church planting, a process of establishing houses of worship that is almost as old as Christianity itself, but has manifested with renewed enthusiasm and a more thoughtful approach among a younger generation of church leaders like Caleb Borchers, Scott Axtmann, Andrew Mook and John Ames.
The model, as Caleb summarizes it, is "new churches in new places for new people."
These days, it seems as if you can't have coffee at the Seven Stars Bakery on Broadway without running into a church planter. As I'm waiting to meet with Caleb and Fran, I run into Mook from Sanctuary grabbing a coffee as he strolls the neighborhood with his daughter. Later, as we're leaving, Caleb and Fran spot a familiar face and introduce me to Stephen Watson, who is in the process of planting Vineyard Church.
How did the West Side of Providence become the epicenter of church planting in Rhode Island? Why would a young Christian couple choose this liberal Northeastern city that ranked ninety-eighth out of 100 in the American Bible Society's 2016 list of "America's Most Bible Minded Cities" as the place to start their church?
The answer begins at Harding University, a Church of Christ University about fifty miles outside of Little Rock, Arkansas, where Fran and Caleb met. She came from Lexington, Kentucky, he from suburban Detroit. Both were raised in Christian families and entered school intending to focus on youth ministry. During their sophomore year, Caleb offered to tutor Fran in biblical Greek; one week after graduation they were married.
Later, while Caleb was working on his master's at the Harding School of Theology in Memphis, he met a professor who ran Kairos Church Planting, a Portland, Oregon-based, organization that has established new houses of worship around the Pacific Northwest and in Nashville. "I had no idea what church planting was," Caleb explains. "I thought it was like opening a new McDonald's."
The opportunity proved a natural fit for the couple. Church planting encompassed everything they enjoyed about the mission work they'd done in New Zealand, without the trouble of moving across the world. An apprenticeship was available in Cumberland, Rhode Island. Though eager to plant a church of their own, they agreed to give it two years, arriving in August 2010.
While living and working in Cumberland, Caleb and Fran found themselves drawn to Providence socially. They soon fell in love with the city, particularly the West Side. They drew a map around Dexter Training Ground, the park at the center of the Armory District, and began searching for a house within walking distance; they purchased the first one they saw. In August 2012, they moved in with a two-year-old daughter in tow, another on the way, and big plans for their church.
"The West Side is interesting because it has a lot of people who aren't originally from Providence," says Caleb. "The best place to start new churches is where there are a lot of transplants. They're more open to new things."
I first encountered Caleb and Fran when we were neighbors. I had heard they were new arrivals from somewhere down south, here to start a church. They were friendly enough, but I was always on guard for that "Have you heard the good news about Jesus?" moment. It never came. As I ran into them at more neighborhood events, I discovered two people far different from my own preconceived notions of southern Christian folk. They seemed at home in a multicultural neighborhood, interested in pop culture — Caleb was more likely to post insightful sports commentary than religious platitudes on Facebook — and intellectually curious.
"I think it's easy for people who aren't part of Christian subculture to think that all Christians have similar cultural viewpoints and want to live around that," Caleb explains. "American cultural Christianity is not something we're comfortable with."
Hence their journey north and their desire to plant a church for the un-churched; the Feast was intended as a place where doubters feel welcome. Sinners, skeptics, agnostics, lapsed Catholics, rationalists, those who feel the need for God in their lives but have never felt welcome in his houses are greeted with open arms and encouraged to participate to their own level of comfort. There are no expectations, no proselytizing, no pressure to accept their truth as the only one. (And certainly no pressure to give money.) After his sermons, Caleb opens the floor for questions — a simple act that, were it to occur in a Catholic mass, might send panic through the congregation.
Dialogue is one of the Feast's core values. "People understand things better when they talk to other people about it, not when they're talked at," Caleb says. "For us it's about a place where conversation is more important than repeating doctrine."
Each of these West Side church plants has its own distinct character.
The Feast is humble, family- and community-oriented, and open to spirited debate. The atmosphere is intimate and informal. At one point during a sermon, Caleb's youngest daughter wanders up front and clamps herself to his leg; he briefly glances down and smiles at her, but otherwise continues without missing a beat.
Caleb and Fran wanted to build a neighborhood church; as with their home, they insisted that services always be held within walking distance of Dexter Training Ground. Their first one was at the Providence Hmong Church, across from the park, and they hosted others at homes, apartment buildings, even Fete, an Olneyville music venue, before opening the doors of their current space in October 2015.
Caleb jokes about his and Fran's approach to church planting — "There's a way you're supposed to do it and there's the way we did it" — but it worked. The Feast has a core of thirty or so regular members and continues to grow. Though Caleb still considers it a West Side neighborhood church, the largest segment of their congregation is actually drawn from the nearby Edgewood/Pawtuxet Village area of Cranston.
Renaissance is probably the most well-oiled machine of the bunch. It made a long journey to its current home and operates from hard-won experience — just like its founder. After a tumultuous youth in and around Springfield, Massachusetts — replete with drugs and alcohol, dropping out of college, a knife fight and eight car accidents before the age of twenty-one — Scott Axtmann came to Jesus through what he believes was direct intervention. "I was an addict walking down the street and the power of God came down upon me," he recalls. "Afterward I was trying to read scriptures and figure out what happened." That was 1989; he has dedicated his life to Jesus and remained off drugs ever since.
Now in his forties, Axtmann is the unofficial elder statesman of West Side church planters, the one others turn to for advice. He held Renaissance's first service at the Columbus Theatre in January 2003, intending to build a church for "artists, young adults, question askers and progressive thinkers." It would inhabit several more temporary venues before finding a permanent home.
Renaissance's expansive space exhibits a design-centric aesthetic one might normally find at an artisanal coffee shop or arts venue. On Sundays, people bustle around and the atmosphere is loose and social, but an unmistakable professionalism keeps everything moving. It is a mature church that has finally put down roots.