A West Side Resurrection
A surprising Christian revival is bringing young people back to church.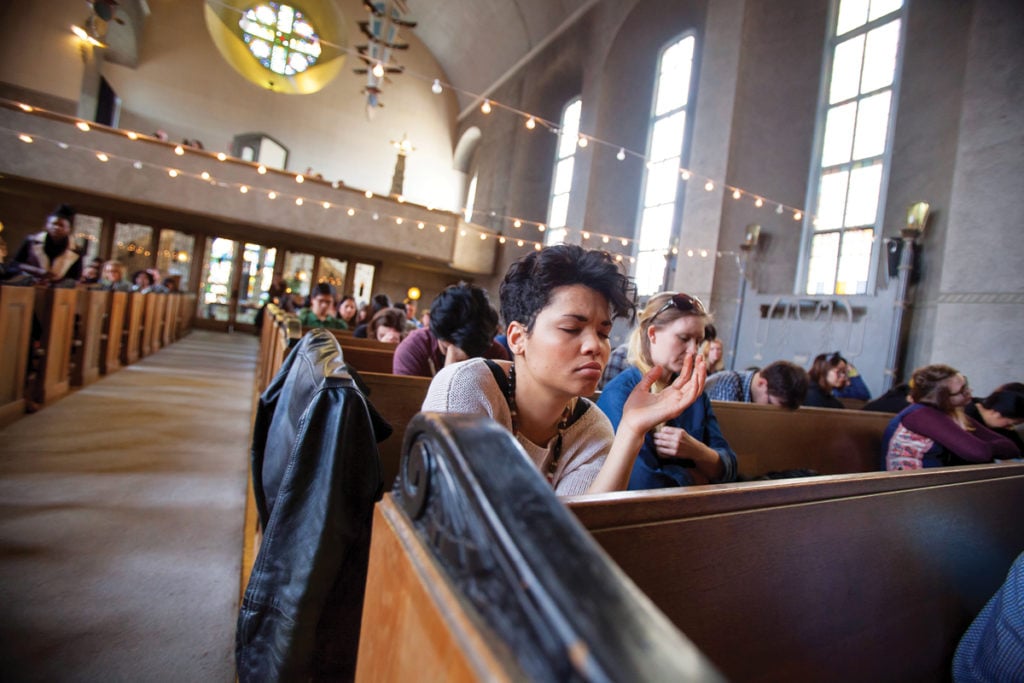 Sanctuary is truly a reflection of Andrew Mook, who stands out among his peers as closest to the charismatic type — both in the general connotation and the more specific Christian sense of being animated by the Holy Spirit. He is the son of a preacher man — his father is the senior pastor at Christ Church in East Greenwich — and the former frontman for the band Bridges Fell, which generated local buzz and airplay on WBRU in the late '90s/early '00s. He went to the University of Rhode Island for communications and dabbled in campaign work, the nonprofit world, and graphic design before starting Sanctuary in 2012. "I found all these things I was okay at and gave them a collective home in the church," he says.
Music is a big part of all these churches, and even Fran and Caleb admit that Sanctuary has the best band in town. At any given service, it might include six to eight musicians with multiple guitars, a full rhythm section, keys, perhaps even fiddle. Combined with moody lighting, it makes worship feel a bit like a rock concert.
At times in Mook's preaching, flashes of the young musician "who just wanted to be Bono" shine through. He is animated, raising and lowering his voice, rapidly shifting tempos, reaching with outstretched arms as he sets up a point then drawing them back as he drives it home, as if he's trying to literally pull you in. During a pre-election sermon on "The Politics of Jesus" he recounts the trial before Pilate in which Christ declares, "My kingdom is not of this world," and thus transcends Caesar's empire. As Mook reaches his conclusion, his voice rises to a shout — "Where is Caesar's empire now? It's gone and we're still here!" — and it feels as if he just smashed a guitar; cheers erupt from the pews.
West End Community Church is earnest and purposeful, just like John Ames. Its steadfast dedication to the underserved immigrant communities that surround it is informed by both his youth spent in West Africa, where his parents worked as missionaries, and the multicultural leadership team he assembled to launch it.
His church is focused heavily on youth ministry; many of its most active members are teenagers. Ames and his team lease community garden space and appoint youth church members as the garden managers. They have also turned a former check cashing place on Cranston Street into the Connect Cafe, which Ames envisions as a full-service cafe, but at present is more of an after school program and resource center. Youth — not just church members, but any youth from the neighborhood — can hang out, use the Internet for school work or job searches, participate in the church's mentoring program, or just generally find refuge in a safe and supportive environment.
West End Community Church's original service space has been recently converted into a women's shelter. They have relocated to the West End Community Center on Bucklin Street, where they now hold services at 11 a.m. on Sundays. "That's the nature of church planting," Ames shrugs.
Despite their unique personalities, these churches ultimately have more in common than not. They are united in their desire to put a welcoming face on Christianity, particularly for the un-churched, and to serve the community they call home. As Andrew Mook says, he wants Sanctuary to be "a church that exists for the benefit of non-members."
In all of these churches, what happens between Sundays might be even more important than formal worship services. They host a variety of social groups, get-togethers and service events designed to create connections and contribute to the community. Each has some version of small, neighborhood-based groups that meet in church members' homes during the week to study the bible, talk about their lives and share in their faith.
Renaissance periodically brings in touring Christian bands for special Friday or Saturday worship nights.
Creative Collective is a sort of combination ministry and networking group for young creative professionals organized by Sanctuary.
West End Community Church hosts neighborhood soccer camps (Ames is a huge fan of the sport) and movie nights at Bucklin Park.
The Feast holds "Theology Chats" in Caleb and Fran's living room, small group discussions intended to "find something that makes faith difficult and have an open exchange of ideas about it," Caleb explains. Topics have included "Christianity and Pacifism," "Coffee Cups, Christmas Trees and Culture Wars," and "The Challenge of Exclusive Truth Claims in Religion."
Some of what these churches do might seem at first glance like hip gimmickry: Pastors holding service clad in jeans and boots; laypeople standing before the congregation reading scripture from their phones. Andrew Mook referencing Bon Iver lyrics in his sermon while Caleb Borchers references comic books in his.Their artfully designed logos and signage seemingly beckon, "Your freelance graphic designer friend worships here."
These aren't just self-conscious attempts to make church cool for younger people; they're reflections of a belief that a great many of the un-churched will come to religion if only they're invited in and made to feel welcome. They're a shrewd bet that young people stay away not for lack of belief in God, but because they're been turned off by the strident, doctrinaire formality of traditional organized religion. This new breed of church plants represents not so much a denomination of Christianity as a brand of it.
"People are looking for the gospel to be in their own language," explains Scott Axtmann. "We can't just come out blazing with 'you need Jesus!' We need to shut up and listen. We can't freak people out."
While the West Side of Providence is an unexpected hotbed for this new brand of Christianity, it is hardly the only place where it's finding followers. There are similar church plants around the state, often meeting in temporary and unorthodox locations. Sanctuary recently spun off Sanctuary North in Providence's Elmhurst neighborhood; it currently meets at the pastor's home. South County's Generation Church, where Andrew Mook's brother, Stephen, is the church planter and lead pastor, holds services at Narragansett Pier. North Pointe gathers at the Lincoln Mall Cinema World, South Pointe at Showcase Cinemas in Warwick. There are also Bridge Pointe in East Providence and Ocean Pointe in Middletown. In nearby Seekonk, there is His Providence Church.
They are planting a new kind of Christianity across Rhode Island — one cultivated to grow organically within each unique community, not imposed from outside according to a standardized model. It is a sharp deviation from a more traditional approach to religion that Axtmann summarizes as, "Shut up with your questions and just believe." He doesn't expect that kind of church to work for "the average person in the Northeast, more specifically Providence, even more specifically the West Side. It's up to us to figure out ways to engage that person."
As Fran explains the inspiration for the name of her church, she succinctly describes the mission of the West Side church planters. It comes from "The Parable of the Great Banquet" in the Book of Luke, in which the guests a king has invited to his son's wedding feast do not show up, so he instructs his servants to go out into the streets and invite "the poor, the crippled, the blind, and the lame." "That struck us," she says. "You wouldn't expect a lot of people in Providence to be Christians, so we have a feast for those who others would not expect to be, who they may have given up on."