Welcome to the Neighborhood
Dog-owning nature lovers, culture-seeking urban aficionados, surfboard-toting lobstermen and suburban commuters with incomes in the stratosphere can all find the ideal 'hood in tiny, diverse Rhodie. With property prices at their lowest in years, it's a good time to look around and wonder whether you, too, are in your perfect neighborhood.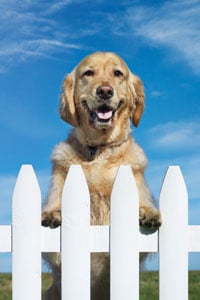 Ever notice how people don't say they're from Cranston or Warwick, they say they're from Pawtuxet Village?
That is the hallmark of a really good neighborhood—it commands fealty. It also has its own look and feel and sense of community, its own shops and restaurants (mostly) and its own real estate trends.
Neighborhood living isn't for everyone. Some people would rather live far from the nearest store or house. We have thoughts on that; and on places to look if you're willing to take a gamble on an up-and-coming 'hood, or long to be close to the coolest streets.
We've done our research—on typical rental and purchase options, school performance, amenities and more—to bring you some of the friendliest, prettiest, most convenient, affordable or family-centric nabes in Rhode Island. Some of them you'll probably have heard of; others may be unfamiliar. Live there or not, these are places to feel proud of.
PRIME WALKABILITY (but not much yard)
Downcity Providence
Rent: 1-bed loft with city view, $1,700/month*
Buy: 2-bed, 2-bath, 1,740 square-foot condo, $486,000
Schools: Carl G. Lauro Elementary School (31%, 21%)**
Urban Collaborative Accelerated Program (13%, 7%)
Central High School (13.9%, 9%)
Classical High School (77%, 69%)
At home: Singles, power couples with no kids
Downtown Providence's much-touted renaissance really has translated into a viable place to call home. A dearth of decent lower public schools keeps middle-class families away, but hip young things, culture-seeking empty nesters and top-earning professionals (a beach house makes a great complement!) doth still a neighborhood make. Who can argue with instant access to museums, libraries, restaurants from the cool and grungy (Taqueria Pacifica) to the decidedly grown-up (Gracie's) and, of course, Westminster Street shopping, the Riverwalk and WaterFire?
There's still no grocery store or pharmacy, but Peapod and farmers' markets help fill the gap. The I-195 relocation will free up land for open space and reunite the Jewelry District with neighboring Downcity, which is why Coldwell Banker Realtor Gemma Fabris pegs Jewelry District condos as the city's primo investment (although you'll need plenty of dinero; lenders are wary of big loans on mixed-use developments these days). And while it may not feel like a small neighborhood, you can walk to National Grid to pay your utility bills in person.
College Hill Providence
Rent: 1-bed apartment off Benefit, $1,000/month
Buy: 5-bed, 2.5-bath, 3,660-square-foot townhouse, $549,000
Schools: Dr. Martin Luther King Jr. Elementary (48%, 41%)
Esek Hopkins Middle School (24%, 14%)
Hope Arts School (20%, 11%)
At home: Students, well-heeled professionals, literary types
Walk to the best of what central Providence has to offer, from downtown museums and rail to East Side restaurants, while living in an eclectic, historic neighborhood with great architecture and the vibrancy of university life all around (and it doesn't hurt that the universities here are top-ranked Brown and RISD). This is one of the most well-established areas of Providence, and house prices reflect it—as do taxes. But it's as safe an investment for your hard-earned dollars as you'll find in the state. A preservation hotspot, College Hill boasts narrow, winding streets and brightly colored and restored eighteenth- and nineteenth-century homes. Walk down historic Benefit Street, and if you squint your eyes, you might think it's 1808, not 2008—until you round the corner onto bustling student Mecca Thayer Street, that
is (Hope and South Main streets offer less alternative shopping options). Newer condos and townhouses are part of the housing mix along with slum rentals aimed at undergrads, so it's easy to find somewhere to live if you don't mind dodging proximity to hard-partying students. Public schools are not exactly the pride of the state, but surrounded by top-notch private schools such as Lincoln, Moses Brown and Wheeler, you can still walk your kids to school in the morning—provided you can pony up tuition.
Pawtuxet Village Cranston/Warwick
Rent: 2-bed apartment in 3-decker, $900/month
Buy: 3-bed, 2-bath, 2,360 square-foot colonial, $335,000
Schools: Edward S. Rhodes (67%, 49%) [Cranston]
Park View Middle School (58%, 43%) [Cranston]
Cranston High School East (44%, 34%) [Cranston]
Wyman School (79%, 69%) [Warwick]
Aldrich Junior High (61%, 56%) [Warwick]
Pilgrim High School (50%, 47%) [Warwick]
At home: Boaters, young families
This pocket-sized historic enclave, with its shops, restaurants, bridge and marina, is an East Side alternative for professional singles and families who want to be in easy reach of the city. Real estate comes up rarely and can be pricey (but makes a solid investment). Cranston's neighboring Edgewood, however—even closer to downtown and nicknamed "The Republic of Edgewood" by liberal residents—has plenty of single-family homes in the $200,000 range and a couple of big-box stores. Pawtuxet Park and Stillhouse Cove Park make this a great neighborhood for strolling, while Roger Williams Park is nearby. Dogs are plentiful. Boaters enjoy the small marina and presence of Rhode Island Yacht Club. There's not one, but two Thai restaurants, laid-back neighborhood eatery L'Attitudes, small grocery and liquor stores, and even fireworks and burning-ship re-enactments during the annual Gaspee Day Celebrations in June. The presence of the Rhodes on the Pawtuxet banquet facility means plenty of space for neighborhood functions and farmers' markets in a lovely village that, while increasingly trendy, is still a world unto itself.
RURAL BLISS (with surburban advantages)
Cross Mills Charlestown
Rent: 1-bed condo, $700/month
Buy: 2-bed, 1-bath, 1,159 square-foot Cape, $359,000
Schools: Charlestown Elementary (67%, 59%)
Chariho Regional Middle School (66%, 55%)
Chariho Regional High School (57%, 59%)
At home: Surfers, serenity-seeking second-homers
The pace is slower in Cross Mills, where peaceful year-rounders make space for summer renters from upstate and Connecticut. Better known South County cousins like Narragansett Pier and Matunuck may offer more shopping or a rowdier nightlife; Cross Mills offers plenty of open-ocean beach, Ninigret Pond and Ocean House Marina. No wonder residents' cars tend to have boat trailers attached to their rear hitches. There's historic interest with the onetime Indian trading center, Fort Ninigret, and the 300-year-old General Stanton Inn (rooms are maintained in their original state—perfect for putting up your in-laws). Locals frequent the retro Tropic Frost for ice cream, The Cove restaurant for seafood, the Charlestown mini-market for homemade sausages, farm stands for produce and the weekend flea market for everything else. With limited parking at the beaches, and the dispersed sprawl of shops and restaurants, do as the locals do and keep your bike tires inflated. Low taxes and large lots help keep real estate off the market (only two listings at press time), but for a taste of quiet seaside life, off-season rentals are plentiful.
Touisset Warren
Rent: 2-bed cottage, $1,500/month
Buy: 4-bed, 2.5-bath, 2,150-square-foot contemporary, $575,000
Schools: Hugh Cole School (77%, 75%)
Kickemuit Middle School (65%, 56%)
Mt. Hope High School (61%, 47%)
At home: Volunteer-minded, self-sufficient types
A ten-minute car ride separates bucolic-to-the-bone Touisset from civilization in the form of bread, milk, gas and traffic. But what neighbors in this quiet, leafy Warren enclave give up for convenience's sake (no connections to town water or sewer, and public buses don't navigate the S-curves) they get back in open space and salt-water access: There's a sixty-six-acre wildlife refuge, and no one is far from the swimmable, boatable Kickemuit River. Made up of two sections, the Highlands and the Point (the former abuts the Kickemuit, the latter Mount Hope Bay), this one-time summer retreat is a close community. Neighborhood kids go to high-scoring Warren-Bristol schools but, thanks to the commute, hang mainly with each other after class—just like their parents did. Farming was once big, although development threatens the pastoral fabric. But residents don't take the encroachment of McMansions lying down. Just as they gather for harvest suppers at the all-volunteer fire station or for a game of tennis at the Touisset Point Community Club, they rally together at planning and zoning meetings to make sure their piece of paradise stays just so.
Greenville Smithfield
Rent: 3-bed cottage, $1,500/month
Buy: 4-bed, 2-bath, 2,258-square-foot ranch, $ 307,900
Schools: William Winsor School (82%, 79%)
Vincent J. Gallagher Middle School (79%, 67%)
Smithfield Senior High School (53%, 51%)
At home: Commuters, middle-class families
If you're looking for village charm with the convenience of national chain retailers and an easy fifteen-minute commute to Providence, Greenville is for you. Antiques shops, old churches and a great neighborhood library mix with a big-box mall, movie theater and well-established 1960s rambler developments. There's a bent toward historic preservation—even if it means restoring an old tavern in the village center to its original mustard yellow color. Apple picking at one of three orchards is still a favorite activity. There is also a mixing of old Greenville (farming families who have passed down homes through generations) and new Greenville (white-collar commuters, many of whom use the RIPTA bus). Route 44 runs straight through Greenville to Providence, and Route 6 and I-295 are close by, making it an affordable alternative for Boston commuters, too. Several retirement and assisted living establishments are also here.
FAMILIES FIRST (know your neighbors)
West Barrington Barrington
Rent: 3-bed single-family, $1,700/month
Buy: 3-bed, 2-bath, 1,746 square-foot contemporary, $398,000
Schools: Primrose Hill School (96%, 90%)
Hampden Meadows School (89%, 96%)
Barrington Middle School (93%, 88%)
Barrington High School (79%, 73%)
At home: Bicycle riders, pet owners
Tucked away from the arterial roads, the town-wide lack of sidewalks isn't as much of a problem in this low-key corner of Barrington. The quiet setting means West Barrington residents are often out on the streets socializing and walking their dogs. With mostly single-family homes in a suburban sprawl, the big-name street, Alfred Drowne Road, was placed on the National Register of Historic Places in 2005. That means home improvements qualify residents for up to $2,000 in income tax credits each year. Maybe because of this, you won't see McMansions dwarfing the beautiful historic homes. But like the other parts of Barrington, one of the state's wealthiest towns (with a median household income of $74,591 in 2000, well above the state average of $42,000), the focus here is on good public schools—the highest performing in the state, an accolade that's good for property values. There's a hide-away public beach and the 14.5-mile East Bay Bike Path running through the neighborhood, attracting athletic types. Get together with the West Barrington Men's Club (boasting more than 180 active members) for an annual summer steak fry, horseshoe tournaments and golf leagues.
Old Buttonwoods Warwick
Rent: Unlikely. Try nearby Buttonwoods: 2-bedroom apartment, $865/month
Buy: 3-bed, 2-bath, 2,200 square-foot colonial, $529,000
Schools: Park School (74%, 63%)
Gorton Junior High (76%, 45%)
Warwick Veterans Memorial High School (46%, 41%)
At home: Small-town types, nature lovers
Cleaver family, meet your twenty-first-century match: the citizens of Old Buttonwoods. This secluded Warwick peninsula, set off by stone pillars and a leafy bird sanctuary that separates the community from the rest of the world, reminds us why we should be pining away for the close-knit, tennis-playing small towns of yesteryear. Neighbors come together to organize the Buttonwoods Beach Association, push decorated bikes and strollers in the ultra-local July Fourth parade, have weddings at the non-denominational chapel and receptions to follow at the casino, the neighborhood community center with its stage and two bowling alleys. Everyone knows everyone, and parents don't sweat letting their kids out to play. Worried about being an outsider? Join the dinner club and you'll get to know folks through pot-luck parties at their homes. The houses ooze historic charm, with modern updates reserved for interior renovations only. There's no restaurant or store—you'll have to tap your neighbor when you're out of milk—but despite the secluded feel and spectacular oceanfront views, you're minutes from T.F. Green airport, I-95 and the Warwick malls. Sadly, locals don't part with their homes frequently, and luxuriously renovated waterside Victorians command more than a million.
Rumford East Providence
Rent: 2-bed apartment, $795/month
Buy: 2-bed, 1-bath, 1,350 square-foot ranch, $239,900
Schools: Myron J. Francis Elementary (77%, 72%)
Edward R. Martin Middle School (53%, 47%)
East Providence High School (42%, 36%)
At home: Suburban aficionados (i.e. pretty much anyone)
Welcome to Small Town, U.S.A.—or at least as close as you'll get to the typical suburban community while still living in a mid-sized city. Actually, that's one of the perks of Rumford—being able to live in the single family home complete with the yard, 2.5 kids and a dog, while also being just a hop, skip and a jump away from Providence Place and Downcity. But you may never need Providence; Rumford has its own commercial center with national chains and small independents. And because you're in the city of East Providence, there are better schools and lower taxes than across the bay. The Hunt House Museum isn't open as often as the volunteer East Providence Historical Society might like, but on any given day, you'll see Rumford's residents walking their dogs in the grassy picnic area right near the waterfall on the property. Rumford's most notable claims to fame? It's the childhood home of "Today" show co-anchor Meredith Vieira. Also here is the Wannamoisett Country Club, which hosts the Northeast Amateur golf competition every year. Expect to find reasonably priced rentals and homes, with plenty of them on the market from colonials to ranches, making Rumford the middle-class alternative to high-class Providence living.
AFFLUENT AND ESTABLISHED (but not too rich for your blood)
Hill & Harbor East Greenwich
Rent: 3-bed apartment in triple decker, $1,400/month
Buy: 4-bed, 1.5-bath, 1,750 square-foot colonial, $349,000
Schools: Frenchtown Elementary (81%, 74%)
James H. Eldredge School (80%, 78%)
Cole Middle School (88%, 86%)
East Greenwich High School (71%, 66%)
At home: Upper-middle-class families, history buffs
Historic Main Street in East Greenwich doesn't look quite like it did in 1677, when the Hill & Harbor community was founded. But in this wealthiest of Rhode Island townships (median family income was $90,000 in 2000), Hill & Harbor maintains much of its original charm, making it East Greenwich's affordable, quirky cultural center. Picture the Greenwich Odeum, built in 1926 as a vaudeville house and now home to live theater, on the same street as the crenellated parapet of the medieval-style Varnum Memorial Armory, with its museum and banquet halls. Juxtapose a 1770s colonial and an 1830s Greek revival —both perhaps bearing plaques naming the original owners, since historical interest is part of the pride of modern ownership here—and you begin to see the eclectic architectural aesthetic. There's lively nightlife near the waterfront, where favorites like 20 Water Street overlook Greenwich Cove and its floating blanket of expensive yachts. Antiques shops, boutiques and restaurants cater to well-coiffed commuter wives; walking tours to visitors. The town's property prices remain some of the highest, and most stable, in the state; Hill & Harbor's smaller lots and historic buildings don't command the prices of the mega-mansions up the road, but share access to the same award-winning public school system.
Oak Hill Pawtucket
Rent: 3-bedroom apartment, $1,200/month
Buy: 3-bed, 1.5-bath, 2,156-square-foot colonial, $309,000
Schools: Francis J. Varieur School (69%, 61%)
Samuel Slater Junior High School (45%, 34%)
Charles E. Shea Senior High School (26%, 20%)
At home: College profs, Boston commuters
Really a northern extension of the East Side, but with lower Pawtucket taxes and—gasp!—on-street parking, Oak Hill has long been a savvy place to land for university types looking for a quieter, less expensive alternative. And we're not just talking Brown and RISD; Harvard and MIT professors also live here, minutes from I-95, as do other Boston commuters. Imagine the sparkling dinner party conversations! The public elementary school is good, and the Spanish immersion program at the International Charter School draws parents lucky enough to have a child win the tuition lottery. Brick Tudors intersperse with simple cottages, with decent-sized yards easily filled with offerings from the local plant nursery. There's a more suburban feel than just to the south, although the neighborhood has plenty of international residents and even a couple of international restaurants—think Indian and sushi—and an ice cream shop. A great local park provides tennis courts, while Blackstone Boulevard's pedestrian trail is nearby for jogging and stroller-pushing.
The Point Newport
Rent: 4-bedroom unit in an old Victorian, $2,500/month
Buy: 2-bedroom, 1-bath, 1,200-square-foot cottage, $549,000
Schools: John Coggeshall School (36%, 41%)
Frank E. Thompson Middle School (45%, 41%)
Rogers High School (48%, 47%)
At home: Second-home owners, artisans
For the most picturesque rentals in Rhode Island, head to The Point, a small residential neighborhood that's smack next to America's Cup Avenue and all the tourist sights of downtown Newport. Heiress Doris Duke's Newport Restoration Foundation brought twenty-seven historic homes back to life and rents them to tenants with a penchant for style and waterfront accessibility—though you'll have to get on a waiting list to live in a Duke property. But many claim this section of Newport boasts the highest concentration of historic colonial homes in the country, which makes any rental on these streets (many named after trees) almost as good. While far from cheap, owning on The Point is a great alternative to more pricey historic Newport property—say, the $18-million sticker price on the Astor's Beechwood mansion. Once home to sea captains and tradesmen, later a neglected working-class area, it's safe to say Easton's Point— the formal name of the neighborhood—has had a facelift. Many homeowners these days are around only during the summer (no surprise, perhaps, given how poorly the public schools score). Enjoy local dining spots like Rhumbline and the historic driftways with their public access for boaters; take in great views of the Newport Bridge (it cuts right through this neighborhood); and be steps from Storer Park, a
favorite spot for fishermen.
---