Welcome to the Neighborhood: Silver Spoon Bakery
A new East Greenwich bakery brings fanciful cupcakes and French macarons to Main Street.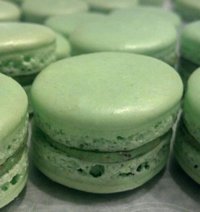 A new East Greenwich bakery brings fanciful cupcakes and French macarons to Main Street.
Clearly East Greenwichers were in need of cupcakes. On Silver Spoon Bakery's opening day last month, they sold more than 600 frosting-topped treats. "I always wanted to open a shop on Main Street," says owner Kelly Colgan, who grew up in Cranston and lives in Cowesett. "There was definitely a need for it in this market."
Inside her shop, which looks like a Tiffany box crossed with a Parisian cafe, there are little tables and chairs for noshing and an entire wall features a photo of the Eiffel Tower. Cupcakes are taken to-go in bird's egg blue boxes, much like Tiffany's little blue boxes, only filled with sweeter treasures (and less expensive ones to boot). Daily-changing flavors include eggnog, peppermint stick, marshmallow hot chocolate and the Cookie Monster (vanilla cake surrounded by cookie dough and topped with frosting and a chocolate chip cookie), plus several gluten-free options. For Christmas, there are Melted Snowman cupcakes for children and Tipsy Santa ones for adults. There are also spiked Naughty and Nice ones for grown-up kids; the former contains Disaronno and the latter Amaretto flavoring.
Customers can order a dozen cupcakes in any flavor by giving forty-eight to seventy-two hours notice, although most requests can be accommodated sooner. The shop also sells all kinds of cakes, and they have cellophane-wrapped and ribbon-bedecked trios of delicate pastel-hued French macarons, which make great party favors and holiday gifts. They come in unusual flavors like Earl Grey with orange marmalade filling, pistachio, raspberry, espresso, warm cinnamon sugar (Mexican cinnamon and vanilla filling), chocolate and green tea, amongst many others.
Colgan's recipes were passed down from her grandfather and she uses milk and eggs from local farms in the batter. The University of Rhode Island graduate majored in journalism, and also earned her master's in business at URI. Previously, she ran her business out of a commercial kitchen offering free delivery. Now that she has a shop, she continues to offer "white-glove service," complimentary delivery of goodies up to five miles, which comes in handy especially for busy moms planning birthday parties.
You might remember Colgan and Silver Spoon Bakery for the notorious Compliant Cupcakes. A passenger boarding a flight had her cupcake confiscated because it contained more than three ounces of frosting. Silver Spoon responded by inventing a treat that was TSA-compliant, complete with a boarding pass. Her cupcakes passed that test, and they've passed our taste test, too.
58 Main St., East Greenwich, 384-0078, silverspoonbakery.com