Welcome to Rhode Island Monthly's Brew Brawl – Week 2
Vote for your favorite local brews in this friendly competition between some of the craft breweries that call our state home.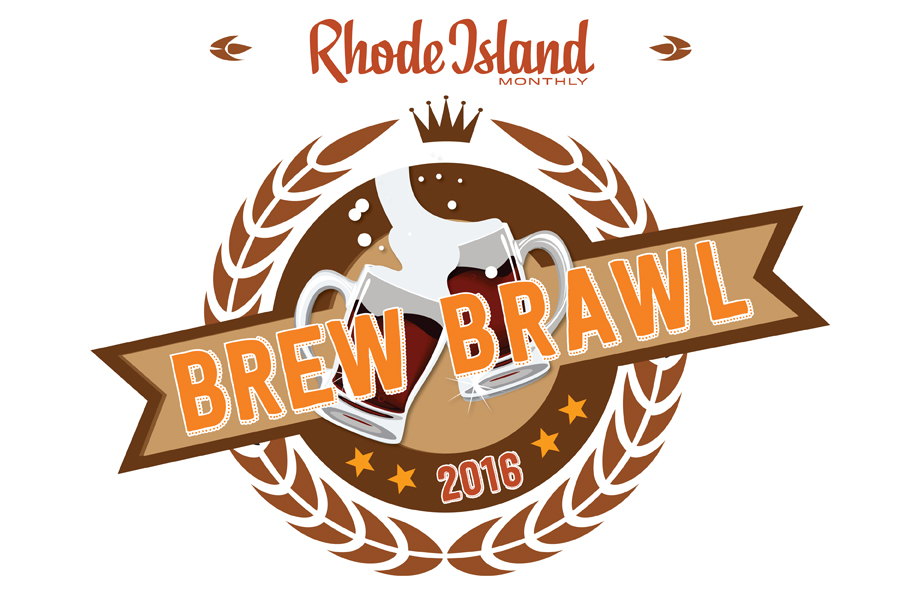 Week one of voting has come to a close and SIX breweries will be moving on in our brawl. Drum roll please…
Ravenous
Revival
Foolproof
Newport Storm
Tilted Barn
Crooked Current

We want to thank Bucket Brewery and Whaler's for participating! If you haven't checked them out yet, we still encourage you to make a trip and take a sip!
Round two works the same way as round one; Vote for your favorite brewery and the brew they submitted (again, we encourage you to try their brews first!), and when you vote you'll be entered to win goodies from the breweries. This round of voting closes Tuesday, June 14th at midnight.
Vote HERE this week for your favorite brew and check back next week to see who made it to the next round!
Ravenous Brewing Company:
Small but mighty, Ravenous in Woonsocket creates brews that will have you thirsty…nevermore! The brewery is renowned for its Coffee Milk Stout, and as founder Dorian Rave puts it, "Rhode Island is coffee milk and Ravenous is Coffee Milk Stout." The brewer's submission to our Brew Brawl is therefore, duh, the Coffee Milk Stout. Rave says it's "a beer as delicious and memorable as the state drink itself. It's Rhode Island brewed with locally roasted coffee, in small batches, and with lots of love."
Tours and Tastings: Sat. 1−4 p.m. Some Thursdays from 4−7 p.m. Tastings/tours include samples of available beers for $3 per person, or $7 to take home a pint glass. Check the Facebook page before you go.
Brewer Sean Larkin's beer has amazing labels; let's just get that out there. Revival's submission, White Electric Coffee Stout, depicts a suave looking primate about to swig a cuppa joe, or maybe it's a cleverly disguised cuppa stout. Michaela Brinkley says, "As a company, we're all about Rhode Island. Most of our brews tell a unique local story, are for a local charitable project, or a collaborative effort with a local business. For our coffee stout we work with White Electric Coffee Company. We use its coffee 'Hello Darkness,' roasted by New Harvest, to condition our Imperial Stout and create an incredibly delicious coffee flavor and aroma. The result is an amazingly well-balanced brew in a product we can be proud of for its social integrity as much as its taste." So, they brew a mean beer and support local businesses? Damn impressive.
Check the website for restaurants and breweries that serve Revival on tap.
Tours and Tastings: Mon.−Sat. noon−8 p.m.; Sun., noon−4 p.m. at Brutopia, 505 Atwood Ave., Cranston. If you are interested in booking a tour, please email tours@revivalbrewing.com.
Fun fact: if you flip the Foolproof logo, it turns from a joker's hat and mask into a squid. This realization usually occurs after imbibing in a couple brews, which is hard NOT to do. Foolproof's submission to our Brew Brawl is the LFU Farmhouse Ale. Nick Garrison says, "Influenced by the Belgian saison style, LFU features a complex blend of German hops, pilsner and pale malts, wheat, rye, oats and spelt. The beer pours a hazy straw color and delivers a spicy, dry finish. As with all of our beers, LFU is tied to a specific experience – in this case, it's dedicated to the end of a long workday. I mean, what better reason is there to drink beer than that?" He's also quick to add, "it has a super fancy, hard-to-pronounce name (La Ferme Urbaine i.e. LFU), which of course makes the beer fantastic." We agree Nick, we agree.
Tours and Tastings: Tours on Sat. at 1, 2, 3 and 4 p.m. for $10. Participants receive a Foolproof glass, an overview of the brewing process, a tour of the brewery and three beer samples. Tastings on Fri., 5−7 p.m. are also $10 (includes three tastings and a pint glass).
Founded in 1999, Newport Storm is one of the older kids on the block in our Brew Brawl. The brewery's submission is the Summer Hefeweizen, which is left unfiltered to get that yeasty flavor down pat. So don't be alarmed when you take a swig and notice stuff at the bottom of your glass; that's some good ol' natural yeast sediment – it'll put hair on your chest. Not to mention it tastes pretty darn good. The Storm crew says, "More than 80 percent of the grains in this brew come from malted wheat which lends an exceptional softness to the palate. Naturally underlying, but not overpowering, banana esters can be found in the aroma. What makes this beer truly unique is the addition of hops after fermentation. We chose a unique combo to give a natural citrusy lemon aroma and taste alleviating the "obligatory" orange wedge garnish. At 4.1 percent, this is the perfect sunny day (or really any day) brew!"
Tours and Tastings: Tastings Sun., Mon., Wed. noon−5 p.m., tours at 3 p.m. Tastings Thurs., Fri., Sat. noon−6 p.m., tours at 3 p.m. Tastings are $9 and include four samples and a glass.
These folks grow their own hops and brew their beer in a barn…could they be any cooler?
Matt Richardson says, "Tilted Barn Brewery is Rhode Island's first and only farm brewery. We grow many of the ingredients we use in our beers, including hops, pumpkins, maple sap, spruce tips, etc. Our brewery and tasting room are located in our historic barn dating back to the pre-1900s." I mean, it's ice cold over here with their level of coolness. Tilted Barn's submission is its Propagator Series, a line of hoppy beers that "focus on experimenting with new ingredients, techniques and processes to push the envelope in terms of flavor and aroma." Get it while you can as some Propagator beers will only be made once, while Propagator No.1 will become a regular in the lineup.
Tours and Tastings Sat. from 1−4 p.m. Check the brewery's Facebook page before you go.
There's not much better than a cookie; it's warm, sweet and never insults. So Crooked Current brewers knew they would create a freakin' awesome beer when they made their Oatmeal Raisin Stout. Brewer Jason Lourenco says, "It's truly uncanny how closely this beer resembles the taste of the cookie from which it derives its name." Wait, how did they make this magic, how did they create a beer that tastes like a cookie? "It's brewed with whole cinnamon sticks and bourbon vanilla beans. We used a fine-tuned recipe to achieve the raisin notes by adding a special malt which rounds out the flavor." Um, can we get a jar of this beer? Like, a cookie jar?
Tours and Tastings: Thurs. 5−7 p.m.; Fri. 5−8 p.m.; Sat. 1−5 p.m. Guests get a brewery pint glass and three samples for $7.