Weekend Primer: PVD Block Party!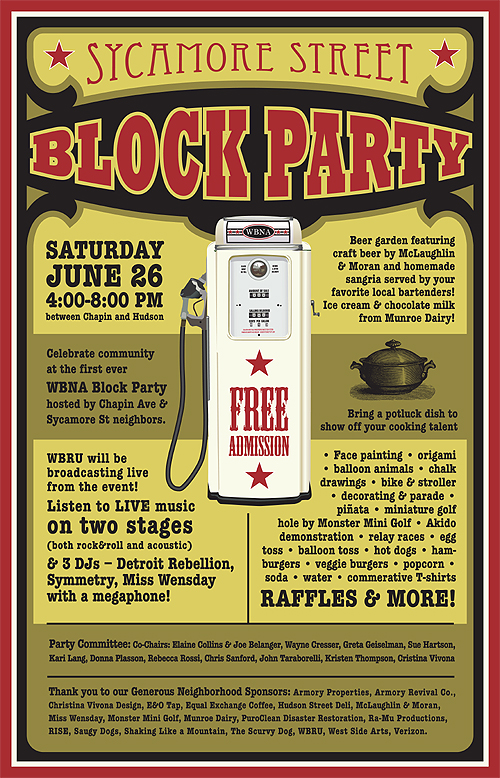 Just in time for the festive weather, there'll be a mini music festival right here in Providence with the recently organized but somehow already huge Sycamore Street Block Party tomorrow. A neighborhood event has grown into the first real happening of the summer, pulling in talent from all over the state for an awesome lineup of entertainment, food and general festivities. Watch out Newport! With this and Wooly Fair coming up July 31, Providence is mounting a serious festival offensive – and all much easier on the wallet than any of the City By The Sea events. And let's not even talk about the July 4 goings on at India Point Park and Thursday concerts at John Brown House and Friday Waterplace jams… gee what a swell place to live.
Here's the Facebook post that went out today:
Huge Block Party THIS SATURDAY! 4-8pm on SYCAMORE STREET
You guys, the weather's going to be fantastic! *Block Party weather*
We have Symmetry live, R&B, DJ Handsome Pete, WBRU broadcasting live and passing out schwag, blues, poetry in the garden, acts sponsored by Shaking Like a Mountain including The Detroit Rebellion!
…. we have it all On TWO STAGES!!!!
BEER GARDEN – Bartenders from E&O Tap and The Scurvy Dog tending!
Johnny Tabs' famous SANGRIA! Ice cold and refreshing!
SoundSession making cameo appearances to tease you!
Hotdogs, sausages, chicken, hamburgers, veggie burgers!
All kinds of soft drinks, water, iced coffee, chocolate milk!
Free ice cream from Munroe Dairy! Maybe even the cow!!!!
Frozen t-shirt contest! Egg toss! Balloon toss! Madness! Prizes!
Monster mini golf hole and prizes! Raffles! T-Shirts! Posters!
And ALL THE COOLEST PEOPLE IN THE CITY will be there
en masse, and DANCIN in the STREETS! LOVIN' LIFE!
Brought to you by the West Broadway Neighborhood Association, serving the West Broadway neighborhood for 25 years.