Web Extra: Keeping up with Kent Stetson
Watch a video of the Rhode Island handbag designer's zany runway show.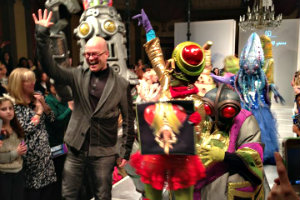 For our November issue, I profiled the eccentric Rhode Island handbag designer Kent Stetson. The story's called "Keeping up with Kent Stetson" for a reason: All summer long, I trailed Stetson from craft show to trade show and, finally, to his finished studio and flagship shop in Pawtucket's Hope Artiste Village.
The man has vision, that's for sure. Some bags are artfully quirky, others are downright campy and others, still, are so glamorous you'd plan your evenings around them. But he's also a sort of business Yoda who, after a decade of trial and error, has figured out how to make it in the fashion industry without selling out.
Here's my favorite Stetson-ism from the story: "Creative practice is a form of play. If you keep doing the same thing over and over again, the playfulness is compromised. If I just figured out what sells and did that for the rest of my life — creatively, that's a form of death."
Stetson first came to my attention at StyleWeek Northeast's accessories showcase, held biannually at the Biltmore Hotel. But his 2013 StyleWeek runway show featuring Big Nazo models, as captured by Rhode Island Monthly associate editor Jamie Coelho — well, that was just bonkers, something I'll never forget. Watch below, and read the full story in our November issue, on newsstands November 3.