Web Extra: Fall River Food Tour
We explored the city's multicultural markets and restaurants, and here's what we found.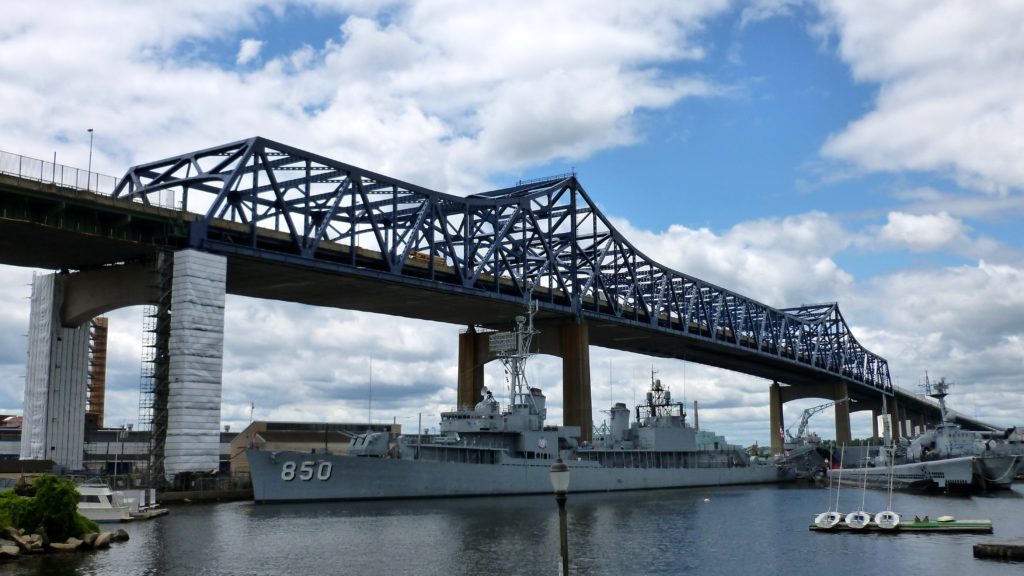 Fall River is a melting pot for good food. Of course, it's known for its wonderful Portuguese cuisine, but everywhere you turn, there's another market or restaurant representing a different culture. We took a couple of hours to explore the dining and food shopping scenes, and here's what we found.
Sam's Bakery, 256 Flint St., Fall River, 508-674-5422
Hours: Tues., Wed., Fri., Sat., Sun. 5:30 a.m.−2 p.m.; Thurs. 7:30 a.m.−12:30 p.m.
Sam's Bakery is known for its legendary Lebanese meat and spinach pies. For only $1.35 each, each stuffed pita pie is folded into a triangle and filled with warm beef, onions and parsley, spinach and lemon juice, or cheese, and baked that same day. The no-frills interior exhibits old-world style baking with a brick oven and u-shaped carousel with circular plates that spin each pie into the oven, and large wooden trays for cooling the pies. The bakery was opened in 1961 by Lebanese immigrant Salim Yamin and his wife, Georgette, and not much has changed since then, except they've added a chourico meat pie to the mix. The couple's seven children and grandchildren are still involved at the bakery. Sam's also sells traditional specialties like pita bread, housemade hummus, tabouli and tahini and open face-style pies, and you can always order party-size trays with one day's notice.
Meat pies from Sam's Bakery.
Portugalia Marketplace, 489 Bedford St., Fall River, 508-617-9820, portugaliamarketplace.com
Hours: Mon.−Sat. 8 a.m.−7 p.m.; Sun. 9 a.m.− 2 p.m.
A Portuguese superstore, featuring nearly every ingredient you can find in Portugal (and the Azores) right in Fall River. The expansive marketplace boasts beautiful brick walls, arched entrances and high ceilings that welcome you to explore the charcuterie section where housemade chourico links hang and gigantic wheels of sharp cheese from St. George are cut to order (you can taste a sliver before you buy). The store also showcases an entire glass room devoted to drying salted cod (bacalhau), a prepared foods counter stocked with multiple Portuguese specialties to take home, and freezer cases storing octopus, squid, gigantic lobster tails, prawns, whole fishes in different sizes and more. Don't leave without a few bottles of affordable Portuguese wine (at $6.99 for a bottle of Monte Velho, you can't go wrong).
Portuguese cheese from St. George, chourico, bread and wine from Portugalia.
Higson Seafood, 917 South Main St., Fall River, 508-678-4970, higsonseafood.com
Hours: Tues.−Sat. 8:30 a.m.−5:30 p.m.
Opened in 1951 by William Higson and continuing the tradition with sons Brad and Christopher, Higson Seafood market is revered for its reputation of selling the freshest seafood from local waters. Whether it's a pound of cod, dry scallops or an eight-pound lobster, Higson's proudly offers an outstanding selection from the sea. Take a peek in the live lobster tank and meet their pet horseshoe crab who has been the shop's pet for two years (he's not for sale!). If you're not in the mood to cook, Higson's also offers takeout fried seafood dishes like fish and chips ($7.45) clams ($14.99), scallops ($14.99) and shrimp ($10.99) all served with chips, or a seafood platter ($20.95) and much more.
An eight-pound lobster at Higson Seafood.
Patti's Pierogis, 1019 South Main St., Fall River, 508-679-4001, pattispierogis.com
Hours: Tues.−Thurs. 11 a.m.−8 p.m.; Fri.−Sat. 11 a.m.−9 p.m.; Sun. noon−7 p.m.
When you think of pierogis, don't just focus on potatoes and cheese – that's boring. There are endless possibilities at Fall River institution Patti's Pierogis, owned and operated by Patti Geary and family since 2009. For $1.85 each, how about a mac and cheesogi, a loadedogi (stuffed baked potato with bacon, cheese and sour cream) and a chourogi (chourico, potato and cheese)? The family-friendly restaurant has been visited by the likes of Guy Fieri of "Diners, Drive-ins and Dives" fame, and the combinations for Polish food platters are endless, including pierogis, kielbasa and golabkis (stuffed cabbage, pronounced "gowumkey" for the uninitiated). You can even get sweet potato and marshmallow filled pierogis, and blueberry, Fluffernutter and cookie dough ones for dessert. Order the little Polish dumplings fried up at the restaurant for a sit-down meal or get them boxed up cold and take them to-go. The hardest part will be deciding which varieties to choose. We recommend an international sampler (a dozen for $16).


A variety of pierogis from Patti's.

Chaves Market, 49 Columbia St., Fall River, 508-672-7821

Hours: Mon.−Thurs. 8 a.m.−7:30 p.m.; Fri. 8 a.m.−8 p.m.; Sat. 8 a.m.−7:30 p.m.

A second generation family-run Portuguese market featuring traditional groceries, including meat, bread, Portuguese cheese, seafood and more. It began as a small meat market in 1957, then expanded into a full grocery story store complete with wine and liquor. Chourico and linguica is made on site using a family recipe and wood smoked in a smoke house.
Oriental Chow Mein Company, 42 Eighth St., Fall River, 508-675-7711
Fall River is synonymous with chow mein; those trademark crispy noodles served with fresh bean sprouts, celery and gravy with chicken or beef are the best-known product from Oriental Chow Mein Company, which is run today by Barbara Wong. The restaurant goes back to 1926 when the original owner, Frederick Wong, arrived to attend college, but decided to open a restaurant instead. The original chow mein recipe was developed to appease the palates of Fall River's large immigrant population, including people from Ireland, Quebec and England, and the company was passed down to Frederick's son, Albert Wong, who married Barbara. After Albert died, Barbara continued making the crispy noodles, selling and shipping them to loyal consumers across the country. Even when a fire destroyed the factory in 2009, Barbara Wong and family rebuilt and rebounded so that Fall River's famous fried noodles can continue to live on for generations to come.
Caravela Family Restaurant, 637 S. Main St., Fall River, 508-235-1030
Hours: Tues.−Thurs. 11 a.m.−8 p.m.; Fri.−Sat. 11 a.m.−9 p.m.; Sun. Noon−7 p.m.
A Portuguese restaurant with that tight-knit neighborhood feel, Caravela is a favorite of Portuguese families in Fall River. There may be a wait on busy weekend nights, but rest assured tables turn over quickly, and once you sit down and order, food is delivered to your table in a timely fashion. This is a place to experience the quintessential Portuguese steak (bife) with a fried egg and gravy on top and French fries (the straight cut variety, which do not get soggy, unlike the round cut version). The pork Alentejana is outstanding with juicy, tender pork medallions, four littleneck clams still in the shell, roasted potatoes, whole garlic cloves and a spicy red pepper to top it all off (ask for plenty of fluffy Portuguese bread to dip in the sauce).
Pork Alentejana at Caravela.