Waterside Wonders
Get a sneak peek inside the five priciest properties on the market, and we guarantee you'll be dreaming in blue for days.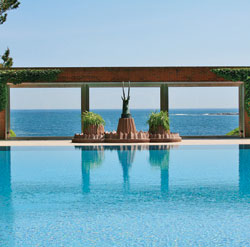 As the nickname reflects, the Ocean State is known for water views that could quench your thirst for splendor in a single glance. Water is on the forefront of our minds here, which might explain why the state's most expensive houses — with aristocratic and Tinsel Town claims to fame — are all perched by water's edge in Newport County. Whether you're in the million-dollar market or are just after a sneak-peek inside the state's premier properties, be prepared to see a lot of blue.
Fairholme, $17,900,000
237 Ruggles Avenue, Newport

With 425 feet of ocean frontage on the lot, it's no wonder an affluent engineer from Philadelphia was compelled to build a 20,000-plus square-foot, floor-to-ceiling windowed "summer cottage" at this site in 1875. The estate, currently owned by an heir to the original TV Guide fortune, is grand enough to entertain the likes of the Duke and Duchess of Windsor and Jack Kennedy, who reportedly spent a lot of time in the swimming pool gazing out over the Atlantic. But don't be fooled by sweeping ocean vistas, the poolside pavilion and the impeccably manicured lawns: This retreat also has winter holiday appeal with a barrel-vaulted grand ballroom, the largest dining and entertaining space of any privately owned home in Newport. And with sixteen opulent bedrooms in the main house — many of which are ocean-facing with fireplaces — and a six-bedroom carriage house, even less-than-aristocratic guests would have a luxurious place to lay their head at night.
Year Built: 1875 Rooms: 25 Bedrooms: 16 Bathrooms: 12 full/2 half Living Space: 24,393 sq. ft. Lot Size: 188,614 sq. ft. Estimated Taxes: $99,402
Agent: Lila Delman