Watching Your Waste
Once, Rhode Island led the country in recycling. Now we trail the pack, and it could cost us more than just big money.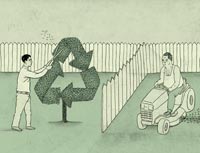 In 1992, the town of South Kingstown went to a pay-as-you-throw system at the Rose Hill Transfer Station. There was no charge for residents to recycle old clothes, some plastics, metal and paper. The town even built a cinder-block repository for discarded books and magazines for the taking dubbed the "Rose Hill Free Library." Garbage bag tags were about a dollar apiece. It was a last-minute decision, recalls Town Manager Stephen Alfred, after the state's curbside recycling program ran out of grant money. A slender slice of the pop-ulation responded wholeheartedly, diverting 40 percent of their household waste. The private haulers were less eager.
Some offered fewer recycling options and charged customers more to recycle.
Fifteen years later, South Kingstown's recycling rate stands at an estimated 9 percent. With the prospect of higher tipping fees and lost revenue from Rhode Island Resource Recovery Corporation's new profit-sharing program, the town decided to regroup. The first plan—to go with a single waste-management company—was discarded because there was no cost efficiency after getting the attention of the local trash collection companies. Now, the town is developing financial incentives for haulers to promote recycling.
"We need to ensure that the homeowners are actively participating," Alfred says. "If we get the cooperation of haulers, we'll have a viable system. A community like South Kingstown should be able to achieve a recycling rate of 30 to 35 percent."
The General Assembly would do well to keep the South Kingstown experience in mind this session as it takes up a series of measures designed to significantly boost the state's anemic recycling rate. In 1989, Rhode Island was the first state to enact a mandatory recycling law with a goal of 70 percent. But the state has slipped many degrees from national model to the back of the pack. Municipalities only recycle 23 percent of household waste. The commercial rate is a pathetic less than 1 percent. Both are well under the less-than-impressive national average of 32.5 percent in 2006, according to a United States Environmental Protection Agency report.
Senate Majority Leader Teresa Paiva Weed, who launched the legislative effort with a recycling summit in January, believes Rhode Island can do better.
"I've always had an interest in recycling and a commitment to environmental issues," says Paiva Weed. "I was following Middletown as they implemented a pay-as-you-throw program, and I watched with amazement that the people were so receptive and so delighted to recycle that their recycling rates went from dismal to the highest in the state."
For the record, according to Sarah Kite, who runs Rhode Island Resource Recovery's recycling programs, North Kingstown is the historical leader with a rate of 33.3 percent; Portsmouth wins the state's Most Mindless Dumpers Award with an 8.5 percent rate. But in a state where the best community barely breaks the national average, no one's chest ought to puff out too far.
If Rhode Island is ever to reclaim its leadership in recycling, policymakers will have to find the right balance of carrots and sticks, because the current landfill is two years away from being full. A second, 100-acre site on the landfill property is now under the state Department of Environmental Management review. Michael O'Connell, Resource Recovery's new executive director, says at the current recycling rate, that as-yet-untouched landfill will be out of room in a decade. In preparation, Resource Recovery is exploring the addition of a waste-to-energy plant, a prospect that has alarmed environmentalists.
"The recyclables have been flat for the last six years," says O'Connell. "And I have an opinion about that. The people who want to recycle do it already. It's the people who don't care who have to be forced. I don't care how many education programs you run."
Smithfield, for example, instantly inspired its citizenry to recycle by adopting a no-bin-no-barrel program in which residents who did not put out their re-cyclables would not have their garbage picked up. Kite, who came to Resource Recovery after a stint in Smithfield, says she sold 1,000 plastic bins in six weeks, an amount she would normally sell in three years.
But municipalities themselves have faced few penalties for sheer wasteful-ness. The municipal tipping fee of $32 a ton hasn't been raised in fifteen years. As for incentives, in July, Resource Recovery instituted a profit-sharing program for recyclables. But it's too early to measure its success.
Nonetheless, the timing for profit-sharing is good, says Ed Skernolis, of the National Recycling Coalition, an industry group.
"In general, the last several years have been very good for commodities markets overall to include recycled commodities," he says. "Paper, aluminum, plastic, steel
and other materials have enjoyed record prices driven by global markets and the Asian demand for raw materials"
Mark Westlund, public outreach coordinator for San Francisco's Department of Environment, barked out a laugh at the idea of no-bin-no-barrel. San Francisco ties public education to strong financial incentives to achieve a 69 percent recycling rate of its total waste stream. The city, in partnership with its private hauler, Norcal Waste Systems, established a convenient three-bin system for consumers: one for all plastics, metals and paper; one for food scraps and yard trimmings; one for trash. Norcal keeps and sells all of the recyclable material; what's left goes to the landfill. In 2006, San Francisco generated 1.9 million tons of municipal waste; less than 665,000 tons went to the landfill. The city's goal is a rate of 75 percent by 2010.
"We are very customer-focused, and we make it as easy to recycle as it is to throw out the trash," says Norcal's Paul Guisti. "We also have lots of outreach. We go door to door giving away kitchen pails.
We set up tables in the park with outreach materials. We just keep talking to people. I do think education works."
San Francisco has also been successful because it recycles more categories of the waste stream—all six types of plastics, compared to Rhode Island's two; food scraps, which make up about 12 percent of the waste stream, are composted. The close relationship between Norcal and the city is also critical, says Mark Westlund, the city's environment director.
"We work with the garbage company to identify markets for recyclables, and we structure the program so that the more they recycle, the more money they make," Westlund says.
Now, the city is trying to eliminate the remaining 31 percent. Recently, San Francisco adopted a zero-waste policy banning plastic bags and Styrofoam food containers that can't be recycled.
Paiva Weed is aiming for a statewide recycling goal of 35 percent by 2012. Some would argue that we're still setting the bar too low. We need to get more people to recycle, but we also need to recycle more things. San Francisco has mustered its creative policy-wonk powers to turn trash into a valuable commodity. Ireland recently drove the scourge of plastic bags from its land by passing a consumer tax of thirty-three cents on each bag. According to news accounts, within weeks, plastic-bag use dropped by 94 percent. If an entire nation can switch to cloth bags, Rhode Island can raise its recycling rates by more than token amounts.
"Save the Landfill" may not fall off the tongue as trippingly as "Save the Bay," but if we don't, all of us will be paying much, much more to export our garbage.