Watch a Meditation Film in a Sauna Pod
Sisters of the Lattice present Hotspot involves an interactive sweat lodge ceremony and live video.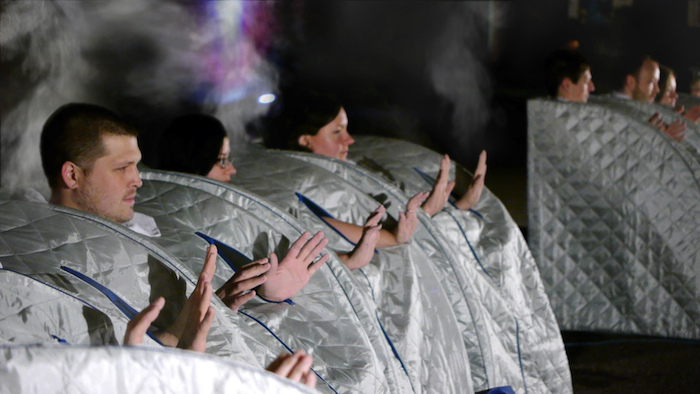 We've all watched a movie in an air-conditioned movie theater so brisk you need a blanket to get comfortable. But have you ever watched a film in a sauna? How about a portable, individual sauna pod? You'll have your chance at the music and performance art venue Machines with Magnets for one night only with "Sisters of the Lattice present Hotspot" on Tues., March 11 at 6 p.m. and 8 p.m. Watch a screening of the feature-length film Link, an interactive meditation documentary created by the Sisters on the Lattice. Instead of cushy theater seats, guests will be cocooned in portable saunas. The eighty-minute sweat lodge ceremony involves the individual steam sauna pods and live video. Participants will use meditation to create a wireless network from the energy of its participants.
The video below captured the Hotspot ceremonies held in Pittsburgh last winter.
Hotspot from Nina Sarnelle on Vimeo.
The film Link takes a journey across the country with the Lattice Sisters as they seek out five human links to connect over a conference call. The documentary tells the story of the five links as part travelogue, part interactive meditation and part psychedelic experience. Check out the trailer below.
Link (promo) from Nina Sarnelle on Vimeo.
There are six saunas available for two shows at 6 p.m. and 8 p.m. This free event is the first Hotspot to be held in Rhode Island. If you'd like to reserve a sauna, please email willa@machineswithmagnet.com or connect@sistersofthelattice.info. Sauna participants will be asked to arrive thirty minutes before the ceremony begins, and will be given further information about how to dress and prepare. The event will also be open for those who only wish to watch the film ($5 suggested donation; no reservation necessary).
Link is shot by Elisa A. Schwenninger, with music from Zeljko Mcmullen, Michael Beharie and Luke Loeffler.