Waste Watchers
The Compost Plant Digs Food Scraps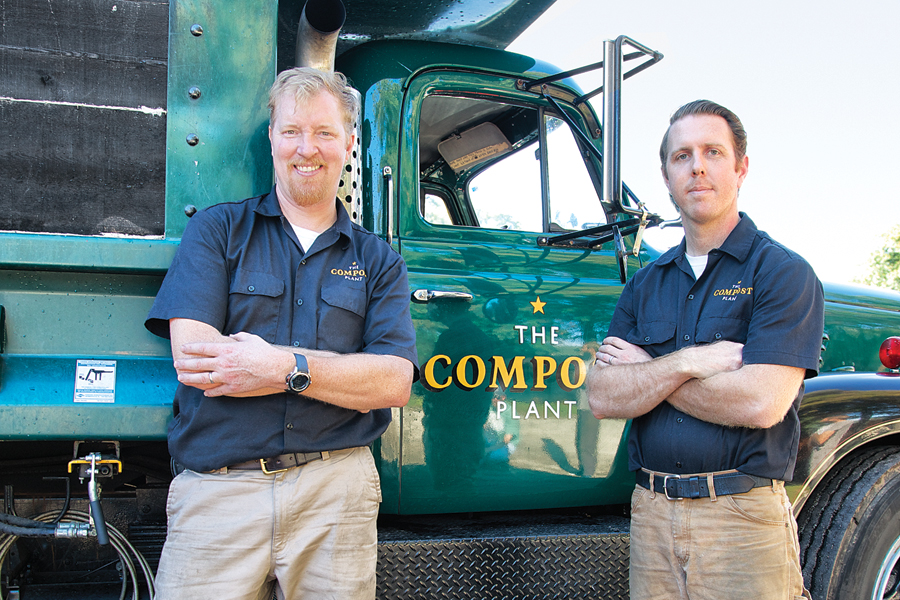 Nearly one-third of our garbage is compostable material. For some, food waste is a pineapple rind, moldy bread or a rotisserie chicken carcass, but for Leo Pollock and Nat Harris, it's pure energy. Within six to eight months, waste transforms into nutrient-rich soil which in turn grows produce at urban farms and personal gardens.
Over the past year and a half, Pollock and Harris created the Compost Plant, a business that's making Rhode Island a little greener — both figuratively and literally. The full-service commercial compost operation collects food waste from large-scale outputs like restaurants, institutions, universities and even local shops like Seven Stars Bakery. Organic material is trucked to Earth Care Farm in Charlestown, where it decomposes into compost and is then sold back to gardeners throughout the state as an Earth Care product.
"Our hope going forward is to have a site of our own where we'd be doing the processing and then we would have our own product to sell," says Pollock.
The partners came together from two different experiences. Harris founded Newport Biodiesel as a waste-to-energy company and felt there was more that could be done. "Food scraps are a natural product and getting that waste back into the ground to grow plants seemed like the next step," he says. Pollock saw the need for a local soil supplier during his time working for the Southside Community Land Trust.
The next step for this social enterprise will be to find a three- to five-acre parcel of land to get their solid waste management system "cooking." In the meantime, the Compost Plant will continue improving the environmental quality of local communities in our small but mighty state. compostplant.com
---
Food: Too Good to Waste
Six ways to prevent throwing away food. By Jamie Coelho
In the United States, 40 percent of food is wasted. To reduce spoilage, the pilot program Food: Too Good to Waste launched in various communities nationwide, including Rhode Island. "The average family of four could save $1,600 a year just by not overbuying and throwing stuff away," says David Rocheleau, project lead and former chairperson of the Healthy Environment Workgroup of the Rhode Island Food Policy Council.
How to cut down on groceries that go out with the garbage:
1. Be a Chef in Your Own Kitchen: Plan your menu before grocery shopping. Write down all the things you're going to cook, then make a list of ingredients you'll need.
2. Take Inventory: Check off things you already have stocked, then shop for missing items.
3. First In, First Out: Designate a section of your refrigerator or a drawer for food that should be eaten first.
4. Prep Now, Cook Later: Do prep work ahead of time to make it easier to use items later. Slice and dice veggies and fruit, trim meat. It saves time. When food is already prepped, you'll be more likely to cook it.
5. Package Foods for Freshness: Store items in clear plastic containers so you can see contents.
6. Freezing is your Friend: Make big batches and freeze extra portions for later use.