National Chain's Holiday Display is the Epitome of Good Cheer
The Warwick-based business uses its prime real estate on Route 95 to bring joy to passersby with an incredible holiday display.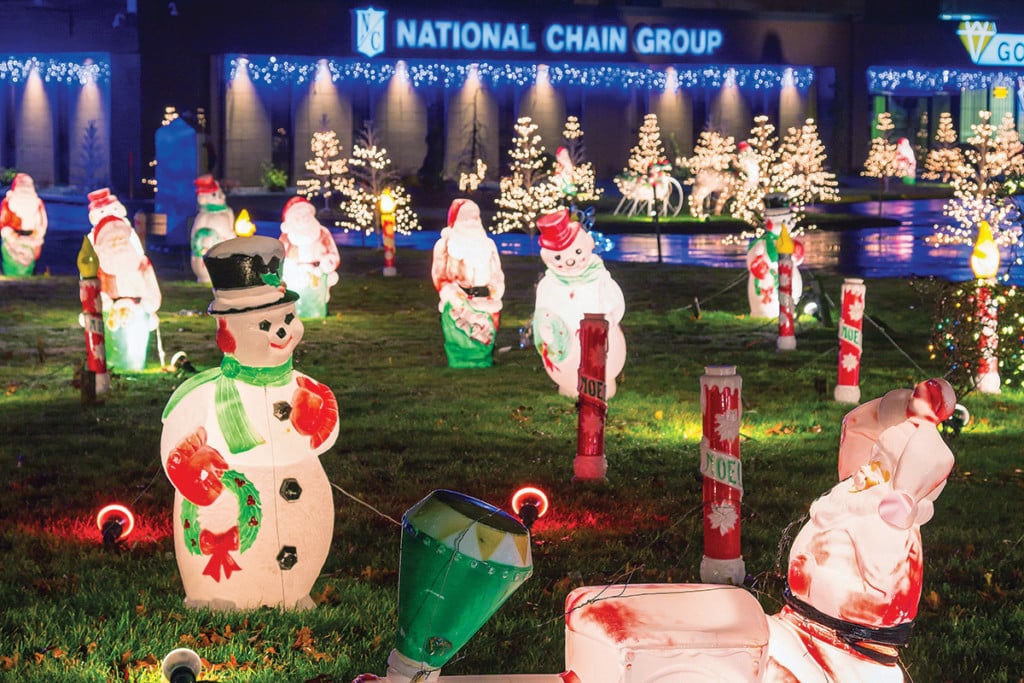 Where to eat
Vanda Cucina
Despite its location on a busy rotary, this new Italian trattoria is surprisingly intimate. Try the deconstructed arancini, lighter than more traditional incarnations, with ground beef and rice wrapped in steamed cabbage and served with tomato puree. On the other hand, some say the Bolognese with handmade fettuccini is the best thing on the menu; it's also said to be the most popular. 1 Centerville Rd., Warwick, 921-3144, vandacucina.com.
Tree House Tavern
Once an 1860s farmhouse, this whimsical tavern and bistro is filled with vibrant flowers and a great ambience — an ideal combination for a weekend brunch or a charming lunch or dinner. Munch on the roasted veggie cheese board or the tree house garden platter with hummus, grilled flatbread, roasted butternut squash and peppers. Try to pick between the savory dynamite bowl, sweet potato pizza, pan-roasted duck breast, apple cider brined pork chop or the eggplant tart. If brunch is on your mind, the Tree House Tavern serves creative and seasonal dishes on the weekends. Also try the hand-crafted micro brews or sip a smoked maple cinnamon old-fashioned while sitting around the fire in the backyard under the stars. 1094 Centerville Rd., Warwick, 821-1105, thetreehouse
tavern.com.
Where to explore
Goddard Memorial State Park
Goddard Park is a local favorite thanks to its 490 beautiful acres that skirt the shores of Greenwich Cove and Greenwich Bay. Explore the eighteen miles of bridle trails, play on one of eleven game fields or even take a shot at the nine-hole golf course. Bundle up, pack a picnic and find a spot on the spacious fields to relax on for the afternoon. 1095 Ives Rd., Warwick, 884-2010, riparks.com.
Clouds Hill Victorian House Mansion
If Victorian architecture strikes your fancy, or if you are just looking for a beautiful spot to explore, this gingerbread mansion is your destination. Referred to as Rhode Island's hidden treasure, Clouds Hill mansion is a Gothic Revival built in 1877. With a museum docent at your side, explore the home and admire the charming architecture and water views. Every room is filled with artifacts and treasures from the mansion's golden age. Dinners, tea and music parties also regularly appear on the schedule, so plan your visit to this historical gem accordingly. 4157 Post Rd., Warwick, 884-9490, cloudshill.org.
A Short Drive Away
Buttonwoods Brewery
If you are in the mood to taste new brews and mingle with fellow beer lovers, stop by this brewery. The year-old business is already gaining a following for its barrel-aged beers and IPAs. Try the sour IPA with salt conditioned on lime, mandarin orange and agave. Or, if you're in the mood for something sweet, go for the stout conditioned on peanut butter, Fluff and vanilla. As you sip, play corn hole or relax in the tasting room. Plus, say hello to Ollie, the adorable brewery dog who will be around to warmly welcome you upon arrival. 530 Wellington Ave., Cranston, 461-2337, buttonwoodsbrewery.com.
Where to shop
Noon Design Shop
This quaint little shop offers beautiful and rare pieces of jewelry and goods, and everything is handmade. If you are looking for a gift, an array of specialty and exclusively crafted goods is at your fingertips. Browse through birthstone necklaces, essential oil lava rock earrings, coconut and mango soy candles and beautiful crafted journals and notebooks. The shop's letterpress greeting cards, glassware and soaps, perfumes and scrubs are thoughtfully crafted and designed and will give you a good excuse to treat yourself to a little something special. 18 Post Rd., Warwick, 455-1222, noondesignshop.com.
Ocean State Apparel
If you're feeling nostalgic this holiday season, you might want to take a gander at Ocean State
Apparel's inventory. The store is well-known for its Little Rhody-themed souvenirs and gifts, including T-shirts and signage with funny slogans, various products created by local artisans, and iconic Rhode Island fare like Del's lemonade packets and Iggy's doughboy mix. Best of all? The shelves are also stocked with a whole slew of Benny's (R.I.P.) memorabilia. 2105 Post Rd., Warwick, 737-0686, oceanstatesouvenirs.com.
A Short Drive Away
Little Falls Cafe
In the heart of Pawtuxet Village, freshly baked chocolate chip banana muffins, buttery croissants and plate-sized cinnamon rolls await your delectation. Open every day, it's a great spot to pick up savory and sweet specialties or homemade quiches and soups. 2166 Broad St., Cranston, 781-8010, littlefallscafe.com. 