National Chain's Holiday Display is the Epitome of Good Cheer
The Warwick-based business uses its prime real estate on Route 95 to bring joy to passersby with an incredible holiday display.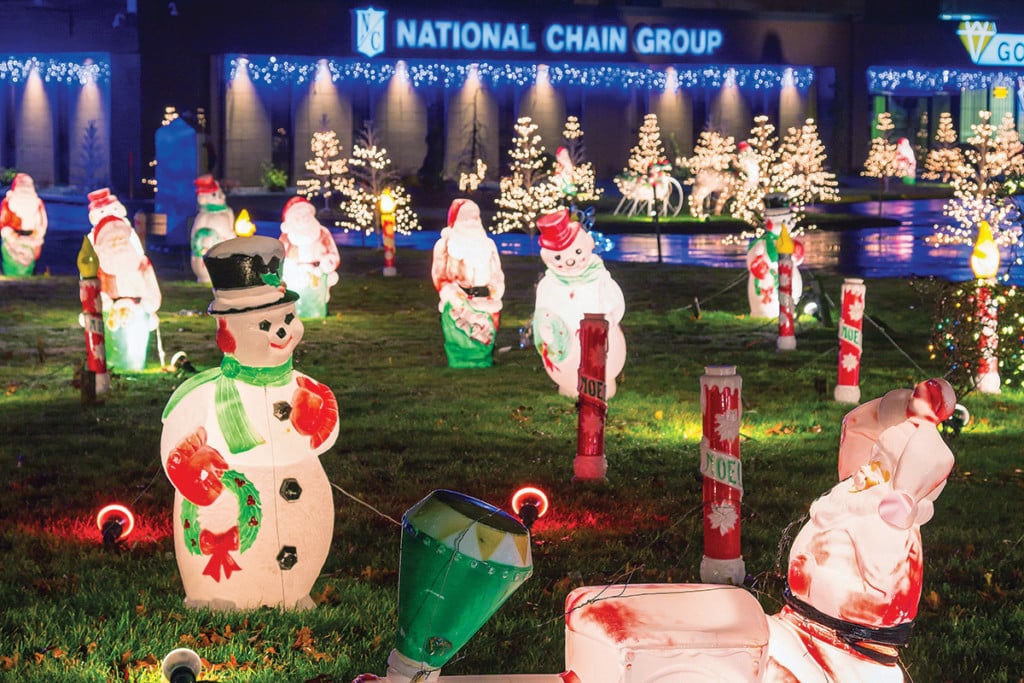 'Twas the month before Christmas, When along I-95 in Warwick, Not a Rhode Islander was speeding, As the lights came alive.
No matter if you see it up close while caught in rush-hour traffic or if its glow catches your eye on your way to the office Christmas party, there's one particular stretch of highway that's sure to get any passerby in the holiday spirit. No, we're not talking about world-renowned Nibbles Woodaway and his adorable blinking red nose, but rather National Chain Group's annual Christmas display. From mid-November to New Year's Day, the company's front lawn (located on the east side of I-95 between the T.F. Green and Jefferson Boulevard exits) is besieged by Santas, elves, reindeer and sleigh figurines, inflatable snowmen, a sprawling nativity scene and thousands upon thousands of LED lights. And it's only growing.
"I look for stuff all year round; I'm always on the hunt," says National Chain's production manager (and resident holiday display coordinator for the past twelve years), Debbie Tatangelo. It's early October when I meet her and the company's vice president of marketing, Vince Ferrante, at National Chain's headquarters on Access Road in Warwick, but Halloween is far from anyone's mind. "I won't buy anything until we've taken inventory," Tatangelo says. "But because Thanksgiving falls early this year, we'll probably start going through everything as early as next week."
She and a few other employees head up to the attic in the back of the building where all of the display pieces are kept in the off season. They'll spend a day or two pulling down the various trinkets and lights from shelves, blowing off the dust and figuring out what needs to go, what needs replacing and what additions can be made based on the modest budget Tatangelo is allowed each year.
"I actually found a forty-foot Santa while I was in At Home the other day," she tells Ferrante as an aside. "I'm probably going to get it. Can you imagine something like that on the side of the building, welcoming everyone that pulls up? It'd be hilarious." Ferrante agrees and I make a mental note to look out for the giant red suit. But a majority of the pieces placed on that lawn are far from shiny and new. In fact, many of the statues date back to when the practice first started in 1974.
"A few are missing faces and appendages, but they're original," Tatangelo says. "It's amazing how many of them are still intact — it's always the plastic ones that survive."
However, between the passage of time, brutal winter weather conditions and rough winds coming off the highway, others just don't make it ("There's only so many times you can glue those guys back together!" Tatangelo says with a laugh). And so when an old, irreparable bust gets removed from the lineup, she will often turn to eBay for authentic, vintage blow mold replacements. While some may call the aesthetic kitschy, others deem it nostalgic and heartwarming.
Ferrante remembers the first time he saw the display back in the eighties. "Ralph Cipolla, the founder and former president of National Chain, always wants to help the community. He loves the holidays and is very family-oriented, so he wanted to create that atmosphere at his company. One day he decided, 'You know what, we have all this lawn and so much exposure to Route 95, why not put it to good use?' "
He put it to very good use that first year, and then with every year that followed the presentation only got bigger and brighter. It became an annual sight that locals not only noticed, but eventually came to look forward to: a beloved, quirky Rhode-side attraction.
But for all the time it's been around, National Chain has never really capitalized on the intrigue.
"Most people don't know who we are," Ferrante says with a laugh. "They think we sell picket fences."
Not quite: The company, believe it or not, makes and sells chains. Its story begins when Cipolla, a young sales representative at the time, struck out on his own and opened a jewelry manufacturing company on Charles Street in Providence. In 1973, he moved everything to Access Road in Warwick and from there, much like its celebrated holiday display, National Chain grew and grew.
Today, it's the largest full-service chain manufacturer in the world.
"We're a one-stop shop," Ferrante says. "We take gold from grain and turn it into precious and semi-precious pendant and fashion chains. Over the years, we've expanded and acquired companies that can help us meet mill stock, bead findings, casting and [computer-aided design and computer-aided manufacturing] design needs and more."
The combined building space in Warwick totals 200,000 square feet, and National Chain also has a workspace in Attleboro and factory in the Dominican Republic.
"Everything is made in the U.S., but some of it is assembled in Santo Domingo,"
Ferrante says. "Between the operations, we employ upwards of 1,200 people — 800 of those being local."
Fortunately, National Chain has received some recognition for its success: The company has been featured on the Science Channel's "How It's Made" and the History Channel's "Modern Marvels" (fun fact: both episodes are still in syndication). The company is, of course, proud of its accomplishments, but it isn't boastful. Instead, the focus is on the people.
"It's a family-run company. Ralph's son, Steven Cipolla, took over as president after Ralph retired and became a chairman on the board," Ferrante says. "He continues his father's legacy of supporting his employees; he's very conscientious of making sure that they're treated well and that they enjoy the work that they're doing. It's rooted in respect and tradition."
"We're like a family, ourselves," Tatangelo adds, "and for a lot of people who work here, this is the only job they've ever had." They even have legacies. "We have a co-worker whose father used to work here, too, and he remembers as a kid watching his dad help put up the display back in the day."
Nowadays, it's still a family affair: Fellow employees, family members of employees, grandsons of the Cipolla patriarch, children of retired employees and other community members have all been known to lend a helping hand for the holiday display setup. And good thing they do. The month-long process often involves lugging and placing each of the figurines; tying them down so none accidentally take a trip to the middle of the highway; and stringing upwards of 60,000 lights (luckily, one of the helpers has a cherry picker at their disposal to reach the high points on trees and roofs).
"It's a lot of work and it stresses me out every year because I want everything to be perfect," Tatangelo says. "Once everything is up and lit, I'll drive back and forth a million times on the highway, checking it out from every angle."
But she's the first to admit that the finished result is worth all the work, especially when affirmations of admiration and appreciation start rolling in. Now in his nineties, Ralph Cipolla comes by every year to praise their work. Throughout December, neighbors, commuters and holiday travelers take detours from 95 to the National Chain lot to see everything up close and at a slower pace. (If you're planning to do the same, please stay in the vehicle; the company doesn't want anyone to trip over concealed wires.) Tatangelo says they also regularly receive thank you cards.
"They're from people who appreciate that we make the effort every year," she says. "Some have made it into their own little tradition and will tell us that they always drive through with their kids or grandkids. It's sweet."
Tatangelo is happy to play a part in upholding a tradition that means so much to so many people, and she's already looking ahead to the display's upcoming fifty-year anniversary in 2024. Gesturing towards Ferrante, she says, "He just gave me a catalogue to look through, so I've already started planning. I better have a good budget for that year!"
She plans to go all out, but with so many lights, ornaments, figurines and now even a forty-foot Santa in the works, what could she possibly do to top it?
"We can't let fifty years slide without doing something big," Tatangelo says. "I want spectacular — I want people talking about it for another fifty years."