Warren is in the Midst of Reinvention
White collar, blue collar, new, old: Warren is a town in transition.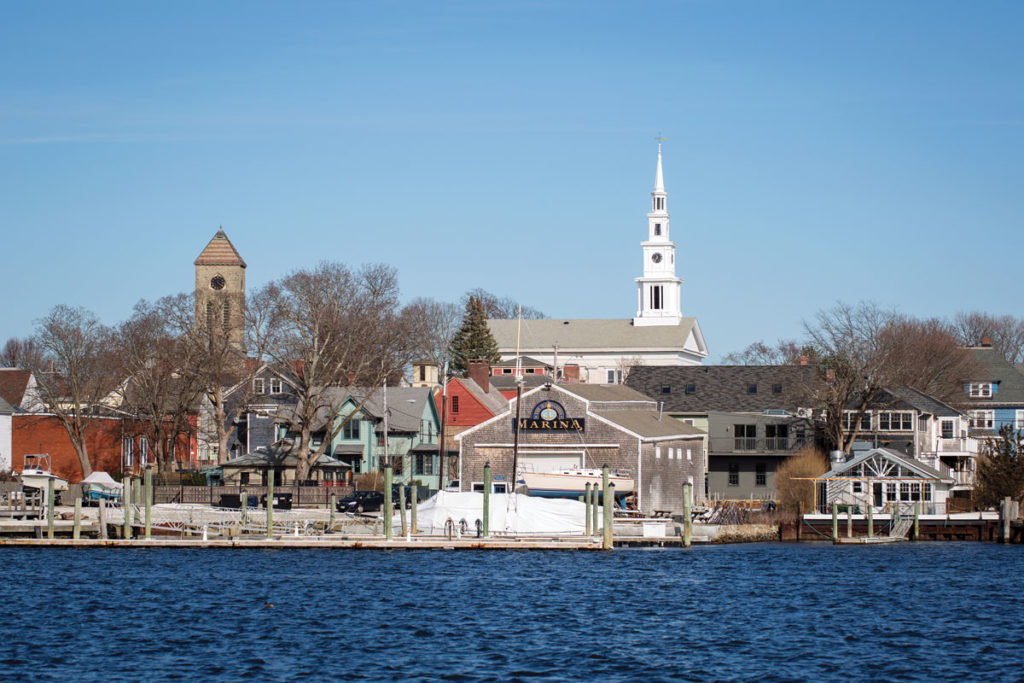 Yuppies dressed with calculated casualness filter in and out of fashionable restaurants where they order duck confit flatbread and trout pate. Down the street, workers clock out of rugged boatyards after a long day of welding hulls and fixing engines. Old captains' houses have vinyl siding slapped on them, and although they don't look new, they certainly don't look centuries old. White collar, blue collar, new, old — Warren is a town in transition.
In recent years, the community has become home to high-end restaurants and incipient apartment complexes, but for much of its past, it had a grittier personality.
The town's story begins in 1621 when Edward Winslow and Stephen Hopkins of Plymouth Colony fame visited the area and befriended the local Native Americans. But it was in the eighteenth and nineteenth centuries that it began to develop its distinctive rough and tumble character. Warren's location on Narragansett Bay made it an ideal spot for a developing maritime industry.
"The whole town was built around supporting the shipbuilding industry," says Douglas Hinman of the Warren Preservation Society. "The early fortunes of the town were based on shipbuilding and whaling."
From the boatyards where ships were mended to the buildings where whale blubber was boiled down, Warren wasn't exactly the epitome of seaside charm. Built around brawny maritime trade, the town catered to the seamen who powered its industry, with unruly bars and other unsavory venues.
But as the tide of maritime prosperity began to ebb, a new industry emerged in its place. In 1847, the town's first factory, the Warren Manufacturing Company, began producing textiles.
"The mill transformed the town from a Yankee shipbuilding and whaling city into a manufacturing hub," says Hinman. "That's when they started getting immigrants: From Scots and Germans to Irish and Portuguese."
The swirling collection of immigrant groups kept the town's blue collar roots alive. But in the late 1920s, Warren, like the rest of the nation, faced a sudden economic dive. The mills closed their doors, textile manufacturing and processing moved south, closer to the source of the cotton, and Warren lost the engine powering its prosperity. Industry slowly limped back, but Hinman is reluctant to compare the town to its heyday.
"It really never recovered since the Depression. You see pictures of the town from 1900 and it's just beautiful. All the buildings are wonderful and there's perfect fencing everywhere; it really was a nice, thriving community."
Although Warren's days as an industrial wonderland may be over, it is making a comeback in a totally different way. Trendy restaurants and fashionable shops have largely replaced the factories and mills.
Warren's burgeoning success comes from the residents' passion for their community. The late Luther Blount, founder of Blount Boats, grew up enjoying open access to the town's waterfront. When a condo development project threatened to cut off public access, he took action.
"The thought of having a development plopped down in the middle of the waterfront didn't seem right to him," says Julie Blount, his daughter and executive vice president of Blount Boats. "He felt the need to preserve this open space. He asked the town to reexamine the area's importance and said he'd donate a million dollars to preserve the waterfront."
After Luther's offer, the city council resurveyed the land and decided to drop the condo development project, making the area a town wharf instead.
"Now there's a publically used space in the middle of the waterfront," says Blount. "It was a big benefit to the town."
Other large development projects continue to pop up, but rather than wiping away the past, they attempt to integrate it with the new. The American Tourister building, once the Warren Manufacturing Company, is being converted into apartments and commercial and retail space.
"My father was for progress," says Blount. "I think he would have considered the Tourister mill a good project."
Although these high-visibility projects don't appear to damage the historical or social integrity of Warren, residents fear negligence and construction on a smaller scale may erode the town's vibrant past. Hinman warns against the indifference some have towards preservation.
"There are a lot of early structures here that are in varying states of disrepair and others that are totally destroyed. Houses from the 1700s have been torn to bits and covered in vinyl siding," he says. "There are a lot of sad stories here — and ignorance. Landlords who don't live here just divide these buildings up into rentals. They have no interest in preserving it."
The town tries to monitor construction and preserve historic buildings, but in a small community with limited funds, it's difficult to enforce rules and regulations.
Despite this, there has been renewed interest in the town's history. Hinman hopes that residents will be inspired to appreciate and conserve its past as the community dives headfirst into a gleaming duck confit and trout pate future.
"It's kind of a damaged pearl of a town, and we've had some hard times. But I think we're coming back."
---
Great Places for Foodies
Warren
Trafford
For the folks at Trafford, location is everything. Situated on the edge of the Warren River, all
aspects of the restaurant involve the intersection of land and sea. The views feature passing boats and placid waters while the menu offers delicious fare like wood-grilled rib eye and seafood like fried fish tacos. Even the name of the eatery hearkens back to its location: Trafford means the intersection between water and land.
285 Water St., Warren, 289-2265, traffordrestaurant.com.
Eli's Kitchen
Burgers, flatbreads, salads — seems pretty standard, right? Not quite. At Eli's Kitchen, the mundane is made miraculous. Burgers are formed with grass-fed beef and smoked bacon, along with other premium ingredients. The flatbread is topped with falafel and pickled cabbage and a smattering of Mediterranean staples. And salad, whether it is Caesar or kale, will defy
expectations.
40 Market St., Warren, 245-1809, eliskitchenwarren.com.
Blount Clam Shack
The Blount family has been plying the waters of Narragansett Bay for generations, capturing and selling shellfish. Decades of experience might be why their seafood tastes so good. If you're feeling traditional, grab a bowl of chowder and half a dozen clam cakes. If you're in the mood for something a little more unusual, try the Key West petite pink shrimp platter.
335 Water St., Warren, 245-3210, blountretail.com.
A short drive away
Tong D
Thai never tasted so good. At Tong D, all your Southeast Asian favorites, from scallion pancakes to pad thai, are prepared with authentic ingredients and techniques. It also has an affordable prix fixe lunch deal: You get one appetizer, one entrée and a salad, all for ten dollars.
156 County Rd., Barrington, 289-2998, tongdrestaurant.com.
Great Places to Shop
Warren
Muse
Rhode Island has a deep past in the jewelry making industry. Some shops, like Muse, continue the tradition by selling local handmade rings, bracelets and necklaces. Many of their wares come from within the state, whether they are from Providence or Warren. Also check out the selection of art prints, luxury gifts and baby accessories. There's a little bit of everything that is local and handcrafted at this shop.
279 Water St., Warren, 289-2150, musehandcrafted.com.
Made in Warren
With more than forty participating local and regional contributors, Made in Warren is an artists' cooperative with a great selection. Choose from a variety of paintings, ceramics and other media. Looking for some stained glass to bolster the vibrancy of your home? Check out the work of Diana Cole. Want some ink illustrations to put on display? Charity Enos is the artist you're looking for.
476 Main St., Warren, 310-0559, madeinwarren.com.
Imagine Gift Store
It's hard to miss this distinctive gift shop; painted a deep lavender with accents of mustard, its coloration is definitely unique. Browse through a variety of goods from sea glass earrings and dog leashes to luxury soap and quirky stationery. If you're a fan of bovines, the shop has Cow Parade memorabilia, with miniature statues and even four life-sized heifers. If you lean towards the wacky and whimsical, this is the gift shop for you.
5 Miller St., Warren, 245-4200, giftimagine.com.
A short drive away
Sweet Lorraine's Candy Shoppe
The days of the penny candy counter are mostly a memory, but at Sweet Lorraine's Candy Shoppe, the tradition is much more than a sweet dream. A handful of change will get you everything from lollipops and hard candy to jawbreakers and gum. Lorraine's also has a fine selection of goods from local candy makers like Sweenor's and Ocean State Chocolates. Whatever your tastes or budget, Lorraine's will satisfy your sweet tooth.
211 Waseca Ave., Barrington, 245-1168, sweetlorrainescandy.com.
Great Places to Explore
Warren
Touisset Marsh Wildlife Refuge
With sixty-six acres of forests, meadows and salt marsh, the Touisset Marsh Wildlife Refuge has numerous natural settings for every type of nature lover. Although hiking is encouraged, the refuge is a sanctuary for flora and fauna of all types, so low-impact use of the area is suggested. Bringing pets, having picnics, camping and littering are not permitted.
Touisset Road, Warren, asri.org.
The George Hail Free Library
The George Hail Free Library has been a Warren institution for more than a century. The venerable building was erected in 1889 and has been the library's quarters ever since. The library is also home to the Charles Whipple Greene
Museum, which displays domestic, maritime and military artifacts. The collection includes fascinating historical documents by Warren locals, like a journal describing the California Gold Rush and a logbook of the nearby whaling industry.
530 Main St., Warren, 245-7686, georgehail.org.
Second Story Theatre
Despite its colorful maritime history, the town has an artsy vibe and that's regularly on display at Second Story Theatre. An evening at the two-stage, professional performance space was ranked by TripAdvisor as the number one thing to do in Warren, and a regular season can offer works that range from Noel Coward to Paul Rudnik to Edward Albee. Tickets are $35 and less.
28 Market St., Warren, 247-4200, 2ndstorytheatre.com.
A short drive away
Blithewold Gardens, Mansion and Arboretum
Home to some spectacular greenery and a historic home with a storied past, the thirty-three-acre Blithewold Gardens, Mansion and Arboretum has a little bit of everything. The property was originally purchased more than 100 years ago, and the home was rebuilt once after a serious fire. Today, it offers a number of tours and events for interested visitors, including afternoon teas, garden strolls and holiday celebrations. It's also a popular venue for weddings and events.
101 Ferry Rd., Bristol, 253-2707, blithewold.org.
---
On the Green
Straddling the line between Massachusetts and Rhode Island, the Swansea Country Club sprawls over 300 acres, including a fifty-acre freshwater pond. There's a snack shack for quick bites on the course and a full-service clubhouse bar and grille if you'd like something more substantial to eat (and drink). Don't forget to practice your swing at the 10,000-square-foot teeing area.
299 Market St., Swansea, Mass., 508-379-9886, swanseacountryclub.com.
If you're looking to add some yards to your swing, Mike Harbour's East Bay Driving Range is the place to go. The range's eponymous founder has golfed professionally for more than twenty-five years, and he's worked with some of the game's top players. The facility reflects his dedication to golf, with a variety of outdoor and covered driving bays for
all weather conditions, rain or shine. In addition to the range, it offers PGA golf lessons and clinics for novices to pros.
326 Market St., Warren, 337-5552, mikeharbourgolf.com.
The Windmill Hill Golf Course packs a lot of punch into just nine holes. This par 27 course has holes ranging from 116 to 218 yards. It has a restaurant and banquet hall overlooking the grounds if you'd like a scenic venue for a function or wedding. Whether you're golfing for the day or hosting an event, the friendly staff will make your experience a memorable one.
35 Schoolhouse Rd., Warren, 245-1463, windmillgolfri.com.
The Rhode Island Country Club's eighteen-hole course was designed in 1911 and has been faithfully serving Rhode Islanders for more than 100 years. The final four holes are alongside the Narragansett Bay, offering a refreshing breeze and spectacular views. This course has been home to four USGA Championships as well as the annual CVS Charity Classic. The club has a variety of other amenities, including a heated swimming pool, dining rooms, an outdoor terrace and tennis and racquet courts.
150 Nayatt Rd., Barrington, 245-5700, ricc.org.