Walking School Bus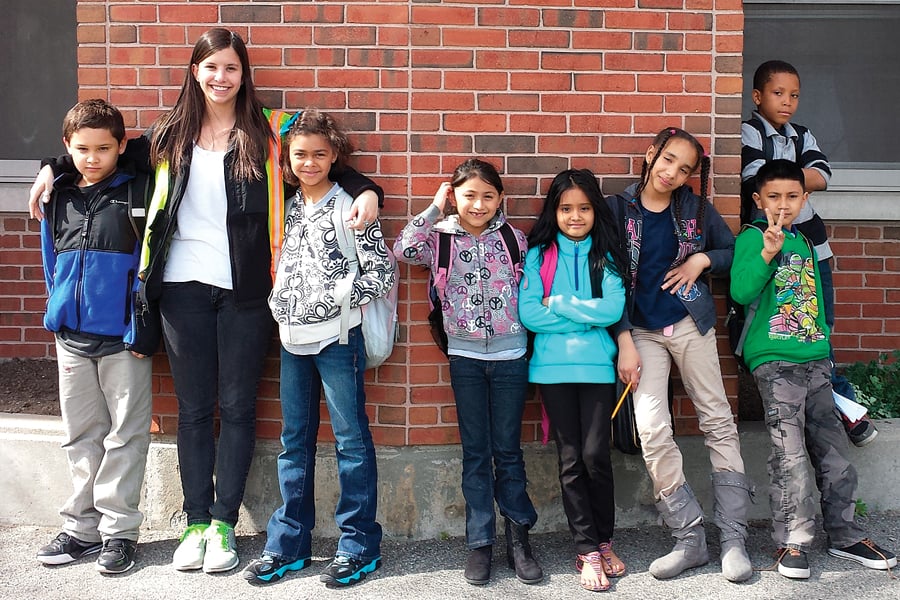 Elementary school students quickly cross the street and laugh as they debate who won an ongoing game of I Spy on the walk home from school. Young girls and boys grasp each other's hands marching down torn up sidewalks strewn with broken glass. They smile and laugh and seem disappointed when they have to leave their friends to go inside their homes.
For children living within a mile of their schools, who do not qualify for bus pick-up and drop-off, the Walking School Bus program run by the Providence Children's Initiative of Family Service of Rhode Island ensures that those without transportation at the Mary E. Fogarty and Robert L. Bailey elementary schools have a safe way to get to and from school. "Many parents can't take their kids to school and without this Walking School Bus, a lot of kids wouldn't go to school at all," says Stephen Hug, senior vice president of marketing, communications and community relations at Family Service of Rhode Island.
Volunteers guide students home and sometimes act as crossing guards when there isn't anyone else available to help the children navigate the busy streets. Allyson Trenteseaux serves as program manager. "Attendance in the program has improved by seventy-nine percent and later, we call families to see why some children aren't going to school," she says.
Julie Casimiro, the interim director of Providence Children's Initiative, says, "We think it is far-reaching and not just about getting kids to school. Students also get snacks and learn how to safely walk in the city."
The Walking School Bus began two years ago and Hug says the program will soon expand to other elementary schools in the area. familyserviceri.org