Walk on the Wild Side at Jordan's Jungle
The Pawtucket plant retailer and greenhouse gives us the 411 on houseplant care.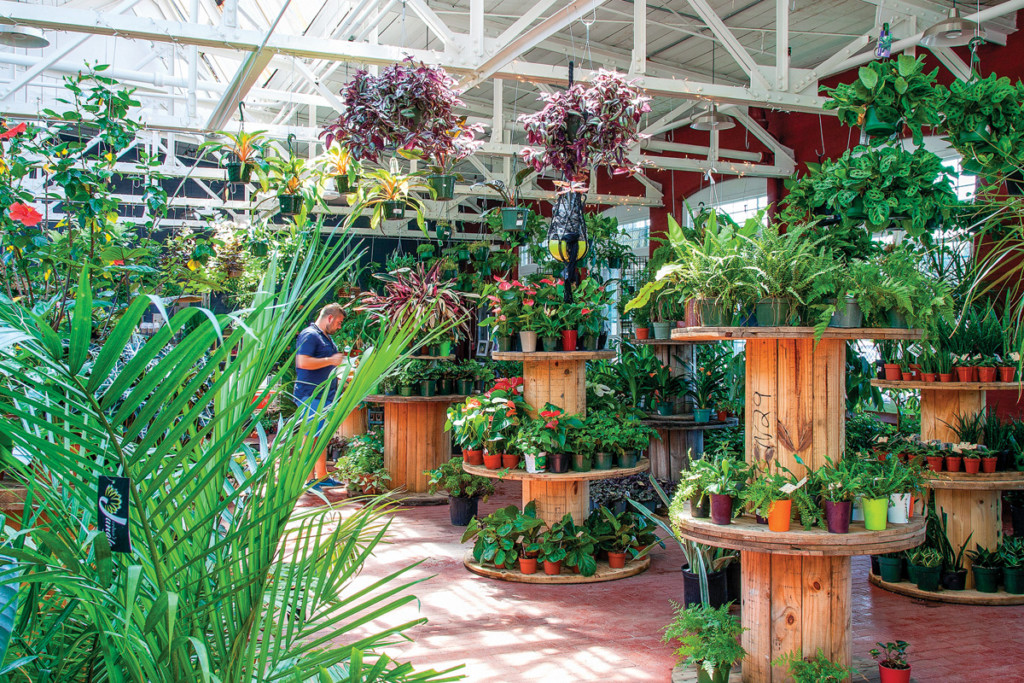 Thumbs Up
In life, there are two groups of people: Those with green thumbs and those without. Despite the stark dichotomy, few would argue against the benefits and beauty a few plants can bring to a space. For those who are less chlorophyl-ically inclined, there's Jordan's Jungle. The four-year-old Pawtucket shop-slash-greenhouse is filled with all manner of houseplants and a staff with the know-how to make picking and caring for one a breeze.
The seed for Jordan's Jungle was planted by a single orchid. A gift from Darin Wildenstein to Jordan Ford — co-owners of the shop — the flower sparked an obsession with houseplants that soon blossomed into an online business until the two opened their first bricks-and-mortar in 2014.
"It was something we were able to grow and enjoy doing together," Wildenstein says.
The current store, in a renovated Pawtucket mill, is a 5,000-square-foot tropical paradise, filled wall-to-wall with air plants, bromeliads, cacti, succulents and many other unique species, plus planters, food and everything else you would need to help them flourish.
Wildenstein and Ford might know their way around a houseplant, but not everyone has such expertise — or comfort — when it comes to green things. Still, the pair believes that shouldn't deter anyone from bringing a plant or two into their home.
"We try to match the person with the right plant and we coach our customers through all kinds of situations," Wildenstein says. "Not only do we grow and sell, but we are here to support along the way."
There are many benefits to plants, including increased oxygen, air purification and the natural energy they provide, Wildenstein says. Picking the right one is a matter of looking at your lifestyle, environment and the amount of care you're willing to give a plant to determine the right fit.
And when all else fails, there are even varieties that require little to no care at all — like cardboard palm and mother-in-law's tongue — so even wannabe gardeners have options, according to Wildenstein.
"There is a plant for everyone!" he says.
Plant Primer
Some basic information to know before purchasing a houseplant, according to Jordan's Jungle co-owner Darin Wildenstein.
– What are the benefits of houseplants?
• Increased oxygen
• Air purification
• Natural energy
• Aesthetic interest
– What are the questions to ask yourself when picking a plant?
• How much time can you dedicate to care?
• How much natural light does your space get and what time of day is that light strongest?
• What is the temperature range (average high and low) in the space?
• Do you have pets or children?
– What's an important factor in determining if a plant will do well in your home?
Understand where your plant comes from and where it grows in the wild. This will help you better understand where you should place it and how you should care for it:
• Open desert = dry and sunny
• Mountain desert = dry and shady
• Tropical ground cover = damp and shady
• Tropical canopy = sunny and damp
– What's one general rule of thumb when it comes to plant care?
Do not overwater. Less is usually better than more. Plants are built to retain the water they need and frequency will depend on environment, but plants will begin to rot if they're too wet. And if you forget to water, don't leave the plant in standing water to compensate. Most plants are killed by too much care. Also, when buying a few plants together, consider those that require the same levels of care. This will reduce the likelihood of death caused by the wrong care.
To learn more, visit the experts at Jordan's Jungle, 545 Pawtucket Ave., Pawtucket, 475-0100, jordansjungle.net.
Plant picks for every environment.
Low Light/Low Care
Calathea, cardboard palm, pothos, snake plant, spider plant
Low Care/Limited Space
Air plants
High Light/Low Care
Cactus, monstera deliciosa, succulent
Low Light/Lots of Space
Calathea, fiddle leaf fern
High Light/Lots of Space
Alocasia, bromeliads, palms
Improved Air Quality
Dracaena, ivy, pothos, rubber plant, spider plant
Toxic to Pets/Children
Caladium, dieffenbachia, foxglove, pothos, philodendron