VIP Pizza in Rhode Island
Two chefs share how they obtained their coveted VPN status.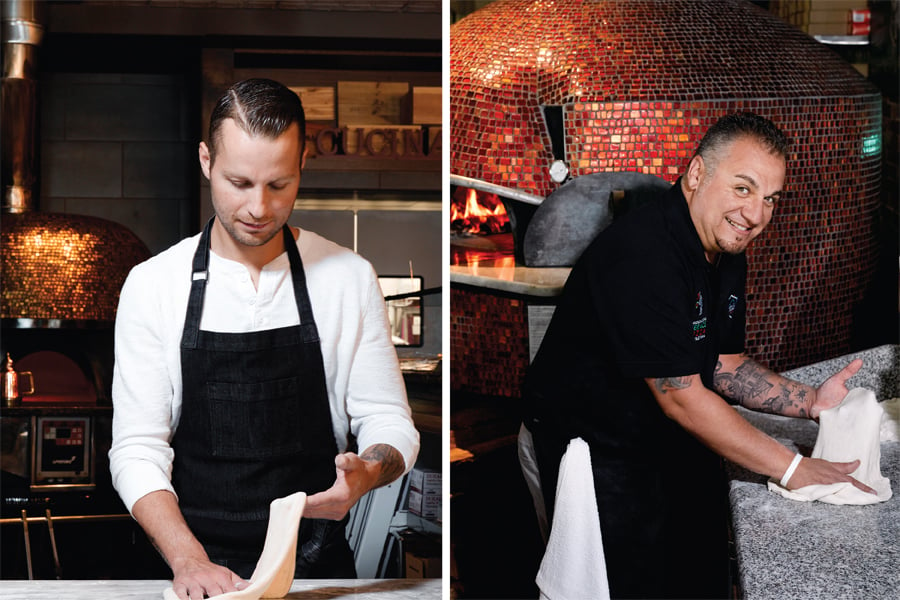 In the pizza world, official VPN certification is like carrying a constant VIP card. VPN stands for Vera Pizza Napoletana, and it's a special designation granted by the Associazione Verace Pizza Napoletana, based in Naples, Italy, to pizzerias that meet strict requirements that respect the tradition of the art of Neapolitan pizza making. Only two pizzerias in Rhode Island have earned the specific accreditation, Basta in Cranston and Pasquale's in South Kingstown. Learn more at americas.pizzanapoletana.org.
Here's how they scored and maintain VPN status, in their own words.

Basta Executive Chef Antonio Franco
2195 Broad St., Cranston, 461-2300, bastaonbroad.com
Obtaining VPN status requires strict monitoring from the AVPN.
"What [VPN certification] entails is an overview via video, including technique, how you stretch the dough, how you mix the flour, what kind of mix you're using, the oven itself, the tomato sauce, the cheese and the olive oil. Everything has to be within a certain standard of what they want," says Franco.
There are very few pizza spots that earn accreditation.
"We are number 563 in the whole entire world."
Specific flour, tomatoes, cheese and olive oil are required to make the pizza.
"00 flour signifies how fine the flour is. We use 5 Stagioni 00 Flour, D.O.P.-certified [Denominazione d' Origine Protetta or protected designation of origin] tomatoes and olive oil, and a high-quality buffalo mozzarella called Grande Mozzarella. It's an American-made cheese, but it's hard to come by because the company only does business with certain purveyors."
The quality of the dough depends on multiple factors.
"The constant care of the dough itself is really important. We have to watch it with a close eye. It requires paying attention to the weather and where you store the dough, and making sure it's not refrigerated too long. All of those things affect the outcome of the pizza."
The type and temperature of the oven is very important, as well as cooking time.
"The [MG Forni oven] can burn up to 1,000 degrees. We have an electric laser thermometer and we check it every five minutes to make sure it's at the right temperature. Generally, the pizza cooks for around a minute at the most."
Even after a restaurant achieves status, they are continuously monitored.
"Once you have the certification, [AVPN] reviews you constantly. You can't slack because you are comfortable. They want to make sure you're still upholding the standards."

---
Pasquale's Pizzeria Napoletana Owner and Chef, Pasquale Illiano
60 South County Commons Way, South Kingstown, 783-2900, pasqualespizzeriari.com
Illiano is a native of Naples who adapted to American tastes when he first moved to the United States.
"Being a native of Naples, I've had the urge to open a true Neapolitan pizzeria. I trained in making Neapolitan pizza back in Naples before I came to the United States. I have been working with authentic New York-style pizza ever since I moved to the States, which was back in 1995. I had to adapt to what the market was offering. Pizza was not Neapolitan, it was New York."
He opened a true Neapolitan restaurant in South Kingstown in 2015.
"I wanted to go really authentic with the pizza and even other features of the restaurant. I wanted to go back to the roots and concentrate on the authentic Neapolitan Italian style."
Neapolitan pizza is in Illiano's blood.
"I was born and raised in Naples and I have an absolute knowledge of the product. It's something that is inside me. It's what I do. It's what I am. I own the restaurant, and I am the chef and the main pizzaiolo in the establishment. It's very important to me to keep those standards because I was born and raised in Naples and I am very proud of where I am from."
Achieving VPN status was a no-brainer, and it's not given to just any pizza place.
"I love what I'm doing and becoming part of VPN was just for me. A lot of people consider it to be a marketing move, but they are very strict about it and you have to follow standards and be on top of your game. You can have a sign on the door and consider it good publicity but if the pizza is not up to standards, the AVPN will take that away from you."
The type of tomatoes used is one of the crucial details about his pizza.
"We offer the D.O.P. pizza, and on it, there is a special type of tomato (piennolo) that only grows on the slopes of Mount Vesuvius in volcanic soil. They are small round tomatoes that can be red or yellow. They're the best-tasting tomatoes on the planet. When you open that jar, you get a smell of Naples in the air."
Simplicity is best.
"What makes Neapolitan pizza unique is that simple ingredients give you
an explosion of flavors that you can't experience anywhere else but on Neapolitan pizza. You don't have to travel to Naples to get the pizza. We give it to you in ninety seconds." 