VIP by Land and Sea
The Newport Concert Series' latest VIP package is tailor made for the City by the Sea.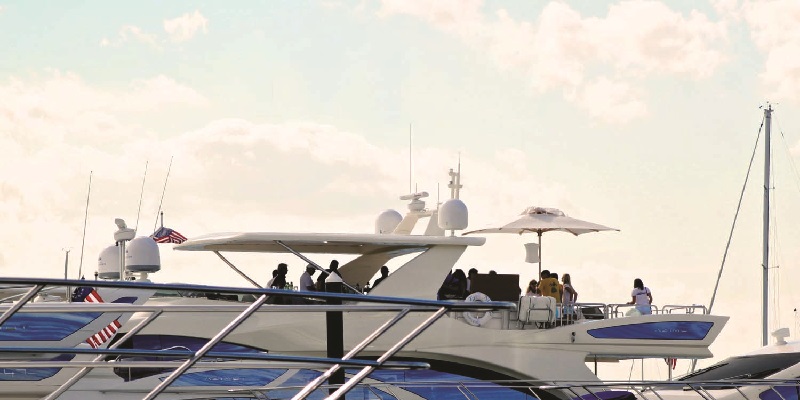 The Newport Concert Series is fantastic all on its own: YES, Gregg Allman, the Beach Boys, Boz Scaggs or Alanis Morissette, anyone? But the annual series just got better — and much more luxurious — with a new VIP experience aboard a docked yacht in Newport Harbor.
Yep, that's right. A yacht. And not just any yacht; it's an ultra fancy Azimut yacht with intimate interior nooks and a sunny top deck that's ideal for lounging, cocktail in-hand, in the summer sunshine — sea legs not required.
New this season, the Club Azimut VIP package also comes with a handful of perks: Guests get premium concert seats within twenty-five feet of the stage, VIP parking close by, a direct concierge line, access to the luxury yacht and dock lounge before and during the show, a premium cocktail menu and complimentary hors d'oeuvres. Michel Palmieri, general manager of the Newport Yachting Center, says VIP guests may be treated to a surprise Club Azimut cocktail, as well.
"Last season, we realized we were running out of the landscape to create VIP lounges without taking away from the experience of the general public, and that the space we could grow to was on the water," Palmieri says. "So this idea emerged over the last few months, and Azimut Yachts has committed for the season. It's such a unique thing that's so Newport and so Newport Yachting Center."
Palmieri's right. It's a simple fact: Whether you're into music, food or fashion, a truly successful night out in Newport also requires a comfortable waterside seat with views of the sunset. But in the peak of summer, it's a gamble. You might not get the view of your dreams — and, if you do, you risk sharing it with a shrieking toddler or, worse, a stressed server looking to turn over your table in an hour or less.
That's where Newport Concert Series' VIP package comes in. You're on Azimut time. From your perch, see sailboats bob in the harbor and families whizz by in skiffs, hear tunes from the opening act carried by the breeze and watch, minute by minute, as the setting sun cloaks the whole scene in red. Then, head over to the big tent for an up-close view of a favorite national act.
A seaside view from a chic yacht and an all-star concert? Now that's a quintessential City by the Sea experience.
Packages start at $150 per show. For more information, contact Katie Spaziano at kspaziano@newportyachtingcenter.com, 401-846-1600 ext. 209, or visit newportwaterfrontevents.com.