Vieux Carre at Pell Chafee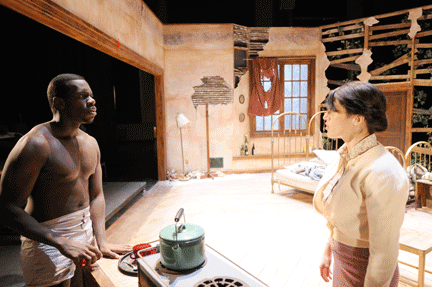 I'm nearly always put off by anything, play or film, that runs much longer than ninety minutes – like staying out after the bars close, it's usually time to brace for self-indulgence and bad outcomes. Throw student actors into the mix and I was dreading a long and sophomoric effort when I turned up at Pell Chafee yesterday for a two-and-three-quarter-hour performance of Vieux Carre, a seldom seen late play by the great Tennessee Williams.
Shame on me. At $12 a ticket, this has got to be the greatest bang for the buck of anything playing. It's in downtown Providence until this Sunday, Dec. 19, with tickets sold through Trinity Rep. If you can't stand the thought of any of the seasonal offerings, this is the searing, sexually charged, 1930s-New Orleans antidote.
The set: it's three-quarters in the round, creating plenty of dynamic action, with some clever bits of design that create New Orleans atmosphere. Sound effects and costume don't hurt, either. The actors: they're able, occasionally wonderful, with an amazing Brando-esque standout. The writing: ah, the writing! Williams isn't messing around with his language or his characterizations, and the arc of the character's lives as they fight, sleep with each other, get sick and come to terms with squalor is gripping and real. Sure, it's almost three hours, but it's the sort of thing that will stay with you. Plus Williams buffs get the added bonus of figuring out which of these people, all drawn from memories of Williams' first days in New Orleans, later developed into famous fictional figures. Blanche DuBois, anyone? And, yes, definitely Stanley.
A warning: there's nudity, swearing, and plenty of overt references to sex, including the kind between two men. This is not a play for younger school kids or the easily offended.
Kristopher Lencowski, who like the actors is in Brown's Master of Fine Arts program, directs as his third-year thesis production, and he's clearly not going to have any problems getting his degree. While the play is occasionally contemplative, it's never slow, and under his leadership the actors attack their roles with fearless gusto. Jaselyn Blanchard, who like others in the cast is no stranger to the big stage next door on Washington Street – she featured in Trinity's season opener, Camelot – stands out in the role of Miss Carrie, one of two old ladies living in the decrepit boarding house where the play is set. She and Charlotte Graham have their work cut out for them – outside of a context like this, no one would ever cast such a yawning age gap. But with the aid of colorful characterizations and perhaps a touch too much makeup, the two get the job done.
Vichet Chum is fine in the role of the Writer, the cipher of a central character who recalls events but seldom contributes to the action in the way the other characters do – with the memorable exception of an early love-making scene. Olivia D'Ambrosio is convincingly uptight as Jane, a nice white girl living with a black strip club worker, and she's clearly an actress to watch. She develops the character nicely right up until a stumble into melodrama at the end. Chris Berry is hypnotically repellent as painter and TB victim Nightingale. Rachel Christopher is a wonderful, older-than-her-years Nursie. But it's the spirited Tiffany Nichole Greene as Mrs. Wire and Terrell Donnell Sledge as Jane's lover Tye who make the production. Greene, who was great in Syringa Tree at Trinity last season, brings the boarding house's tough but vulnerable landlady to life with commanding confidence. And Sledge, who slouches about the stage drunk and half-dressed when he's not sprawled in bed, brings smoldering physicality to the role of Tye. It's a performance that's amazingly low-key and assured for someone so young, a performance that, unlike the slight theatricality of the rest of the cast, would work on film. If this guy doesn't end up famous, then the MFA program can just give up now.
Actually wait, no it shouldn't, or audiences wouldn't be able to enjoy a treat like this one. It was sparsely attended last night, with students and industry veterans making up the bulk of the audience. It deserved better – and at this price, and with this subject matter, it's a good bet for people who normally like to stick to the movies. If you turned out for Inception or Avatar, you should definitely turn out for this.