Veni,Vidi,Venda
Ravioli? Oh yes. But freshly made pasta and sumptuous prepared dishes are only part of the commandeering success of this mini Roman Empire of food.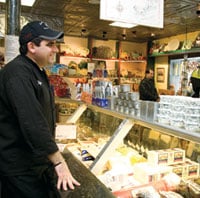 There are shelves of oils and vinegars and a huge oval race-track of a glass case filled with cheeses and meats, veal with peas and roasted vegetables in balsamic vinaigrette. Banks of reach-ins feature agnolotti, gnocchi, manicotti and cut pasta, and sauces to spiff them up. There's an espresso bar, a glassed-in kitchen, and cafe tables with wait service, and almost as many staff members as customers, which is saying something. All this, and the smell of fresh-baked bread, hits anyone who steps inside Federal Hill's iconic Venda Ravioli, the gourmet Italian food emporium on Atwells Avenue.
But for these things to so bountifully exist, other things must also, behind the gleaming store scenes. And so across DePasquale Square is another kitchen that helps feed those voracious deli cases and pasta fridges. And across Atwells is a bakery and, in the same nondescript building, a room where women hand-stuff ravioli with lobster meat. Having nurtured an obsession for lobster ravioli since living on Block Island—and even there, Venda's long arm reaches to supply restaurants—I've long suspected the existence of such a room but scarcely dared to hope that it could be so, well, perfect. These are little old ladies chatting in Italian, for God's sake. The room is spotless and smells of flour, fresh garlic and ricotta.
Less homespun is the 20,000-square-foot pasta manufacturing plant ten minutes away. Oh, and don't forget its upscale sister restaurant, Costantino's Ristorante and Caffe, also on the square, and the catering business that will come to your home.
Running all this are close to 100 employees, family members included. But behind them, behind it all, is really just one thing: Alan Costantino and his tremendous, unsmiling appetite for the business.
Costantino, a well-dressed, steely-haired man, has relentlessly grown the pasta company since he bought it in the early seventies. And right now he's restlessly imprisoned behind the wheel of a silver, family-edition minivan on a sunny, blustery winter day, and I can hardly keep up with what he's saying.
He's sixty-three now; he was twenty-seven then, the oldest of seven brothers, newly married. A mom-and-pop storefront with living quarters in the same building was for sale on Atwells Avenue. "My mom told me about it," he recalls. The childless older couple who had started the business were ready to retire.
"At the time I worked at an auto dealership. I went to see. One thing led to another and I went into the pasta business with no experience."
But that's not quite true. Pasta-making felt like home. "I remember as a child, on Sundays we would make pasta with my grandfather," he says. "We would throw newspapers on the bed, make our pasta, throw it on the newspapers to dry and that's how we had Sunday dinner."
Now Costantino likes to say that "Every day is Sunday." What he means is that every day is a day for family to get together, eat, talk, share problems. And he likes to think his store helps make that possible. "We're the umbilical cord to Italy," he says. "This is who we are and we don't want it to change."
And it's true, despite its expansions and high-tech achievements, Venda is still a center for traditionalists. Go there at noon and it's crammed with lunch-break office workers, at 5:30 p.m. and there are lines of middle-class foodies grabbing a no-prep dinner. But at quieter times, you notice just how many of the customers are speaking Italian, how many greet the staff by name. There's still a Little Italy on the Hill, and this is one of its meeting places.
In the beginning, Costantino stuck to what the Federal Hill of those days wanted: just four kinds of pasta that "everyone knew was the best." But times have changed, and Venda along with them. Those egg noodles, cavatelli, and cheese-filled ravioli and manicotti now have 146 brethren. The store has moved four times, each into larger quarters. Costantino is married to his second wife, has six kids ages six to twenty-two, and one stepson, who takes a lead role in the business. He's proud of his success, and grateful for the way God has blessed him. And he's proud of Rhode Island in general, where, he says, "You can't get a bad meal."
I better get it all down because I'm lucky to have his attention. In another minute, we'll be at the pasta factory, and he'll revert to what seems to be his natural state of being: blowing through rooms in the five buildings his business occupies, tasting, talking, even doing some heavy lifting, aware of the most minute aspects of the business, from how fine spinach is chopped to which machine parts will wear out next.
Anything that Venda can do in-house, it does. So I've already met Cosimo Della Torre, Venda's head baker and mozzarella maker, who was standing at a sink with his hands immersed in a pot of almost-boiling water. Few people could stand to work the 190-degree-Fahrenheit cheese curd within. But in a quick motion he pulls, folds and squeezes, then lifts out each ball and drops it into cold water.
"You get used to it," Della Torre says. Costantino sponsored him to come over from Italy thirteen years ago because he couldn't find anyone stateside to make mozzarella by hand. It took two years to get the visas. Now Della Torre makes the fresh cheese every four or five days, spending the rest of the time baking at the huge stack of ovens that dominates the room. It's the work he's always done, although in Italy, Della Torre says, there wasn't a lot of opportunity. Coming here was "the best thing I did in my life."
For some of the Venda family, it's pretty much the only thing they've done in their working lives. Gregory Costantino, one of Alan's younger brothers, has worked in the business since he was twelve. He oversees the manufacturing plant and its noisy assembly lines, manned by workers with ear plugs and hair nets. At the end of one long, big, steaming steel machine, mini ravioli fly out, already frozen, and are bagged and boxed. This isn't the high-end specialty stuff displayed in clamshell plastic containers; this is the more traditional pasta, sold fresh or frozen in bags, retail and wholesale. The plant can make 1,800 pounds of ravioli an hour, and runs six days a week.
Costantino and his brother, their pepper-and-salt heads inclined in discussion, seem endlessly busy. They recently tried a new ricotta. There's a flour silo going in this spring. When we leave, Costantino is moving so fast that I have to remind him to wait while I take off my visitor's lab coat and hair net.
He's heading next door to a small machine shop where a semi-retired machinist makes replacement parts. This way, Costantino explains, they don't have to wait for deliveries from Italy when something wears out, potentially slowing down production.
It's part of the business-like attitude that has transformed Venda from a tiny storefront into what Costantino's stepson, Chris Spertini, calls "a big small business."
That, and the "wow factor," Spertini says. So the store stays on top of the latest trends and imports, from kitchen equipment to olives and cheese. "We try to make Venda an experience," he says, "not just 'Oh, I've got to buy cheese or prosciutto.'" One recent addition is burrata, a highly perishable mozzarella with a fresh cream center that must be eaten within a few days.
"If I'm looking for cheese for a party, I always call Chris," says Tim Kelly, ex-ecutive chef at Providence's Café Nuovo. "He's on it, he understands what I'm looking for."
Kelly's relationship with Spertini goes back almost fifteen years; that's how long the upscale restaurant has been using Venda's pasta products. Including—oh yes—those lobster ravioli.
"People come through the door all the time saying they've got a better product," says Kelly. "And I always try them. But no one's come up with anything better.
I've tried to and I can't."
In all, Venda supplies about 500 restaurants in and out of Rhode Island. Some proudly print the pasta's origins on their menus; others pass it off as homemade. That's fine with Costantino. Business is business. And business is family—including Michael and Alicia, both in their twenties, a son at Salve Regina and two high schoolers. "Everybody seems to like to be here," Costantino says. "Everybody has a part to play. God has really smiled on us—that may sound corny, but we have very strong religious beliefs in our family. I'm not saying that everything is perfect. But we believe that God has a plan for us all."
And that plan, it seems, involves Venda Ravioli.