Vacation Euphoria at Eight – United Republic Affair
The new showroom in Warren boasts resort wear and sunnies by a local designer.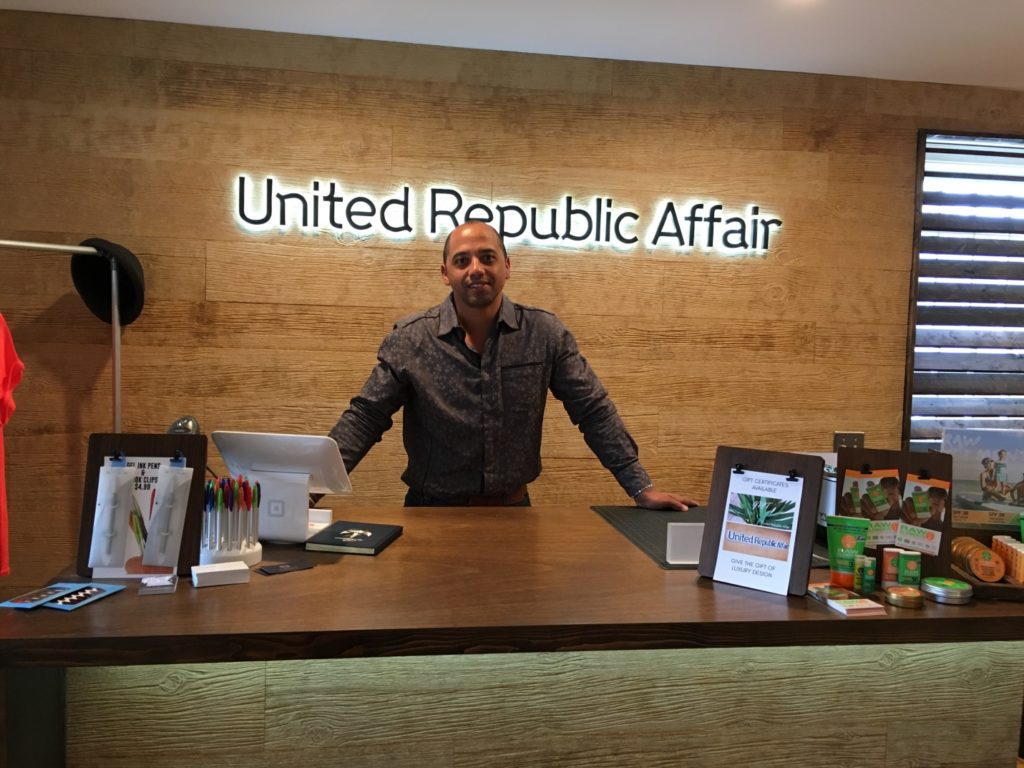 Eight – United Republic Affair focuses on providing apparel and accessories that can be worn "poolside, beach side, dock side." In other words, it's where function meets fashion, according to founder and RISD graduate Artiss Akarra. A Florida native with a sailing background, Akarra understands that swimwear and eyewear are equal parts fashion statement and utilitarian:
"I make it a point not to include any unnecessary elements," Akarra says. "Everything has to have a purpose."
The store itself is a perfect manifestation of this mantra. Using his industrial design background and experience with building and display development at RISD, Akarra has transformed a bayside shop in quaint downtown Warren into a serene tropical cabana – in the timespan of just a few months. Almost everything in the store he constructed himself, from the clean-lined wooden displays to the cabana doors on the single changing rooms downstairs. All of that is impressive enough before you take into account that the entire swim line (men's and women's) and sunglass line (pretty much everything in the store) were also designed by him.
The showroom at 277 Water Street in Warren opened on June 11, though he still keeps the mobile showroom, which appears at the Providence Flea on Sundays.
Keeping the brand local to Providence is important to Akarra, but the move to Warren makes a lot of sense; the store is right on the water and near the marina. He says that for customers coming from Providence, Warren is a destination in itself, adding to the sense of "vacation euphoria" he hopes to capture in the showroom. The primary goal is to provide a space where his customers feel comfortable – like at an all-inclusive resort, he says, where everything is taken care of.
He captures this sense well. The well-lit showroom is warm (important for warding off goosebumps when trying on swimwear) and mellow French Riviera music not so much plays overhead as it fills the entire space. If a pina colada were to materialize in your hand as you browse the racks of brightly colored bikinis and one-pieces, it would not seem out of place.
Akarra was attracted to Warren because of the new business culture he sees developing. Hope and Main, by breathing life into the restaurant scene in Warren, also created the opportunity for retail locations to do the same thing.
"Warren is an area that is very much starting to bloom," says Akarra. Eight – URA is located directly across the street from bywater.
The location is more than just a showroom, however. It also serves as a studio and an event space. Upstairs, in the studio, the 2017 summer eyewear collection sits on a white table, still posed for the photoshoot that Akarra had done this past weekend. He shows me a pair of clubmaster sunglasses, which he says are trendy right now – and then a pair of tortoise shell sunglasses with a touch of fuchsia on the ends (a detail I had never seen before) and tells me he likes to strike a balance between trendy elements and lifestyle pieces by playing with the materials.
Because of this balance, his designs satisfy a variety of tastes. For swimwear, he likes prints and bright colors, influenced both by his Florida roots and his travels to the tropics. The freedom of playing around with prints and bright solids is also appealing, as he likes to provide apparel that is suited (forgive the pun) for a variety of locations, from Block Island to the French Riviera to the beaches of South America.
Designing the store has been Akarra's priority over the past four months, and his attention to detail does not go unnoticed. The upstairs changing room is actually a couples' changing area, inspired by his experiences awkwardly waiting for his girlfriend outside changing rooms. Behind thick curtains are a couch and a mirror and another set of curtains blocking off the changing area – all in the name of curating a comfortable experience in the store.
The upstairs area and patio are available for private events, like bachelorette parties or bridal showers – where again, Akarra will work with the bride to customize swimsuits, cover-ups and dresses for a honeymoon or destination wedding. For couples planning a vacation, Akarra also focuses on matching couples lines and will work with couples to customize coordinating suits for a "unique look."
In other words, it's totally justified to start planning your next tropical getaway just for the excuse to stop in Eight – URA. In fact, going to the new showroom is sort of a vacation in itself, minus the airfare. Sometimes staycations can be just as fun.
Eight – United Republic Affair, 277 Water St., Warren, 401-699-9502, facebook.com/eightura.