URI's Paul DePace Earns Paralympic Order
The East Greenwich resident was awarded the highest honor for anyone connected to the Paralympic Movement.
East Greenwich resident Paul DePace was awarded the Paralympic Order, the highest honor for anyone connected to the Paralympic Movement. He received the honor in September at the 2017 Paralympic Sport and Media Awards at Abu Dhabi National Exhibition Center. The wheelchair sports advocate has served as the President of the International Wheelchair and Amputee Sport Federation (IWAS) since 2001, and he's been involved with the Paralympic Movement for more than fifty years.
"When I look back on fifty years of involvement to receive the same recognition as Juan Antonio Samaranch, Jacques Rogge, Mitt Romney and Sir Ludwig Guttmann, the founder of the Paralympic Movement, I really feel proud to have contributed to the movement," says DePace in an email exchange.
His involvement began after he was paralyzed in a car accident in 1967, and the following year started competing as a wheelchair athlete while he earned his Bachelor's Degree in engineering from the University of Rhode Island.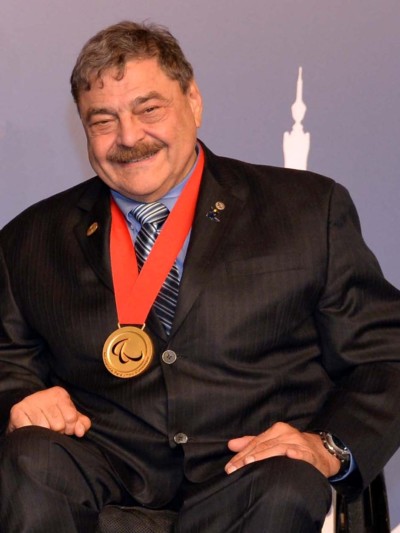 "I was injured in a car accident while I was a student at URI and it opened up a whole new future for me that has taken me around the world," he says. "First as an athlete; I was an average athlete but bitten by the bug of the sport so I worked as volunteer at many levels. I decided that if I was not going to win medals, I would help provide opportunities for others to compete for medals."
DePace helped promote Paralympic sports from a grassroots movement to an international success. He is currently the director of the office of Capital Projects at URI, and his achievements include participation as both an athlete and coach, and later serving as Chef de Mission for the U.S. team in Barcelona, Spain, for the 1992 IX Paralympics and board director for the 1996 Paralympic Sports organizing committee. He's also been inducted into the Wheelchair Sports Hall of Fame, served on the board of directors for the U.S Olympic Committee from 1988-2003; and served as vice president and president of the International Stoke Mandeville Wheelchair Sports Federation from 1998 through 2003.
The Paralympic Order was also awarded to Denmark's Karl Vilhelm Nielsen and France's Gerard Masson.
RELATED ARTICLES