URI: Classroom Without Borders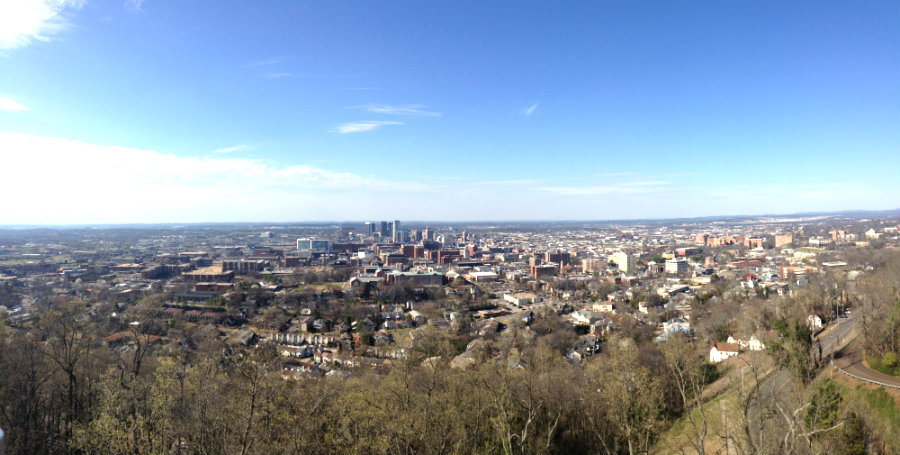 Kelsey Quinn is a senior journalism student URI and a participant in Rhode Island Monthly's internship program. For her last spring break of college, Kelsey volunteered with Habitat for Humanity.
On Saturday night, I packed (read: crammed) a suitcase full of grubby T-shirts and well-loved sneakers. My Facebook and Instagram feeds were flooded with photos of my friends sitting beach side, but I would be spending my spring break somewhere else: Birmingham, Alabama.
As I packed, I toyed with regret for taking a class at the University of Rhode Island that required I give up my spring break and spend it doing manual labor with a bunch of people I didn't know. The most construction I'd done was hammer a few nails and timidly cut a few pieces of wood. How could I be helpful building a house with Habitat for Humanity?
And so my adventure began. Twenty-one students from my Classroom without Borders course met in Birmingham to be shuttled to the church we'd be staying in. The car ride was quiet — only Beyonce and Lady Gaga broke the silence. But it was the last quiet car ride for the remainder of the week.
Our first day started at 6:45 a.m. and we scrambled to the build site in a sleepy daze. If I wasn't so tired I'd have been nervous. I didn't know anyone else other than the surface classroom conversations we'd had and I didn't know what we'd be doing all day, but it only got easier from there. The house was a restore house so Habitat had bought it in foreclosure and was gutting it. That meant a lot of destruction for us. Brave classmates mounted ladders on hillsides and pried down rotten wood, using gas and battery-powered nail guns (the noise they make is a lot more intimidating than I imagined) to pin fresh wood in place.
Eventually two brothers, one disabled, would be moving into that house. In moments of weakness, as the temptation to take a nap in the sun haunted me, I thought about the brothers and how happy and grateful they'd be. Sure, it was spring break and I'd love to come back with a killer tan and some crazy stories but this home had the potential to completely change the lives of the two brothers. That's something I'd be willing to give up my spring break for over and over again.
On the second day, a group of us went to a new location to work on a house for a mother and her four young children. It was built from the ground up in January and we were tasked with finishing it by the end of the week. Everything had to be done for it to be dedicated by the weekend, which seemed like an inconceivable task. After an eternity of trim painting, I volunteered to hang blinds. It seemed like a simple enough task, but I learned quickly.
It's easy to overlook such a basic element of a house, but installing them in every room made me much more grateful not only for their function, but for the creative art of construction. Having a home is a necessity, but it's also very expensive. In Birmingham, areas plagued by poverty seemed to be the norm. But building this house was a statement: a statement of achievable alternatives, of different lifestyles, of what else the world has to offer.
Halfway through the week we took a break, working a half-day and then heading out for an afternoon in downtown Birmingham. Driving by the Sixteen Street Baptist Church, I thought little about it. We'd learned what happened there in past history classes, but then quickly skipped to the next thing. But when I sat in the red velvet pews and saw the photos of the four girls who were victims of the 1963 bombing, I grasped the injustices they'd suffered.
Later that night we met with Helen Shores Lee and Barbara Shores, the daughters of Arthur Davis Shores, an African American civil rights attorney during the 1960s. Growing up, they faced repeated harassment by the Ku Klux Klan and endured not one, but two bombings of their home. But they harbored no ill will towards those who had wronged them. Throughout every atrocity, they retained a sense of compassion.
The last two workdays flew by. We'd learned how to be useful without direct guidance and it was empowering. I was also able to forge relationships with my classmates, proving a boundless world of opportunity I hadn't known before. How many people in my other classes had I misjudged?
The Shores sisters said one of the biggest differences between their generation and ours was the level of engagement. They were skipping school and organizing peaceful protests or boycotting stores; I thought joining a Facebook group was engaging. This trip inspired me to take my role as a citizen more seriously. We have such power to unite and evoke change, to challenge norms that we deem unjust and to elevate ideas only dreamed of by past generations. I'm thankful that, instead of sipping drinks with tiny umbrellas this spring break, I participated in something that's more powerful than anything I've read in a book.