Up in the Sky With the Rhode Island Air Show
Go behind the scenes of the greatest air show on Earth.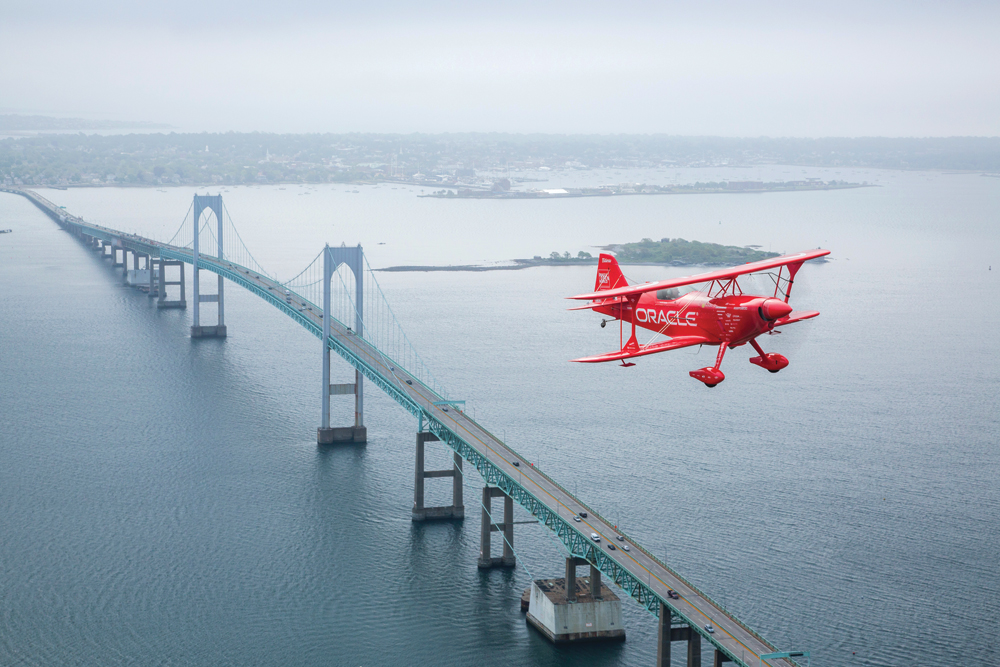 Full Throttle Attitude
It's hard to tell who the bigger kid is, California aerobatic pilot Sean Tucker at sixty-three, or Ron Cloutier, a Rhode Island teenager who sits behind Tucker in the bright red Team Oracle bi-plane he's flying over Narragansett Bay as part of the pre-air show rides he gives. Both boast beaming smiles, giving us in a chase plane a big thumbs up as Tucker shoots his aircraft under ours to zip to the other side. Those smiles get bigger still as Tucker snap rolls the plane upside down to coast along for a while before righting it with smooth, practiced precision.
Tucker, with his craggy-faced good looks, lean body and pilot poster boy appearance, was named one of twenty-five Living Legends of Flight by the Smithsonian National Air and Space Museum, an honor shared by the likes of Chuck Yeager, John Glenn and General Jimmy Doolittle. Tucker is one of seven kids in a family "with not a lot of money," whose dad used to take them on picnics at an airport to watch planes take off and land. And as that sort of experience does for many pilots, it planted a seed for the love of flying that has never stopped growing.
"I started flying at fourteen, and doing air shows at twenty-four," says Tucker, who's flown in more than 515 of them since, in front of a collective 130 million. His neck-craning fans gasp at an act that includes him flying his plane backwards, straight down, tail first, at more than 100 miles per hour, as an enthusiastic cockpit narrative booms from speakers on the ground. "I took an aerobatics course at twenty-one and right then knew what I wanted to do with my life," he says.
He's flown in all but one show here. "I love coming to Quonset," he says. "I have a lot of friends in Rhode Island I've met over the years."
Tucker is also a lifelong member of the Experimental Aircraft Association, and chair of its Young Eagles program, a position previously held by notable fliers like Yeager, Cliff Robertson and Harrison Ford. The program introduces young people ages eight to seventeen to flying, in which more than 50,000 volunteer pilots have donated time "just to show kids the magic of it," he says, travelling the country doing it.
"It's almost a full-time job in itself, and it's all to raise awareness of flying," Tucker adds. "For me to fly a kid, to see my world and it becomes his world, is the best there is. Some of them move on and want to fly, some of them redefine themselves."
Which may be an understatement: It's widely known in the aviation world that kids who have watched and/or learned from Tucker have gone on to fly for the Blue Angels and the Thunderbirds.
"That just means I'm getting old," he says with a laugh. "But it also means I'm doing something right."
Plane Crazy
It is incredibly loud, the air redolent of jet fuel and barbecue, a crowded wide-open space where you stand shoulder to shoulder with upwards of 100,000 people throughout the weekend, craning your neck to the wild blue yonder to take it in.
And it's arguably the best damn air show on the planet, one that according to longtime attendee and pilot Chris Porter "got me first interested in flying when I went at ten years old."
The Rhode Island National Guard Open House and Air Show has run free of charge at Quonset Point in North Kingstown since 1991, and has raised $2.4 million in donations for charity since then, most going to Hasbro Children's Hospital.
The faithful come in droves down Route 403, slouching toward airmageddon to see high-flying precision acts that zoom within literal inches of each other at hundreds of miles per hour. Teams include the Navy's Blue Angels, which last year had its first female pilot, Captain Katie Higgins; the Canadian Forces Snowbirds; the United States Air Force Thunderbirds; and the jet team from Breitling, a Swiss watchmaker. There are individual and equally proficient fliers as well, and the popular Shockwave Jet Truck, which goes from zero to sixty miles per hour in a high-decibel second-and-a-half.
Captain Katie Higgins, first female Blue Angels pilot. Chris Porter, a pilot and longtime attendee.
It is two full days of incredibly well-organized fun and as unique a Rhode Island institution as the Del's lemonade and sausage-and-pepper grinders you can get there to enjoy it with.
---
A Grand Plan
Accidents are always possible at air shows, and planning for them is essential. Disaster strategy meetings take place many months before a plane leaves the ground, in a vintage World War II building at Quonset where local, state, federal and military officials gather to talk about worst-case scenarios they hope never happen. They cover every contingency, from crashes to terrorism, and delineate everyone's responsibilities. Big signs of military nature abound here, including one reading "Rhode Warriors."

Dr. Fritz Vohr, chief medical officer (left) and Lorie Cutting, chief nurse (right) from the RI Disaster Medical Team. Photography by James P. Jones
They rattle off jargon that means nothing to a casual observer but is the alphabet soup of their emergency understanding: EOC, DMAT, LRS, IC. They talk of explosions, mass casualties, setting up a triage area, enlisting the aid of tri-state hospitals, a seemingly morbid but necessary step-by-step process that includes notifying next of kin.
The show averages 90,000 spectators over two days (in 2011, for the first time, people were turned away one day when nearly 70,000 showed up), who likely know nothing of the behind-the-scenes conversations that have taken place. Nor do they need to. But perhaps by all that careful planning for accidents, Quonset has never had one.
The Safety Boss
Bob Berlyn doesn't look particularly imposing, but as a Federal Aviation Administration safety inspector, he can shut down air shows — which has never happened at Quonset — if he deems anything unsafe.
"We protect the aviators and the public," says Berlyn, who works with a team of three other FAA inspectors. "We're intimately involved with the planning months in advance, and our manual that tells us how is probably more than 100 pages thick. We make sure everything complies with safety regulations."

FAA safety inspector Bob Berlyn. Photography by James P. Jones
That includes equipment such as cranes at Quonset, a common sight at the industrial park, which can tower 150 feet into the air, presenting the potential of  things running into them that shouldn't. If they're up, Berlyn can have them removed.
He has been on the job about nine years, and does several air shows a year in his region, which includes eastern Massachusetts and Rhode Island. By far, he says, Quonset is the biggest, where the primary challenge "is a lot of moving parts. But at Quonset, it's easier because the Air National Guard has been doing it so long, as opposed to much smaller shows."
He likes that dynamic, he says, of "having to think on your feet, deal with changing situations all the time. It's interesting."
Part of the planning includes very strict limits on where aviators can fly in the so-called aerobatics box, always away from spectators, he says, "So if a plane broke completely in flight, nothing would end up in the crowd."
Regulations constantly change, often the result of accidents, like the 2011 Reno air show disaster where a plane crashed near the grandstands and killed eleven people.
"That changed some rules," Berlyn says. "At Quonset, that's not a huge problem because of its design, but you have to do your due diligence to make sure the public is safe."
That diligence isn't confined to land or air, extending to the water: In the bay, hundreds of people in boats show up to watch the show where, Berlyn says, "We typically have several Coast Guard vessels patrolling to keep people at a safe distance.
"We always look at worst-case scenarios, planning for that," he says, "and to keep it from happening."
---
Military Meet-Up
Norman Champagne with his family. Photography by James P. Jones
When it's not hosting the show, Quonset is an active airport, with both civilian and Air National Guard traffic and this event is an opportunity for the military to recruit. Every branch is represented, and this year a military parachute jump team is scheduled to appear. Aging vets return and reminisce, and it's not uncommon to see old pilots wander up to a sleek warbird like the ones they flew, caress it and remember.
Reid Rotatori, of West Warwick, is a retired Gilbane Building Company executive, and also a pilot who loves the air show. He's there with his wife, Anne, who once gave him the gift of flying a World War II plane.
And Norman Champagne of Woonsocket is a World War II Army vet who comes to the show regularly. He spent two years in France and Germany, "doing a little bit of everything, from infantry to signal corps. We like seeing people, and I love bringing my family," he says, which includes dozens of grandchildren and great-grandchildren.
---
The Show Runner
It takes roughly 2,000 military personnel split between the Army and Air Force to put on the show, a combined effort that controls parking, trash pickup, security, down to arranging for the hundreds of portable toilets that the thousands of attendees are grateful for.
And directing it all is Michael Martin (pictured above), a Woonsocket native and major in the Rhode Island Air National Guard, who says, "I'm just a fan who was lucky enough to Forrest Gump my way into it."
Self-deprecating humor aside, Martin's impressive military credentials likely had a lot to do with becoming the show director. He did ten years in the Air Force and eleven in the Rhode Island Air National Guard.
None of that mattered when he first started at the air show in 2004 as a gopher, managing a trash barrel. It would fill up, and he emptied it. And he's still picking up trash as director, pushing planes into hangars, doing everything it takes so many to do.
"We have the highest-ranking people and the lowest-ranking people working together," he says. "The work has to get done. It's like pulling the bark from a tree and seeing the ants doing amazingly significant and time-sensitive things. It all unfolds as it's supposed to unfold."
Martin grew up with a pilot dad who performed twice at Quonset when he was a kid. Little Mike hung around North Central Airport in Lincoln, running around the woods, jumping into planes with an extra seat to take a ride. His mom tells a story of her husband taking their boy on his first flight and having to make an emergency landing due to lack of fuel, and how, Martin says, "My dad was just so cool and calm."
He got more responsibility over time, becoming its business director. Last year was his first running the entire show, when during the week of the event, "it's pure insanity, and the Friday before, the phone rings every minute."
Martin is intensely proud of the show he runs, and the thousands who work to make it happen. It's a group effort to give the performers and public the best experience they can, a show many feel is the finest there is, leaving them "with something to talk about for years to come.
"I was at dinner with a former commander of the Blue Angels once, and he said because they are who they are, they get treated differently, there's this obligation to do it because of the uniform they wear," Martin says. "But he said, 'When we come to Quonset, we truly feel like part of the show family.'
" 'We're going show to show,' " Martin says, recalling the commander's words, " 'But yours is the one we talk about.' "
And one under his watch that he vows to make better, he says. "When a family comes with their kids, or a dad takes his son, or if a child takes their war veteran mom or dad, the entire experience is all positive. And one they'll never forget."