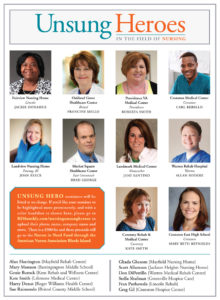 What's included:
Name and color headshot of your Unsung Hero with your company's name in a promo ad in the September issue of Rhode Island Monthly
1 ticket to the 2017 Excellence in Nursing Awards reception to be held early September at a location TBD.
Cost: $300
Proceeds go directly to the Nurses in Need Fund through the American Nurses Association Rhode Island. We will contact you for payment prior to inclusion in the September issue. Thank you.
Please complete the following form: