Unsolved Mysteries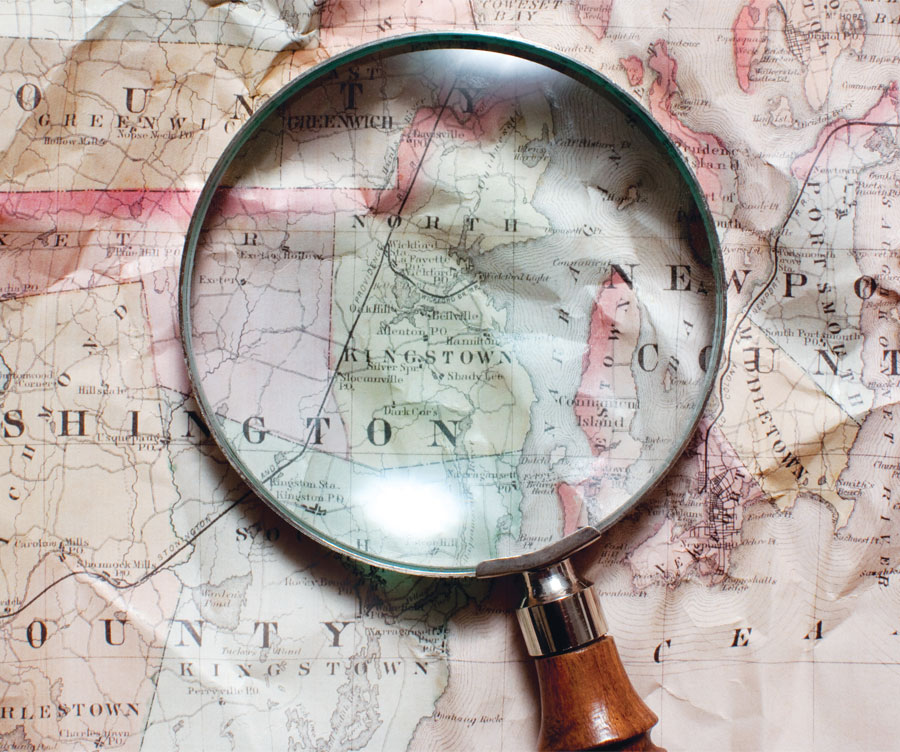 Was Wickford the inspiration for John Updike's fictional seaside town in The Witches of Eastwick?
Fodor's doesn't typically engage in speculation, but even the venerable travel guide publisher notes it's long been rumored that John Updike used Wickford as the basis for the fictional town of Eastwick in his racy 1984 novel, The Witches of Eastwick.
While the acclaimed author was loath to confirm the link, some tantalizing similarities undeniably exist between the picturesque fishing village in North Kingstown and Updike's historic seaside town where a wealthy stranger moves in, only to tangle with three divorcees with special powers.
Perhaps the speculation began with the fact that during Colonial times, Wickford was also known as "Updike's New Town," named for the Updikes, one of the first families to settle in the area. And according to a bookstore owner in Wickford centuries later, the Pulitzer Prize-winning scribe was very interested in the potential link.
Updike stopped by Simister's Bookshop in Wickford in 1982, a story in the Standard-Times reported. Owner Robert Simister recalled that Updike didn't mention his forthcoming book, but asked about the sign in Veterans Memorial Park across the street, which says "Updike's Newtown."
"He wondered if the Updikes were any relation, but I told him they probably weren't," Simister told the newspaper. "They were Dutch and he was German." And Updike grew up in Pennsylvania.
A year after Updike visited Simister's shop, a Random House representative gave Simister a copy of the manuscript of Updike's forthcoming novel so he could confirm if it was set in Wickford. Simister devoured the "great spoof" over Thanksgiving weekend in 1983.
"There's no doubt of the locale," Simister pronounced.


He pointed out that the waterfront and L-shaped streets of historic homes in the manuscript sounded a lot like where Brown and Main streets came together in front of his shop, which is now home to the Book Garden. And the story also refers to Providence, Cranston and Apponaug.
"Even the name Eastwick sort of hints that it is set here," Simister told the newspaper.
Some suspect that the name Eastwick is a combination of Wickford and neighboring East Greenwich, but the publisher would only confirm that the novel was set in a fictional town in southern Rhode Island. "It might bring to mind Wickford, but it never specifies that it is," a publisher's assistant told the newspaper.
Simister was particularly entertained by the Unitarian minister in the novel who sleeps with one of the witches, then runs off to Greenwich Village, where he accidentally kills himself making bombs. "It may turn Wickford into Peyton Place," joked Simister, who has since died.

Alas, when the story was developed into a movie starring Jack Nicholson, Cher, Susan Sarandon and Michelle Pfeiffer, it was filmed in Massachusetts and California. The tale doesn't paint a particularly flattering portrait of the fictional town where it's set.
"All three previously married but now single, best friends sculptress Alex Medford, cellist Jane Spofford and writer Sukie Ridgemont are feeling emotionally and sexually repressed, in large part due to the traditional mores overriding their small New England coastal town of Eastwick," a synopsis of the plot reads.
Updike himself refused to confirm if he based Eastwick on Wickford. When staff at North Kingstown Library invited him to town, he declined.

"Thank you for your most gracious letter with its several invitations," Updike replied in a typewritten letter. "The connection of the setting of my novel with Wickford is so tenuous that I don't want to emphasize it by appearing at any function as you suggest. I was curious about Updike's New Town and in several visits have satisfied myself that the Updikes have thoroughly cleared out; God forbid that this one would seem to be trying to get back in. Also, I really do steer clear of most book-promoting events like signings; if the book can't sell itself, let it rot on the shelves, I figure. But I appreciated your pleasantly open offer to use your library, and I send you and it best wishes for the New Year. Sincerely, John Updike."
He did return to his fictional town, however. Updike's last novel, published the year before his death in 2009, was a sequel entitled The Widows of Eastwick.
---
What happened to Regina Brown?
Twenty-seven years ago, an American Airlines flight attendant from Connecticut dropped her youngest daughter and her babysitter off at LaGuardia Airport in New York City and disappeared.
The thirty-five-year-old mother of three was separated from her husband, Willis Brown, then an American Airlines pilot who also owned property and a moped business on Block Island.
At the time, her disappearance was overshadowed by a similar, but more notorious case: Helle Craft, another flight attendant from Newtown, Connecticut, who was married to a pilot, went missing a few months before Regina Brown did. Craft's husband was later accused of killing his wife and running her body through a wood chipper.
Prosecutors in that case won a conviction on the only physical evidence that remained: "strands of hair, a few fragments of bone, and part of a gold-capped tooth," according to the Danbury News-Times.
But in Regina Brown's case, no trace of her body has ever been found. More than two decades after her disappearance, though, people continue to seek justice in her case.
Lisa Peterson, a writer who covered the case in Newtown in the 1980s, convinced police there in 2008 to reopen the cold case. And the recent successful prosecution of another husband whose wife disappeared around the same time in Connecticut has given Peterson and investigators some hope the same thing could happen in Regina Brown's case.
"That was the second trial of the three missing wives in Newtown in the 1980s," Peterson says. "The conclusion of that trial leaves Regina Brown as the only unsolved mystery, if you will. It's the one that's left, it's had a cold case investigation and there's always the hope that if it's revisited, that there might be someone out there who can offer that next piece of evidence that would move the case forward again."
Regina Brown and her husband had been married for five years when she disappeared in March of 1987. The couple had a troubled history. Willis Brown initially swept Regina Brown off her feet, but after they married, he repeatedly questioned whether their children were his and claimed that his wife was abusing drugs, according to reports.
Willis Brown was living apart from his wife when she vanished. She had gotten a restraining order after he strangled her into unconsciousness in front of their children.
The night after Regina Brown was last seen at the airport, neighbors in Newtown called to report a barking dog at her home. But police didn't investigate the complaint. A neighbor who checked Regina Brown's home a week later found her purse and an uncashed check for $1,000.
The neighbor was the first to report that Regina Brown was missing. Willis Brown made a report the same day, and suggested to police they search a neighborhood in New York City, where they found his wife's Honda Accord with a key still in the ignition.
Police searched their Newtown home and surrounding areas, but found no signs of struggle. Willis Brown has maintained to neighbors and his children over the years that his wife ran off, according to Peterson.
He's known as a "larger-than-life" figure on Block Island, Peterson says. People she interviewed told her that over the years, Willis Brown claimed to different people that his wife had run off to Austria, Australia, South America and other places.
"Everybody's aware of the story of the missing wife, yet he seems just to have continued on with a normal life there on Block Island despite it all," Peterson says. (Attempts to reach Brown were not successful.)
Within a year of his wife's disappearance, Willis Brown went ahead with divorce proceedings and a hearing over the custody of their children was held. According to Peterson, the judge in the case wrote that "he had physically and mentally abused her and reduced her existence to a living nightmare."
Investigators thought they might have gotten a break in the case when a relative of Willis Brown's stepmother found an unusual discovery among her papers after she committed suicide. It was a map that appeared to correspond to a place on Block Island, and it contained the words "Regina, O God." It prompted a police search on the island in 1989, but nothing turned up.
A judge declared Regina Brown legally dead in 1995, but Peterson hasn't stopped looking for answers. Detective Jason Frank was assigned to the case in 2008.
"Nobody else is considered a person of interest at this time unless new evidence or a witness comes forth," Frank says. "The case is still active, it's just not enough to pursue as of this time."
But he and Peterson hope that technological advances could lead to a break in the case. Regina Brown's DNA is in a database, where there would be a match if her remains are located and tested, Frank says.
The couple's children were raised by Regina Brown's parents in Texas, and later, their father. "All the kids believe that their mother ran away," Frank says. "That's the information that Willis provided to them as they were growing up."
But Frank says there's no evidence she ran away. And though her parents have died, her brothers, aunts and uncles are still very concerned about the case, he says.
And the recent prosecution of the other missing wife case in Connecticut gives him hope that there may one day be a resolution to the mystery of what happened to Regina Brown.
In October 2013, John Heath, age seventy and using a wheelchair, was convicted of the murder of his wife, Elizabeth, according to the News-Times. She disappeared in Newtown three years before Regina Brown did, and her husband always maintained she had run off.
In that case, investigators did eventually locate Elizabeth Heath's body, but no forensic evidence tied her husband to it, Peterson says, and the case was largely circumstantial.
"It just shows that after a couple of decades, that there's still a light at the end of the tunnel for future prosecution," Frank says.
Has Rhode Island been invaded by black bears?
They pop up long enough to attract news trucks, gorge on wild berries, look for ladies and set up a Twitter feed. Then they disappear back into the uncharted wilds of Connecticut or Massachusetts.
But the black bear hasn't always been a tourist in Rhode Island. During pre-Colonial times, they were native to the state, according to Charlie Brown, a wildlife biologist for the state Department of Environmental Management. They likely roamed the state until about 1800, but were both hunted for food and considered a pest.

"Settlers shot them on sight, because they thought of them as a problem," Brown says. Also, as land was cleared for farming, they had less room to roam.
They retreated to the more isolated and less populated areas of upstate New York, New Hampshire and Maine. But now they're starting to recolonize parts of their former range.
"You'll hear the stories, see it on the news: 'Bear in Coventry,' 'Bear in Glocester,' 'Bear in Kingston,' " Brown says. "They come in, there's a flurry of activity for a day or two and then they typically head back."
In recent years, though, sightings in Rhode Island have gradually increased, and Brown expects the growth to continue until the point that black bear sightings are commonplace.
That's because the bear populations in Connecticut and Massachusetts are growing by their estimates from 7 to 8 percent a year, Brown says. So those bears are spilling over.
The promise of crabapples and skunk cabbage or the failure of an acorn crop in a neighboring state are some of the things that can cause bears to become pioneers. "Bears will sometimes move great distances if there is a desirable food source."
The advancing front is typically composed of young male bears, looking to establish territories, Brown says.
Females move around less and it's taken them longer to migrate to Rhode Island. Brown says they have had a few possible sightings that he hasn't been able to confirm.
But he thinks it's only a matter of time. Their presence might also encourage the male bears to take up permanent residence. "If they're not going to find females here, they're not going to stick around," he says.

With the black bear population expected to grow, Brown says Rhode Islanders should be aware that they're going to be hungry. They seek out protein-rich birdseed, livestock feed and crops. People should be careful of how they treat their trash, how they secure it and the timing of setting out their bird feeders, he says.
"If you live in New Hampshire or Maine, you just don't put your bird feeder out until November 1, and then you take it down by April 1, because if you don't and you leave it out there in the summertime, you're going to lose it."
In terms of safely coexisting with black bears, Brown advises common sense. Avoid them. Though bears are big, "they're generally shy and secretive animals and will avoid interactions with people. It gets complicated if people feed bears or bears have access to food in close proximity to people. Then those barriers and wariness can break down."
They can be destructive, whether it's your bird feeder or your chicken coop or your livestock pen. As far as threats to humans, the potential is there, but attacks by black bears are pretty rare.
"I'm not saying that people in Newport really need to think about it too much, unless they're camping in George Washington Management area," Brown says. "But people who live in West Greenwich and Foster and Hopkinton and North Smithfield, these are the kind of things they're going to have to think about."
Why didn't Edward Malbone complete his portrait of Lydia Allen?
Edward Greene Malbone is considered America's most accomplished painter of miniatures, tiny works of art on ivory. But it is his only known full-scale oil on canvas painting — a portrait from 1803 of a young woman named Lydia Allen — that fascinates curators at the RISD Museum.
"It's a beautiful lady, and it's an unfinished picture, which is quite unusual to have survived from this era," says Ann Woolsey, director of planning at the museum and former associate curator of painting and sculpture.
Malbone was born in Newport to humble beginnings in 1777, the illegitimate son of Patience Greene and a merchant named John Malbone.
Edward Greene, as he was then known, was largely self-taught. At seventeen, he ran away to Providence, where he developed his talents as a miniaturist. He informed his father by letter he would be adding to his own his father's illustrious last name, which he promised "never to dishonor."
Despite his gifts, the life of the young painter was not easy. "Malbone's talent, charm and artistic skill contributed to his rapid entrepreneurial success, but the lot of an itinerant miniaturist was a difficult one, involving long periods of overwork and constant travel from city to city," according to art historians.
But it was when Malbone returned to Providence that the mystery of his portrait of Lydia Allen began. She was just about nineteen when Malbone captured her doe-eyed likeness in a three-quarter-length oil painting that is now on display in the RISD Museum's Pendleton House.
He also completed two miniatures of Allen, at least one of which was commissioned. But what intrigues curators is why the accomplished artist departed from his previous miniatures for this portrait, and abandoned his usual watercolors for oils.
And why was the lower part of the painting never completed? During that time period, the surface of the painting would have been meticulously finished, with no visible brush strokes, Woolsey says. "The surface would have been almost mirror-like in its level of finish. A partially completed painting such as this would not have been accepted, or displayed, by the family. The fact that it survived and was passed down through Allen's family to her granddaughter, who gave it to RISD in 1909, is quite unusual."
So was there unrequited love? A love affair? "Malbone was an itinerant artist," Woolsey says. "Lydia Allen was a woman of stature in society, and he was a hired artisan there to paint her miniature portrait on commission. So it's interesting that she's the lady that inspired him to try a full-scale painting."
What is known is that the year after Malbone painted Allen's portrait, she married Sullivan Dorr, a wealthy Providence merchant. They went on to have seven children, including Thomas Wilson Dorr, who served as a Rhode Island governor. She lived to be seventy-seven, and the Sullivan Dorr House at 109 Benefit Street is a national historic landmark.
Malbone wasn't so lucky. He left Providence shortly before Allen married Dorr in 1804. He fell ill with tuberculosis and could no longer paint, according to art historians. Malbone traveled to Jamaica to try to get better, but as he made his way back to Newport died at his cousin's home in Savannah.
"So there's this kind of romance about their lives that invites us to think about their connection to history and consider, well, what was their relationship as artist and sitter?" Woolsey says. "Certainly as an artist, he had to be somewhat fascinated by her to attempt something that he had never attempted before."
Was Middletown's George Mendonsa the "kissing sailor"?
It's one of the iconic photos of the twentieth century. A handsome sailor grabbed a woman in a nurse's uniform and planted a kiss on her in the middle of Times Square on the day news broke that the Japanese had surrendered.
In that single image, one of Life magazine's best photographers, Alfred Eisenstaedt, captured the euphoria of August 14, 1945, the day the war that had claimed more than fifty million lives around the world was finally over.

Over the years, plenty of people saw themselves in the enduring image that became known simply as "V-J Day, 1945, Times Square." "Many World War II sailors, a Coast Guard seaman, two home-front nurses and a dental assistant claimed key roles in the famous photograph," North Kingstown history teacher Lawrence Verria and retired naval aviator George Galdorisi write in their book, The Kissing Sailor: The Mystery Behind the Photo that Ended World War II. "Their campaigns for recognition had turned contentious. Exchanges got ugly. Controversy brewed. And the battling had just begun."
But Life has never identified the people in photo.
"And without Life's blessing, no kissing sailor or nurse could hope to win over the masses to their version of that V-J Day from so long ago," Verria and Galdorisi write. "As the years passed arguments in favor of one kissing sailor candidate over another succeeded only in knotting the mystery tighter. For over sixty-five years, the mystery remained, while Life watched."
But the authors and Middletown's George Mendonsa are certain he's the strapping sailor in the photograph. Born in Newport to a commercial fishing family, Mendonsa had served in the Pacific for two years on the destroyer The Sullivans, named for five brothers who were killed in action, when the photo was taken.
"In July 1945, the only thing left out there for the Navy was going to be the invasion of Japan," Mendonsa recalls. "They felt it would take six months to get the American army out of Europe to go out for the invasion of Japan. They felt that a lot of the ships had been in the Pacific for a long time, so we came back to the States."
While the young sailor was home, he met Rita Petry, who "was about a year younger than me and beautiful, so I turned on all my charm and showed her around Newport." With his leave running out, Mendonsa decided to fly out of New York City to return to duty so he could take Rita, who lived on Long Island, on a date.
On August 14, 1945, they were watching a movie in Radio City Music Hall. "There was a big commotion outside on the street, a lot of pounding on the doors, and inside we're wondering what's going on outside. And finally they stopped the show and they put the lights on and they said, the Japs have surrendered, the war is over."
Radio City emptied out into Times Square, which was filled with jubilant people. Mendonsa and his date went into a bar. "And the booze was flying and everybody was excited, and I popped quite a few of them," he says.
Eventually, Mendonsa thought he should walk Rita to the subway and catch his flight. Back in Times Square, he saw what he thought was a nurse approaching on his left. He flashed back to months before to a battle in the Philippines. Many sailors were seriously hurt and he always remembered the lifesaving work the nurses performed.
When he saw a woman dressed as a nurse, he instinctively grabbed her and kissed her, he says. "I honestly believe if that girl did not have a nurse's uniform on that I wouldn't have grabbed her." They didn't exchange names before parting. And they didn't notice the photographer snapping away with his Leica.
Mendonsa didn't know about the photograph until thirty-five years later when Life published the photo again and encouraged people who believed they were the sailor or the nurse to come forward. A friend of Mendonsa's called him and asked him where he was that day. "When he brought the photo, the minute I looked at it, I said, Christ, that's just like looking in the mirror. The minute I saw the picture, I knew it was me."
And though several women claimed to be the nurse, Mendonsa became convinced that Greta (Zimmer) Friedman was the woman he kissed that day, based on physical characteristics like her height and hair at the time. She was actually a dental assistant, not a nurse, who was in Times Square on her lunch break when the historic photo was taken.
But about eighty sailors laid claim to being the sailor in the photo, and the magazine didn't make a determination. In 1987, Mendonsa took Time Life Inc. to court, saying Life never got his permission to take his photograph. Photo experts used facial recognition technology and pointed to the size of his hands, a tattoo on one arm and a lump near his wrist to positively identify Mendonsa as the sailor in the photo.

And the woman pictured smiling over his right shoulder is Rita, the date who became his wife, he says. Mendonsa and Time eventually settled the case, but he points out that his evidence was good enough for a postmaster of the United States, who issued a commemorative stamp in his honor.
Friedman, who lives in Maryland, says most people have accepted that she is the woman in the photo, but Life has not identified her either. "They did not want to admit anything," she says.
The editorial director for Time-Life Books told reporters as much in 2007: "The recent claims are 'CSI-type' inquiries. We think that's great but we just can't know for sure on our end. We can't be in a position of anointing one or the other without hard proof," according to Verria and Galdorisi.
But Mendonsa likes to point out the irony of a photo taken in Times Square during the 1980 event, when he and Greta reenacted the famous kiss for a "20/20" show. Over his and Greta's heads, a marquee reads "It Had to Be You."
"But they won't admit I'm the guy," he says.
---
What are the strangest things left on a RIPTA bus?
People regularly forget their wallets, items of clothing, cell phones, video games, laptops and bikes on RIPTA's buses, according to spokesman Dan Pennington. Less frequently, riders leave behind their toupees. But it gets weirder. The top five strangest items left on RIPTA buses in recent years are:
A blowup doll. "I think it became the mascot of the office for a little bit," Pennington says.
An urn filled with the ashes of a rider's father. (The son quickly claimed it.)
$26,000 in a duffel bag. "It was an older gentleman who didn't believe in banks," Pennington says.
Wigs
Yellow bike with pink rubber ducks