All You Need to Know About the UHIP Disaster
Can the state recover from its catastrophic United Health Infrastructure Project launch?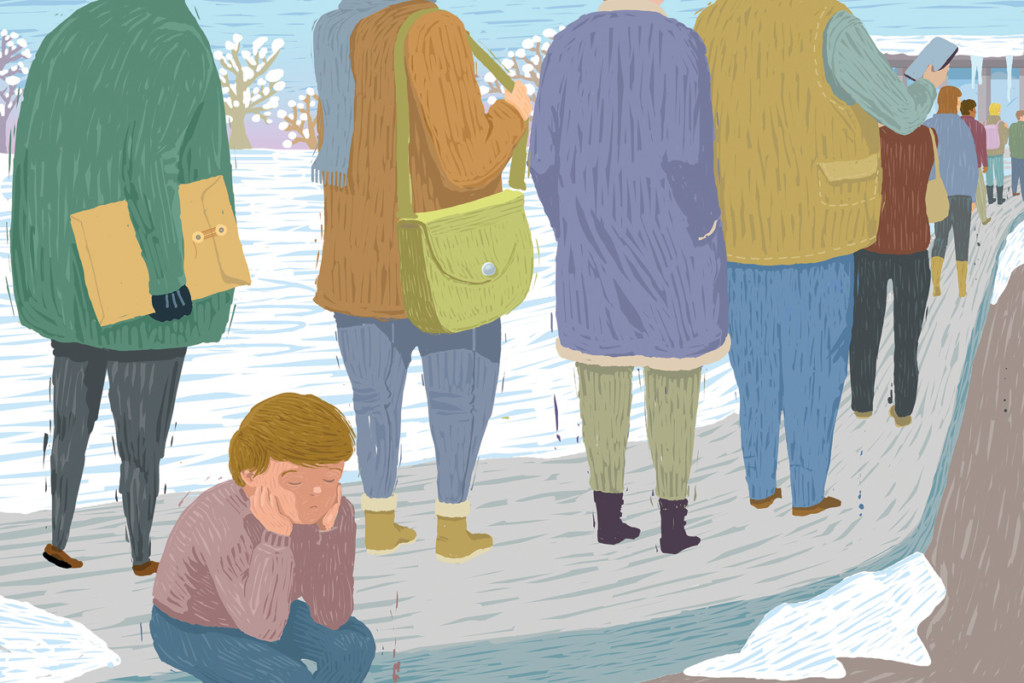 The math in Missy White's life was always difficult. Dividing one — sometimes two — minimum-wage, part-time salaries among three adults would never yield a sustainable existence. But the addition of social security disability benefits for her twenty-something son and daughter, Medicaid, and a small monthly stipend of food stamps allowed her family to scrape by.
In September 2016, the state of Rhode Island launched the Unified Health Infrastructure Project (UHIP). The new, $364 million computer software would do the job of a platoon of caseworkers, integrating forty-eight different federal and state benefit programs into one seamless, secure system that would deliver food, child care, medical and cash subsidies to 300,000 Rhode Islanders.
The following month, the math in Missy White's life became impossible. UHIP refused her application to re-certify eligibility for the Supplemental Nutrition Assistance Program (SNAP). White's food stamps were gone. The nine-month battle to get them back was a Kafkaesque nightmare of three hours-long waits on the phone and fruitless visits to the Department of Human Services (DHS) field offices. She re-submitted the same paperwork over and over again.
"I must have turned in my booklet five times, and I never got any response. It was always: It's pending, or we'll get back to you, and they never got back to me," she recalls. "It was very stressful. There were many days when I didn't eat. It took a toll on us, trying to survive. None of this should have happened."
Officially named RI Bridges, the system's launch has been an epic failure. At the height of the crisis in February, there was a backlog of 15,000 applications for assistance — from cash to food stamps to medical care. By August, Missy White's food stipend returned. The state, aided by a beefed up team of 600 contract employees from Deloitte Consulting, the global management firm hired to create the system, had cut the backlog to 4,380.
"We've made significant progress," says Health and Human Services Secretary Eric J. Beane. "We're holding Deloitte accountable, and I can't say enough about how committed our DHS workers are to their jobs. The number of people who offered to work overtime and weekends to catch us up is really heartening."
RI Bridges was the second phase of the 2011 project that established HealthSource RI, the state health insurance exchange funded by the Affordable Care Act. When that system went live in 2013, screen freezes and system overloads caused be the volume of users were the main irritants. Phase two's deployment was an unmitigated, self-inflicted disaster, clogging a system that assists individuals from birth — through medical coverage — to death — through cash assistance for the burial of indigent decedents.
The effects were immediate and exponential, stretching from the frontline workers to the highest level of state government. In September 2016, the state eliminated sixty-eight Department of Human Services jobs, scattering the supervisors and social workers to positions in state service or to the private sector. Four months later, DHS Director Melba Depena Affigne and Chief Digital Officer Thom Guertin were forced out. In February, Health and Human Services Secretary Elizabeth Roberts resigned.
The rollout rolled into the courts. Last December, the American Civil Liberties Union of Rhode Island sued the state for its failure to process SNAP applications and provide expedited food stamps within the federally mandated time period. The parties reached a settlement in February, when the state agreed to take a number of actions to increase the compliance rate. In March, the U.S. Department of Justice opened an investigation into "false claims" and "false statements" associated with implementing UHIP. As of late summer, the investigation was still underway.
The financial consequences are enormous, and accruing. The U.S. Department of Agriculture's U.S. Food and Nutrition Service (FNS) fined the state $805,000 for changing the contract with its project consultant without federal approval. A May cost assessment conducted by the Auditor General put the total at $407 million for both phases. That tally doesn't include ancillary expenses, such as free credit monitoring in the wake of at least three data breaches, re-hiring personnel, costs to state vendors who had to borrow to keep their businesses afloat, fines, and defending the state in various legal actions.
"There's plenty of blame to go around," says Representative Patricia Serpa, a Democrat from West Warwick and chair of the House Committee on Oversight. "The auditor's report found that [the contract with Deloitte] was poorly written, poorly overseen and poorly executed. They were warned against the implementation because the system was not ready. Not only did they implement it, they displaced all of the most senior workers with the wealth of experience. We pulled all the plugs to make sure this was a failure."
On the ground, it was chaos: lines snaking out the DHS doors, waiting rooms full of desperate people. Divine McLaren, a seventeen-year-old single mother, broke down on her fourth attempt to have her SNAP application processed. Hungry and fearful that she'd be turned away again, she cut to the front of the line.
"My voice was shaking, my eyes were tearing up and I was literally begging for help," she recalls. "The only reason I got any was because some head honcho was walking by and saw me crying. He ended up making me a priority."
Service providers had no such luck. Their cash flow ceased. Gail Sheahan, CEO of Consistent Care, a home health agency based in Jamestown, saw state Medicaid referrals to her agency drop to zero for nearly a year. She carried $50,000 in state debt while fretting about clients who were not receiving vital services.
"I'm talking about little old grandmothers not getting shopping done," she says. "I had to go out and secure a line of credit to keep the business going. I've never had to do that out of necessity."
Home Health and Hospice Care of Nursing Placement, a forty-one-year-old family business in Pawtucket, was owed $750,000 in June.
"We had clients who passed away a year ago and we have yet to be paid," says administrator and co-owner Michael Bigney. "The system is still very, very broken."
Some vendors got paid too much; most, too little. Joyce Knott of the Creative Child, a Coventry daycare center serving a significant number of families receiving child care assistance, says they no longer could tell which clients were eligible.
"Before, you would get an invoice," she says. "We were just receiving checks without being tied to specific kids and specific benefits. It was awful."
Exacerbating all was a breakdown in communications with DHS. Rhode Island Health Care Association's Virginia Burke, who represents sixty-nine of the state's eighty-four nursing homes, says her members raised the alarm in late 2015, when the state began to exceed the ninety-day period for approving Medicaid applications for long-term elderly care. About 85 percent of nursing home residents apply for Medicaid after exhausting their own financial resources; 95 percent are approved.
As nursing homes began flooding DHS with calls, the department responded with a letter asking them to limit their questions to emails on the first and fifteenth days of each month, and wait a month for a response. In one meeting, Secretary Roberts refused the industry's request to hire more workers, assuring them that the backlog would be quickly resolved when UHIP went online in July. Instead, the launch date was pushed out and the social workers were laid off.
"I knew at that point it was going to be a catastrophic implementation because that's how major computer software updates happen," Burke says. "You need more staff, not fewer."
Catastrophes are more common than people realize. According to a 2016 annual global survey of IT implementations by the Standish Group, a software project management consulting company, 29 percent of projects are successful, 54 percent are challenged — behind schedule, over-budget and under-performing — and 17 percent are outright failures. The bigger the scope, the more likely the failure. Pennsylvania, Tennessee and Massachusetts are among the states that have suffered major benefits-related IT failures. Kentucky's new benefit system, Benefind, also designed by Deloitte, similarly crashed and burned when it went online in February 2016.
"For a good year and a half, we were having significant problems with Medicaid eligibility," says Betsy Johnson, president of the Kentucky Association of Health Care Facilities, which represents 200 nursing homes.
"Rhode Island is not alone," says Doug Robinson, executive director of the National Association of State Chief Information Officers. "The reality is, it's more sensitive in a public system. Many failures in the private sector aren't publicized."
State governments spend about 2 percent of their budgets on information technology, with about three-quarters spent on maintaining old systems. At the same time, state governments, in their quest to operate more economically, pursue big data projects to better manage service delivery.
"But they are often trying to do things without adequate resources," Robinson says. "In the case of somebody applying for state benefits, you'd be surprised by the enormous complexity behind the simple question: 'Who are you?' "
For example, UHIP updated fifteen legacy systems, crossed ninety-nine state and federal interfaces and required the conversion of 400 million units of data.
Last session, Democratic Representative Lauren Carson, of Newport, sponsored a successful House resolution requiring the Department of Administration to take and report an inventory of all state computer and data management systems.
"We need to know the status of data management in the state: the age of the systems, when did we buy it, when do we expect them to be replaced, and how much will it cost?" she says. "I think that's a good start."
Right now, says Beane, the goal is to clear the backlog in anticipation of HealthSource RI's next two-month open enrollment period, beginning November 1. The state has clawed back a $27 million credit from Deloitte to offset unanticipated expenses and Beane expects to negotiate further refunds. The untangling of who is owed what for whom for long-term care will take more time, because the federal eligibility rules are so complicated.
In the absence of Medicaid application approvals, by late summer, the state had laid out $69 million of its own funds in interim payments to nursing homes. Beane believes that the state will eventually recoup that money from the federal government. Officials are also talking to the FNS about reinvesting the $805,000 fine in better state services, instead of paying it to the federal government.
Beane estimates that Deloitte and the state would be stabilizing the system into the New Year. "We still have a lot of work to do, and we will not let up until we have the system that was promised."