Uber Drives Debate on For-Hire Transportation in Rhode Island
Ride-sharing companies have disrupted the transportation model and traditional cab services aren't happy about it.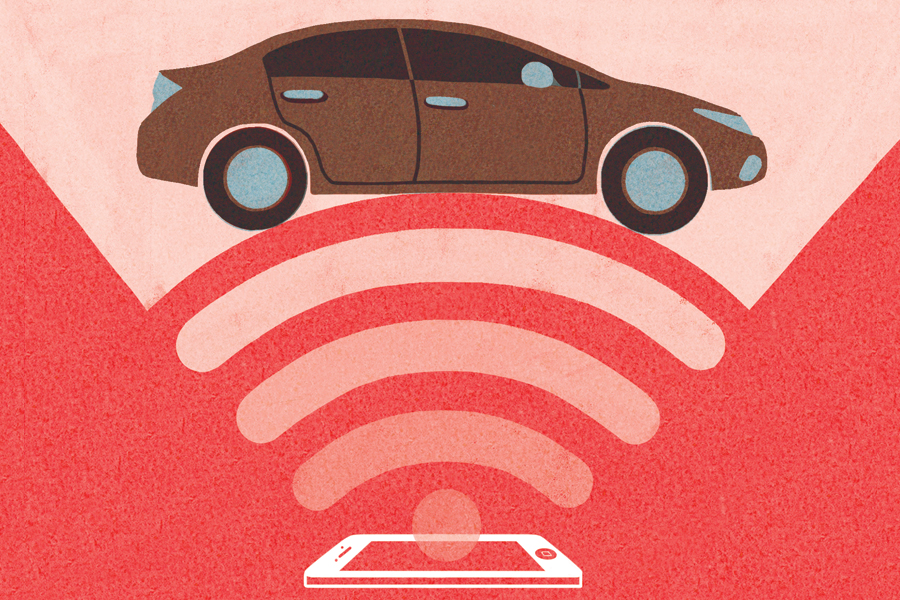 In 2014, Rosanna Ortiz, CEO of StyleWeek Northeast, partnered with Uber, the ride-sharing juggernaut. It's backed by $41 billion in investment cash and has been rolling over the taxi industry with a smartphone app and an army of part-time drivers in their own Jettas. StyleWeek patrons got a coupon code and free rides — for new users, up to $20 to any of the events.
"They loved it," Ortiz recalls. "Uber went above and beyond to make sure they were well-staffed and the drivers were very friendly." StyleWeek taps into people's desires "for a new experience to feel excited and connected. That's the similarity between the two brands, and that's why we wanted to partner with them," she says.
Uber and its counterparts, Lyft and Sidecar, are the shiny new things in for-hire transportation. They are not, they insist, transportation companies. They have no fleets or dispatchers, garages or full-time drivers. They don't accept street hails. They are technology companies that simply hook people who give rides for money up to people who need rides.
Uber came to Rhode Island in 2013, followed by Lyft in February 2014. Both operated primarily in Providence and Newport, and outside the myriad regulations that govern taxis and livery services.
"Really what we have is a flood on the market of unregulated drivers and vehicles held up by a huge marketing campaign," says Rick Szilagyi, executive director of the New England Livery Association. "They say that they utilize disruption technologies, but their key strategy is to shirk regulations."
Launched just five years ago in San Francisco, Uber's popularity has exploded. Its growth rate — in drivers and markets — has been so fast that today's figures are obsolete a week later. Uber operates on six continents. In Providence, it claims more than 1,000 partners — anyone with a smartphone, a clean driving and criminal record, personal car insurance and a four-door vehicle newer than the 2000 model year that has passed the state inspection.
Uber sets the fares by time and distance (they rise during busy periods) and collects 20 percent. It provides liability coverage that is turned on and off at different levels of coverage, depending on when a driver accepts a hail and if a passenger is in the car.
Cathy Zhou, Uber's New England general manager, counters that the company is "all for sensible regulation to enable innovation and consumer choice and opportunity for our driver partners." But, "a lot of regulations currently in place for vehicles for hire were written 100 years ago before smartphones and a lot of them don't make sense for the peer-to-peer business model."
Nationwide, at least forty-six other jurisdictions have enacted legislation creating a third category of regulated transportation network. In Rhode Island, Uber supported two bills that essentially codified their current business practices. But bills proposing to create a regulatory structure for transportation network companies died last session.
"The taxi industry is a heavily regulated industry," says Thomas Kogut, spokesman for the Rhode Island Division of Public Utilities and Carriers (DPUC). "They are regulated by territory. They are very stringently regulated by vehicle age and mileage, and they are rate-regulated. If they want to raise their rates, they have to come here and put on a rate case."
Leveling the playing field, says Kogut, is "fiendishly complex." The Kansas City, Missouri, city council touched off a range war when it attempted to pass an ordinance regulating peer-to-peer transportation companies. Uber didn't like the first version and threatened to split. Lyft objected to the amended version and did.
"A few places tried to force one-size-fits-all policy and we have had to pause operations there, because they placed unnecessarily burdensome requirements on individual drivers," says Chelsea Wilson, Lyft's public policy communications manager.
Here, the state is embroiled in a battle over a $40 minimum for "public motor vehicles" — or "black car" service, considered more upscale than a taxi ride. Three years after the General Assembly enacted it to prevent gypsy cabs from stealing business from limousine companies, Uber and four other traditional cab companies challenged it in Superior Court. The DPUC, awaiting a ruling, is not enforcing it.
Rhode Island's newest attempt to bring Uber and Lyft into the regulatory fold grew out of a special study commission to examine the structural differences between traditional and peer-to-peer personal-for-hire transportation.
"I didn't see a heck of a lot of difference between ride-hailing and what already exists except they don't have any of the protections," says Tiverton Representative Jay Edwards, who submitted the bill establishing the commission and served as its co-chair. "And there is nothing novel or new about this technology. Anyone can buy an app."
Edwards was particularly dismissive of Uber's decision to collect but withhold six quarters of state sales tax. (Uber spokesman Craig Ewer says this was a mistake and the tax bill has been paid in full. Lyft collects no sales tax, claiming the law is unclear.)
"A real amateur mistake," Edwards says. "They were doing what they darn well pleased, and it's really indicative of the way they felt about doing business in Rhode Island. It's the Wild West out there."
Personal transportation for hire sprung up in the seventeenth century. In the United States, laws attempting to establish an orderly system arose in the 1930s to quell a wave of violent cabbie strikes in New York, says Graham Hodges, author of Taxi! A Cultural History of the New York City Cabdriver, a Colgate University professor and a former cabbie.
During the 1920s, a new technology — automobiles — drove the horse liveries out of business. But the Great Depression put too many drivers on the street, desperate for a fare. The fleet owners took advantage of the labor surplus, charging expensive leases or taking a bigger share of the fares. In 1934, tensions boiled over who got to keep a nickel surcharge. Taxi drivers rioted, beating up scabs and ripping off car doors. Strikes continued until 1937, when Mayor Fiorello LaGuardia established the medallion system.
"They reached back in the past for a system that worked for a long, long time.There is a long-term historic need to regulate drivers, to limit the number of taxis, to establish a set fare and a bond of attachment between the government and drivers," Hodges says. "In return, drivers get a protected workplace."
Lyft driver Shari Cronin, a single mother of five from Cumberland, joined in 2014 to supplement her part-time job as a technology sales specialist.
"It's fun," she says. "I meet a lot of different types of people, and you make as much as you want to make or as little. It's so flexible."
One driver's flexibility is a taxi company's nightmare. The industry — saddled with a lot of rules and a scruffy public image of dirty vehicles and drivers who don't speak English — is fighting for its very existence. They've launched a "Who's Driving You?" campaign to publicize the risks of summoning a ride from a peer.
Uber and Lyft do not conduct finger-printed background checks as cab companies do, and have claimed a superior vetting process using multiple databases. But whosdrivingyou.org contains a running list of Uber drivers alleged to have stalked, kidnapped, raped or assaulted passengers. Pedestrians in New York and San Francisco have been killed by Uber drivers allegedly in between or on the way to a fare.
"When a person gets in the back of one of our cars, they are trusting us with their lives," says John Olinger, the owner of All Occasion Transportation, a livery service based in Cranston. "They need to be regulating our industry."
Ellen Liberman is an award-winning journalist who has commented on politics and reported on government affairs for more than two decades.