Type A+
They share a common superlative—"most likely to succeed"—but these high achievers come from very different backgrounds.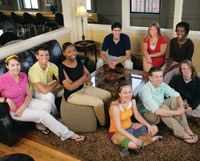 They are wise beyond their years, focused and determined, challenging and inquisitive. Some have overcome major obstacles and hardships.
The state's top seniors in 2007 are similar only in their high academic and community achievements. They are diverse in terms of race, ethnicity, religion, socioeconomic background, philosophy, interests and pursuits.
They are now freshmen at an impressive array of colleges: Harvard, Brown, Cornell, Vassar, University of Pennsylvania, University of Chicago, Connecticut College, University of Rhode Island's School of Pharmacy and Georgetown.
Just as they traveled different paths to reach these hallowed halls of higher education, they intend to study in an array of programs and envision themselves working in a myriad of professions.
HOPE HIGH SCHOOL
MARIAMA DARBOE
HER MOTHER'S STRUGGLE as an immigrant from Gambia and a single parent working to raise three daughters was powerful motivation for Mariama Darboe. "I saw my mom working so hard, and I wanted to make her happy," says the eighteen-year-old from Providence, who graduated with the second highest grade point average in Hope High School's Arts Learning Community.
Darboe's receipt of a full scholarship to Brown University surely made her mother happy. "My sister goes to Brown, and when I visited her there, I just knew it was for me," Darboe says. "They have an open curriculum, so I will only take courses that interest me. I really liked the students I met because there is no typical Brown student."
Darboe also got a taste of Brown life during an internship there that helped her focus her future career goals on neuroscience. Despite her intense interest in Brown, Darboe applied to ten colleges, including Duke University, Mount Holyoke and the University of Rhode Island. She was admitted to eight of the ten and says she was the only one of the ten Hope High students who applied to gain admission to Brown.
She played soccer for her school, volunteered at a local library, tutored elementary school students, taught middle-school students in the Providence Summerbridge program and held part-time jobs. She completed an after-school calculus course, one of two advanced placement classes offered in her school, a Princeton Review SAT preparation class and twice took the SAT.
"Students shouldn't compare themselves to other students," she says. "The colleges want to get to know you, not just your test scores."
WESTERLY HIGH SCHOOL
DORIE OBERTELLO
Dorie Obertello did not spend her four years at Westerly High School preparing a college resume. She would have pursued her activities and studies –– playing and coaching soccer, working on a political campaign, completing honors and advanced placement courses, helping lead a Brownie troop, and editing and writing for the school newspaper –– regardless of her post-graduation plans.
"Everything I've done was a passion," she says.
In writing for the school's newspaper, for example, she did not hesitate to wade into controversies. When some Westerly football players were suspended from the team after they were accused of drinking before a school dance, her column contended they had been aware of the rules.
While many young people do not bother to register to vote, Obertello not only voted on her eighteenth birthday (it fell on Election Day), she also spent several hours at the polls, waving a campaign sign for Democratic State Senatorial candidate Patrick Schmitt.
She is now a freshman studying political science at Vassar College. With the college's emphasis on broad-based education, however, she says she also could envision concentrating studies in English and art history.
Vassar was the only college to which she applied because she was certain it was a perfect fit. Her interest was piqued while researching colleges online. She first saw the campus almost by chance, while helping an older friend move in there.
"I loved it," she says. "I got a special vibe when I walked on campus."
She was so certain, she applied during the early decision process and was accepted by early winter, a time when many of her classmates were just beginning their application processes. As the oldest in a family of six siblings, financial aid was a big consideration, and Vassar offered her a full scholarship, she says.
She twice took the SAT, scoring a 700 in reading, 670 in writing and 650 in math. In a high school career punctuated by passions, testing is not one of hers.
"Standardized testing is not an accurate measure of intelligence," she says.
PORTSMOUTH ABBEY SCHOOL
ANNA BUCKLEY
There are those who understand global diversity and interconnectedness on an intellectual level. There are others who have experienced this firsthand.
Anna Buckley, nineteen, of Bristol, is in the latter category.
Born in Massachusetts, she has also lived in Florida and France. She learned in classrooms where teachers and classmates spoke French, while her brain processed English.
She also traveled to ten countries while living in Europe and, as a Portsmouth Abbey School day student, worked on two separate construction projects in Appalachia.
"I saw that the world is a big place," she says about living overseas. And about her trips to Appalachia: "It is so different there. Here, you don't see people living in houses that are falling apart."
Buckley was active in other ways at the Abbey, completing five advanced placement courses, competitively swimming for four years, serving as an assistant athletic trainer, acting as prefect for sophomore residential students, guiding visitors on school tours and counseling local fourth graders in a drug and alcohol-use prevention program.
College preparation is part of life at Portsmouth Abbey but Buckley says its students are not overly competitive. She completed a Kaplan SAT preparation course offered at her school and took the test twice. She scored a 720 in reading, 790 in writing and 660 in math.
She is a freshman at Georgetown University, one of seven colleges to which she applied and one of four to which she was accepted. She is striving for a career as a physical therapist because she has seen the wonders they work. Her uncle suffered a stroke, and her grandmother was paralyzed as the result of a car accident. She spent a week watching her grandmother's rehabilitation.
Because she applied to three colleges early and was accepted at all three, she escaped the most stressful part of the college application process –– the waiting game. She advises seniors to keep an open mind about the colleges they consider and to not be pressured into thinking they need to attend a big-name school.


WHEELER SCHOOL
JAY RODRIGUES
JAY RODRIGUES SAYS he has an innate will to achieve. Consider the path the Cranston resident took through four years at Providence's Wheeler School.
By graduation, he had completed three advanced placement classes; had become an adept classical guitar player; had completed a senior project, a documentary about the theater audition process; was president of the school's athletic association and struggled to find ways to play basketball despite a series of stress fractures. Rodrigues helped reintroduce intense school spirit by organizing a school-wide field day for a community service requirement; and was the first male recipient of the school's Spirit Giveth Life award for compassion, integrity and academic achievement.
Also consider his path from Wheeler to Wharton, a business school at the University of Pennsylvania. He secured a summer internship at Citizens Bank in Boston the summer following his junior year, rode the train there each day and ended his stint with hands-on experience of the financial world.
To boost his chances of admission to a top business school, he attended weekend one-on-one tutoring sessions in advance of twice taking the SAT. His best scores were a 720 in math, 730 in reading and a perfect 800 in writing.
He applied to Wharton under its early decision option. "I had all the other applications ready to go: Harvard, Boston College, Georgetown, Boston University, Columbia and Babson," he says. After admission to Wharton, the eighteen-year-old didn't file the other applications.


THE MET SCHOOL
OLUFUNMILAYO ODUNAIKE
Students at Providence's Met School spend two days each week at internships and complete several intensive, self-initiated projects.
Olufunmilayo Odunaike, "Funmi" for short, put all her energy and heart into each experience, whether designing a budget for a state business office, organizing and leading a one-week conference for Dutch educators interested in The Met School model, or working with the patient advocate at the Providence Veterans Affairs Medical Center.
Odunaike, eighteen, plans to earn her bachelor's degree in biomedical engineering before attending medical school.
Hard work and perseverance are qualities her parents helped instill in her, she says. "My parents always taught me determination," she says. "When my dad came here he had nothing. My mom was a young mother. " Her father emigrated from Nigeria and eventually owned a trucking company. Odunaike had her own obstacles. Her parents divorced two years ago, and she moved from her native Providence to live with her mother in northern Rhode Island. A heart condition forced her to undergo surgery at age four and it flared up again two years ago.
"My college essay was about that scare," she says. "I was not even sure I'd make it to college."
Odunaike is healthy again and is a freshman at Connecticut College, which gave her a full scholarship. She was accepted to seven of the eleven colleges to which she applied. Because of the non-traditional nature of The Met School –– there are no letter grades or student rankings –– she opted to not take the SAT, instead twice taking the ACT to qualify for college admission.


SCHOOL ONE
SAM TRIMBACH
Sam Trimbach of Providence was labeled academically talented in middle school and breezed onto the honor roll as a freshman at Classical High School. As a sophomore, however, he hit an academic wall. "In my freshman year, I got on the honor roll, but I wasn't doing any work," Trimbach says. "In tenth grade, my teachers demanded a lot more of me, and I wasn't ready to commit myself to the new workload." What he did was transfer to School One, a tiny private high school on the city's East Side. It emphasizes individualized, noncompetitive learning.
Trimbach thrived at School One. The school does not use traditional letter grades, grade point averages or class rankings.
As a college-bound junior he took the Scholastic Aptitude Test (SAT) just once and without formal preparation. He scored 730 in reading, 710 in math and 670 in writing.
Beyond books, Trimbach says School One's service requirement provided valuable life lessons. He saw new aspects of his native city while volunteering at Miriam Hospital, serving meals at a local soup kitchen and stumping for a Green Party candidate.
Trimbach, eighteen, is now a University of Chicago freshman who will likely study chemistry and linguistics. The school was his top choice of the ten to which he applied. He liked the provocative edge of the University of Chicago's literature that asked prospective students to ponder questions such as: "What would you see from a tightrope?" and "What's your favorite book?"
High school seniors should consider what they want from a college before making their decisions, he says. "Don't let your parents or your friends sway you."
MOSES BROWN
TOBY STEIN
If attending Harvard University –– one of the most venerable on the venerable list of Ivy League colleges –– is a student's objective, Toby Stein might suggest plenty of deep breathing exercises to help achieve that goal.
The eighteen-year-old from Providence is one of seven class of 2007 Rhode Islanders who are now freshmen at Harvard. He got there through hard work during his years at Moses Brown School, but also by knowing when it was time to relax.
"I do my work, but I'm lower key," he says. "I don't stress out. I mean, I always studied for my tests, but I would know when it wasn't worth it to study more than I needed to."
He took seven advanced placement classes over the course of three years, rowed for the school, was regional president of the B'nai B'rith Youth Organization. Moses Brown emphasizes community service, and Stein says he volunteered at the Rhode Island Community Farm the summer following his sophomore year and interned at the Providence Preservation Society after his junior year.
When it came time for the SAT, however, he took the tests just once and did not complete any formal preparation course, instead buying a self-study book to help him review math concepts and vocabulary. He received high scores, but prefers that they not be published.
He also kept a fairly low-key approach to the college application process. He chose two Ivy Leagues — Harvard and Columbia — and applied to the former during the early action process. He was admitted to both.
He's uncertain where he will concentrate his studies at Harvard, but is considering joining the Peace Corps after graduation.
BARRINGTON HIGH SCHOOL
KELLY QUINLAN
Competition for college admission was stress-inducing enough for Kelly Quinlan of Barrington that she applied to eighteen colleges and took the SAT three times. "I applied to the most colleges of anyone in the senior class," she says. "I thought I was a long shot for most of them."
Admissions officials at twelve of those colleges didn't agree. Harvard University awarded her a nearly full scholarship and she is now a Harvard freshman.
Quinlan is the first in her immediate family to attend college. "I think it had to do with that I had to work so hard to catch up here," the eighteen-year-old says about her admission success. She came to Barrington in the middle of her sophomore year.
Quinlan spent her early childhood in a tiny Maine town. When she was five, her mother died, and just seven years later, her father also died. She later moved to Barrington to live with her grandmother who encouraged her to apply to Harvard.
Quinlan was about a year behind many of her college-bound classmates when she moved to town, but took full schedules of classes without study halls and taught herself Spanish. She ultimately took two advanced placement courses as a senior. Her best SAT scores were a 780 in reading, 610 in math and 710 in writing.
Passionate about the theater, she participated in the high school's drama and music programs, community theater groups and interned at Trinity Repertory Theater.
At the end of her senior year, though she advised college-bound students to take the application process in stride, she remained a bit anxious about fitting in at Harvard. She wondered whether there would be other students like her there. Would they have fun, sleep the night before exams and sometimes forget homework?


MOUNT SAINT CHARLES ACADEMY
JOSHUA CORRIVEAU
Time management is the key to combining a full school day loaded with ad- vanced placement courses, with an average of four hours of daily study, at least two part-time jobs, volunteer work, varsity swimming, equestrian competitions and, oh yes, some fun.
Joshua Corriveau, seventeen, says impeccable time management skills are what enabled him to maintain a jam-packed schedule throughout his years at Mount Saint Charles Academy in Woonsocket. This and his perfectionism earned him the slot as the class of 2007's valedictorian and a full, six-year scholarship to the University of Rhode Island's pharmacy school, his top choice of the five colleges to which he applied.
"I was very strict with myself on grades," says the Blackstone, Massachusetts, resident. "Anything less than an A-plus was not acceptable. My best friend here was the salutatorian. We were not pitted against each other. We studied together and helped each other."
His powerful motivation has served him well. He started working part time at thirteen and saved enough money to buy a horse. Although he later sold that horse, he still rides four days a week and often works at horse shows. His work ethic also kicked in when it came time to prepare for the SAT. He took a summer preparation course and took the tests twice, and his best scores were a 680 in reading, 650 in math and a 750 in writing.
"I'm not the strongest tester," he says. "My downfall is I get nervous."
After completing his doctorate of pharmacy degree, Corriveau says he is likely to pursue a master's degree in business. He envisions a future working in a hospital and perhaps someday operating a horse breeding farm.
CLASSICAL HIGH SCHOOL
ARUN SWAIN
Earning the rank of valedictorian at Classical High School may seem accomplishment enough. For Arun Swain, that school's class of 2007's top-ranking student, the distinction was just one line on a long resume.
Swain, seventeen, who is studying nano-technology and engineering at Cornell University, took twelve advanced placement courses over three years in high school, headed the math team for four years, participated in the science Olympiad, was a debate team member, played soccer, tutored other students in chemistry and math two days each week and scored a perfect 800 on the math section of the SAT.
Add to that the fact that Swain was born in India and lived first in California and then on Long Island before moving to Providence as a high school freshman.
Swain takes it all in stride. "The environment here is to be active," he says. "No one here really just goes to school and goes home. What I liked here is that it was challenging enough, but at the same time it was lots of fun."
Swain took a Princeton Review summer course to prepare to take the SAT his junior year and besides his perfect math score, earned a 730 in critical reading and a 790 in writing. Despite this impressive scoring, he says it was not an unusual feat among Classical students and was even less atypical when considering the caliber of students competing for slots at top colleges nationwide.
"A couple of students here got 800s in math," he says. "You have to realize there are thousands of applicants like us throughout the nation." He applied to twelve colleges, and was accepted into ten of them. Getting caught up in the process led him to apply to several colleges he really did not want to attend. He decided on Cornell because of its diverse student body.