Tune In To "The Future of Arts Education: What's at Stake?"
Do you care about art? You'll want to watch this panel conversation, airing Thursday night on Rhode Island PBS.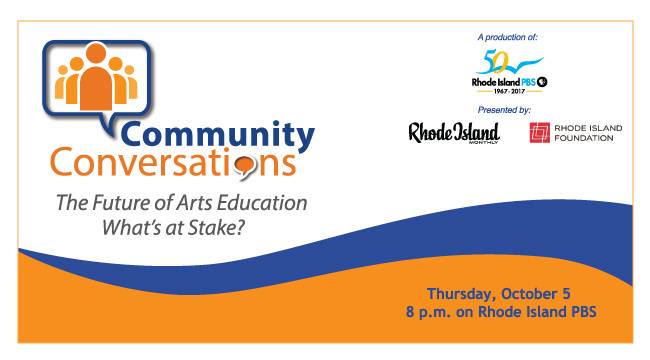 Earlier this year, I began working on a story about third-grade playwrights at the Manton Avenue Project, a nonprofit program where students from the Olneyville neighborhood in Providence write plays after school. Their words are then brought to life by professional actors from the state's theater community.
The playwrights I shadowed were incredible. It was their first time writing plays, and their prompt was Farm to Table. Along the way, they learned about agriculture, local food and healthy eating — not to mention a lot about themselves and their community. (You can read the full story here, published in the September issue.)
But I wondered: Are these kids getting such rigorous arts programming during the public school day?
No surprise: They aren't. Their third-grade teacher at D'Abate Elementary told me that, over time, the arts programming had been cut in half and the school lost its dedicated art room. The kids get a half-hour of visual arts and a half-hour of music per week.
After some digging, I discovered an equity gap in public school arts education, where kids from poorer neighborhoods receive significantly less arts programming than their suburban peers. But public school districts across the board have experienced decreases in arts education. It seems as if art is always first up at the guillotine. Why?
That's the basis of the panel discussion, "The Future of Arts Education: What's At Stake?"
Hosted by NBC 10's Mario Hilario, the panel — a partnership between Rhode Island Monthly and Rhode Island PBS, with support from the Rhode Island Foundation — was filmed in front of a live studio audience and airs this Thursday, October 5 at 8 p.m. on Rhode Island PBS. (Channel 8 for Cox subscribers.) The program is part of Rhode Island PBS's Community Conversations series.

The panel includes Rhode Island's Education Commissioner, Dr. Ken Wagner; Kerry Murphy, a visual arts educator at Johnston High School and Rhode Island's 2016 Arts Educator of the Year; and Daniel Lee White, the theatre artist in residence at Trinity Academy for the Performing Arts, a public charter school in Providence. I also sat on the panel to discuss the statewide and national data I discovered along the way. In addition to the conversation, the program features two video segments: one on the Manton Avenue Project and one on visual arts at Oakland Beach Elementary in Warwick.
It was a fascinating conversation, with an engaged, thoughtful audience in attendance. If you care about the arts — whether it's in a classroom setting, at a local theater or in our many galleries — you'll think so, too.
Tune in to "The Future of Arts Education: What's at Stake?" on Thursday, October 5 at 8 p.m. The program will also be available for viewing on RIPBS.org.
RELATED ARTICLES
The Manton Avenue Project Teaches Kids to Tell Their Own Stories
Making Bracelets in RI for Music Education
Shakespeare in South Providence

Save
Save
Save