Check Please: The True Cost of Dining Out in RI
While the state earns accolades for its culinary culture, local chef-owners struggle to make ends meet at restaurants.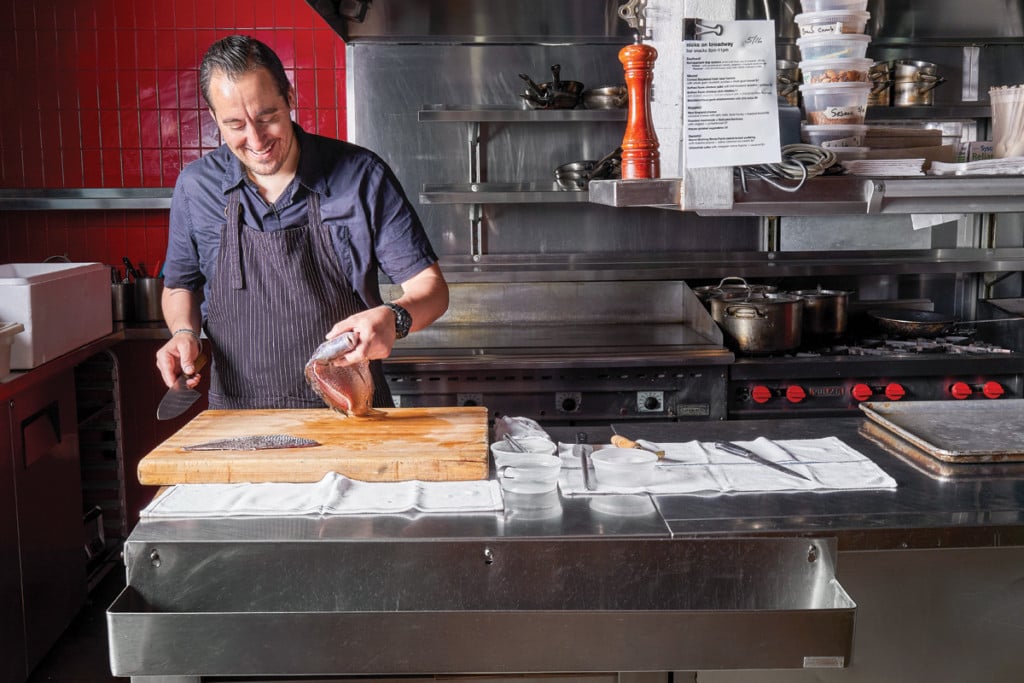 For many small restaurant owners, who put in a minimum of sixty to seventy hours per week and sacrifice holidays, weekends and family time for work, the passion for the craft is what keeps them going. "It's the only thing that matters," says Sukle, who will sometimes take a quick shift of therapeutic pasta-rolling to burn off some stress. Even though cooking is his passion, he's always pulled toward other management tasks.
Oftentimes he has to fill in for whatever position his staff is lacking at the moment. He could just as likely be managing the kitchen as he could be doing the dishes, which he did after Valentine's Day when they needed a dishwasher. "That's the second time this month and it's very much a reality," he says with a smile. "I don't mind doing it, but at the same time, I have been joking with my team that I've been this five-year stage at the restaurants, and I am just hoping one day I'll get hired. They joke with me and say, 'Come back tomorrow, we'll let you know.' "
Sitting at the counter on a Saturday night at Nicks on Broadway in Providence, guests can watch as the fast-paced kitchen staff transforms beautiful farm produce, fresh caught Rhode Island fish, local beef, pork and Baffoni Farm chicken into impressive, multi-course meals. No fewer than five cooks and two chefs, including chef and owner of sixteen years, Derek Wagner, can be seen hustling dishes on the line in front of the constantly blazing burners and an enthusiastic audience of diners.
The restaurant, which Wagner opened at age twenty-four, is well known for its brunch and tasting menu, and everything is created from scratch from the bread to the pates, pickles and sauces. He sources products from area farms, like Wishingstone Farm, Four Town Farm, Schartner Farms and Blackbird Farm, plus seafood from Point Judith fishermen. He also has his own garden where he harvests some herbs and produce.
At night, it's almost like he's operating a second restaurant for dinner. Cooking and plating the dishes is a labor-intensive endeavor that requires all hands on deck, especially when it comes to managing careful preparations for diners with allergies, of which there are many. On a recent visit, Wagner announces allergies for
everything from melon and peanut butter to milk and garlic sensitivities, and each of those dishes must be assembled separately to avoid cross-contamination. Wagner says about 40 percent of his costs go toward labor while the local food accounts for another 25 to 40 percent, and after that comes the overhead, including rent, licensing, taxes and other incidentals.
Wagner, who grew up in Smithfield and graduated from Johnson and Wales in 1999, keeps track of every task assigned and plate assembled amongst his kitchen staff. "John, you are fired on gnocchi. Fire two times. Go, go, go," Wagner says with urgency. "I need sauce pots. Somebody's on bread guys? I gotta fire meat."
Guests listen to the clatter of pots and pans being switched on the burners; they absorb the banter and teamwork amongst the staff as they plate John Dory and meat, delicate fried mushrooms, creamy polenta and colorful herbs; and they can smell and hear the sizzle of beef searing on the pan.
Wagner's dictating who needs help with what, while keeping track and taking responsibility for every dish that leaves his kitchen. "Both hummus are dairy safe, correct?" he says to a cook with stern conviction, before allowing the dish to be delivered to guests by a server.
It's a lot to keep track of during service alone, not to mention managing all of the expenses involved with running the restaurant itself. Not only does Wagner pay for all of the local ingredients on the plates, the rent and utilities, but he pays everyone working in the kitchen. All twenty-eight employees, including waitstaff, can also earn health insurance benefits, which Wagner pays for, too. He wonders how sustainable this business is for the next generation — the cooks who are training beside him. Could they handle what he manages? Is there hope for the future?
"In this current time, with rising costs of everything, not just food, but for employees, rental expenses, insurance expenses, commodities, beverage, fuel costs — all these costs that add on to the cost of doing business — where does this money come from to create the growth in order to entice a younger generation to stay the course or go into this business? And still be able to feel good about the work you do and pay the bills," Wagner trails off. "It's physically and mentally very difficult work because it's not just long hours; even shift to shift, it's demanding. It's a physical job."
Wagner, forty-one, married and a father of two young daughters, works seven days a week when the restaurant is only open five days, and he wonders about the sustainability of his profession, too. "Is it sustainable on a financial basis or a human welfare basis?" he says.
To answer that question, Wagner does advocacy work for chefs as part of the national organization, Chefs Collaborative, to help advance its mission to inspire, educate and celebrate chefs and food professionals using local, sustainable products and building a better food system.
"In the restaurant, we hardly ever talk about profit, because there almost never is any," he says. In December, Wagner says he was crunching the numbers and realized something that needed correcting right away. "I was going over it with my management staff, and we had one week where for every dollar that came in the restaurant, we spent $1.08," he says. "That's unsustainable. Here we are on the precipice of raising wages, of finding ways to create better benefits and higher salaries for staff, but how can we justify that? How do we make that happen? I am not asking the question because I don't want to do it; I am asking the question because I want to do it. I want to be able to sustain that."
He's trying to figure out the "how" by being involved with policy and advocacy on a national level. He tries to cut costs by cooking with the seasons and using local farm produce and seafood that's abundant and sustainable. He buys whole animals and fish, which is cheaper, and he does all the butchering and filleting himself, often posting photos of his work on Instagram into the early morning hours, long after service ends and staff goes home for the night. "I wouldn't ask them to work harder than me, so I will work twice as long to lead by example," he says.
He's realizing that the restaurant industry is changing, and some diners have an unrealistic relationship with food as far as costs go. The costs of everything have gone up with inflation, while the price of dining out has stayed arguably the same. Many of the newer restaurants are cutting costs by going the fast-casual route, offering counter service and eliminating staff, which is something he doesn't want to do. "It's one of the only ways people can come close to offering the same quality of food and keep prices low, but I can't serve a meal and have servers wait on you hand and foot with all the bells and whistles for that kind of money," he says.
The cooking is the part he truly loves most, but it's actually a very small part of the job. "At this point in my career and in my role, I do want to cook more but I also know that I need to help figure this stuff out," he says. "I see a huge responsibility in my role as both someone who's owned a business for sixteen years and as someone who is looked at in the community and by my staff for direction and as a resource."
But for now, he keeps burning the midnight bacon fat into all hours of the night.
It's 11 A.M. on a winter morning, and James Mark sits at one of the communal tables inside north restaurant at the Dean Hotel in Providence. His infant daughter, King, sits in her car seat next to him snuggled up with a bottle, cooing at her father as he talks. Mark wears a black T-shirt with a photo of King blown up on it, a Christmas gift from his wife. He brings King to work with him Monday through Friday during the day when he sources and preps, and he usually heads home in the afternoon or evening to drop her off with his wife, and after an occasional dinner together, it's back to the restaurant for him for the rest of the night. "My wife is a school teacher, so she doesn't make a ton of money and we can't afford child care," says Mark. "It's on us to tailor our schedules around her."
He sits and chats about the hardships of owning a restaurant while three of his ten full-time kitchen staff members prep for the day in the open kitchen. Mark, thirty-two, graduated from Johnson and Wales in 2008, and most of his staff also graduated from the culinary school. Early in his
career, he worked 100-plus-hour work weeks at Momofuku Ko and around eighty at Milk Bar in New York City, where he baked bread overnight, often taking naps in his car or in the basement to get some rest.
Mark burned out and returned to Providence, where he wanted to open north, but worked at Thee Red Fez and Nicks on Broadway for two years before making it happen. North has been open five years, and over the last three, he's continuously worked seven days a week. "This is my sixteenth year in this industry. It's over half my life. I don't know another lifestyle," he says. "The idea of working seven days, that sucks, but it's all I know, and I'm used to it. I can do it."
Recent challenges included moving north from the original small location at 3 Luongo Square on the West Side of Providence to the larger, more accommodating Dean Hotel space, and having to raise menu prices after avoiding it for so long. He also made the tough decision to close north bakery, a place that was renowned for its terrific cookies and handpies, and reopen the first north location in Luongo Square as a new restaurant, rather than run three places at once.
The new place is called Big King, named after his grandmother (his daughter is also named after her). The menu includes raw, charcoal grilled and fried seafood and vegetables alongside sake. While still owning north, Mark has returned to the kitchen at Big King, while his right-hand man, Andrew McQuesten, has been named executive chef of north.
When it comes down to it, he says, it's a luxury to dine out. Because of this, Mark also donates 25 cents from each dish at his restaurants, alternating between the Rhode Island Community Food Bank and Amos House. "If I am going to be peddling luxuries, I want to at least be giving back in some way to the large subsection of our community that can't afford to go out to eat, that can't afford to even put groceries on their tables sometimes," Mark says.
Dining out is a luxury because it's expensive to pay farmers and fishermen what they deserve to be paid for ingredients, and it's expensive to pay cooks and other industry workers who deserve a living wage and basic human needs like health insurance, which he covers for many employees. Good food is expensive and it should be more expensive. It's cheap food we have to worry about, he says.
"People need to understand that inexpensive food is exploitative to somebody down the line, whether it's a farmer that's using bad farm practices or exploiting animals or exploiting farm labor, or if you are buying from a good place, a restaurant owner exploiting their workers," says Mark. "Or at the very end of it all, like we were doing at 3 Luongo, a restaurant owner exploiting themselves to artificially suppress prices because you felt you had to keep the prices low."
Mark didn't take a pay for years. He revealed this fact more than a year ago in an open letter to his customers, "a special message about costs" that was posted on north's website: "I am left with a choice: cut out some of the programming we have worked so hard to build — the relationships with farms, the culture of kitchen careerism — or raise some prices," he wrote. He's counting on diners being open to paying more in exchange for knowing that they are supporting the community of farmers and fishermen in this state, as well as making sure "the people that work extremely hard every day to make that plate of food hit the table deliciously also are able to go home to a decent life."
Since the original north moved from a twenty-seat restaurant to a fifty-seat restaurant, and prices have been raised, there's been some improvement in profit. "We moved here and it was a good move for us. It made the business much more sustainable," Mark says. Now, he has only one or two more cooks at north for more than double the number of seats as the Luongo Square location.
A few months later, in the spring, as King approaches her first birthday, Mark says he's been able to take a nominal check since January. While sales dropped in the winter and costs are higher at the Dean location, he's optimistic summer tourism will help improve profitability, as he says it historically does for a destination restaurant like his.
He's hopeful for the future of both restaurants. "We're not ballin', but we're at a better place than with the old place," says Mark. But it doesn't come without having to make other adjustments with a growing and soon to be more active toddler. "On the other hand, my wife had to go down to part-time for work to assist in child care."
These chefs and restaurant owners are passionate about what they do, but the work is not without its financial stress and challenges. So what's the solution? How can the city maintain these amazing restaurants that earn so many accolades for the Providence dining scene, while they purchase products from our local farms and fishermen and pay their staff fair wages? The answer may seem complicated, but it's actually very simple.
"We have to say, 'How can we make this work?' " says Wagner. "If that is everyone's real goal, then they have to participate in the solution, and be open to the idea that, you know what, I might have to pay more when I go out and I have to be okay with that."
Artisan local food restaurants might blend into the culinary landscape of big cities like New York, Chicago and Los Angeles, but for Rhode Island — famous for overflowing pasta plates and fried calamari — it's sometimes an uphill battle.
Venturini thinks more can be done when it comes to controlling costs by keeping tabs on everything from the napkins to the garnishes on the plate. The Rhode Island Hospitality Association also offers courses on operations management for business owners to help them learn where they can save. "They are going to go through everything they can possibly go through before they lay off employees," she says.
Customers can also be more educated about menu prices and the costs of running a business, and learn to appreciate restaurant chefs as they would artists. "They have to understand why they are paying what they are paying. The menu price is not just made up; it's there for a reason," says Venturini. "There is a formula that is used to come up with what the cost of that plate really is."
Paying more when dining out is a solution, but Mark is not sure the public will support it just yet. "The $15 plate of food in front of them is $15 worth of food and skilled labor," he says. "In my perfect world, I would present you a bill that has the breakdown of everything, so if your bill is $100; $30 goes to food costs; $30 goes to labor, so you could see it. It would be a very big bill because there are a lot of costs. Maybe that's my $1 million idea."
Benjamin Sukle moves delicately along the well-worn dirt path in the center of his herb garden planted inside a greenhouse at Roger Williams Park's Botanical Center. It's early April and a balmy 80 degrees indoors where beautiful bright orange nasturtium blooms climb a trellis, a bright and sunny juxtaposition to the gray sky and big white flakes that are falling outside during this unexpected early spring snowfall.
Sukle kneels before the tangle of herbs on the ground, which he calls an "organized chaos" of wood sorrel, rosemary, basil, chamomile and dill, each tuft of plants tangling together and creating new flavor profiles just by growing next to each other. The towering six-foot-plus chef tiptoes amongst the beds' paths and enthusiastically snaps off sprigs and leaves for tasting. The herbs are picked every day to be used for flavor and garnishes on plates at birch. "At birch, it's much more intimate," he says. "There's a lot more interaction between guests and cooks. We'll explain dishes and there's a whole story behind it. There's a certain level of pride from growing your own vegetables and produce."
They're also growing some seeds given to them by Dan Barber, the renowned chef and co-owner of Blue Hill in Manhattan and Blue Hill at Stone Barns in Pocantico Hills, New York. Barber's seed company specializes in genetically modified vegetables and herbs. Sukle and crew are nurturing baby squash you can eat whole like an apple, cucumbers with less water and habanada peppers, or habaneros without spice. If all goes well, guests will get to experience the fruits of labor this summer.
While Sukle's explaining the garden's layout, one of birch's cooks, Kyle Palmer, arrives with a wave and a smile. The twenty-something cook has been working at birch for four months, and he eagerly walks amongst the herbs picking leaves and sprigs that he'll use that day for his culinary creations. His eyes light up as he looks at some microgreens that he planted that are growing fast in the greenhouse. He looks forward to serving dishes bedecked with the herbs he picked directly to the guests at birch's counter.
"Especially with the amuse bouche, which is this little first bite," Palmer says, holding up his fingers to demonstrate the size of the edible mini bouquet. "All of the herbs come from the garden, and they see this cluster on top, and I say, 'Every herb you see here, we grow ourselves.' "
Sukle teaches Palmer about the different stages of herb growth, like when parsley bolts by splitting its leaves, then forms flowers and seeds, which can then be turned into capers. The garden allows the cooks to use every part of the plant and experiment with blossoms, stems and seeds.
"There's a fish dish at birch that encapsulates everything that's in here, some of the lettuces and greens that are so vibrant and alive," says Sukle. "We make a broth that's seasoned with the herbs and take the nasturtium flowers and make a glaze out of them with honey."
Sukle comes to the garden every morning not just to maintain it, but because it's therapeutic. It's also a good way to get cooks excited about their jobs, and to inspire them to work hard. Sukle works about sixty to seventy hours per week in his restaurants, but he says the mental hours of owning them never turn off. "There's a certain level of martyrdom that goes along with restaurants that are open like mine that you need to get over," he says quietly. "That has to do with thinking it's all about the product, but you've also got a life outside of the restaurant that you should probably plan for. As much as it might feel selfish, it shouldn't."
This is Palmer's third trip to the garden this week, too. "It would be really easy to just buy all these herbs," Palmer says. "But we're not here for the easy thing. It's really about knowing where your food is coming from."