Check Please: The True Cost of Dining Out in RI
While the state earns accolades for its culinary culture, local chef-owners struggle to make ends meet at restaurants.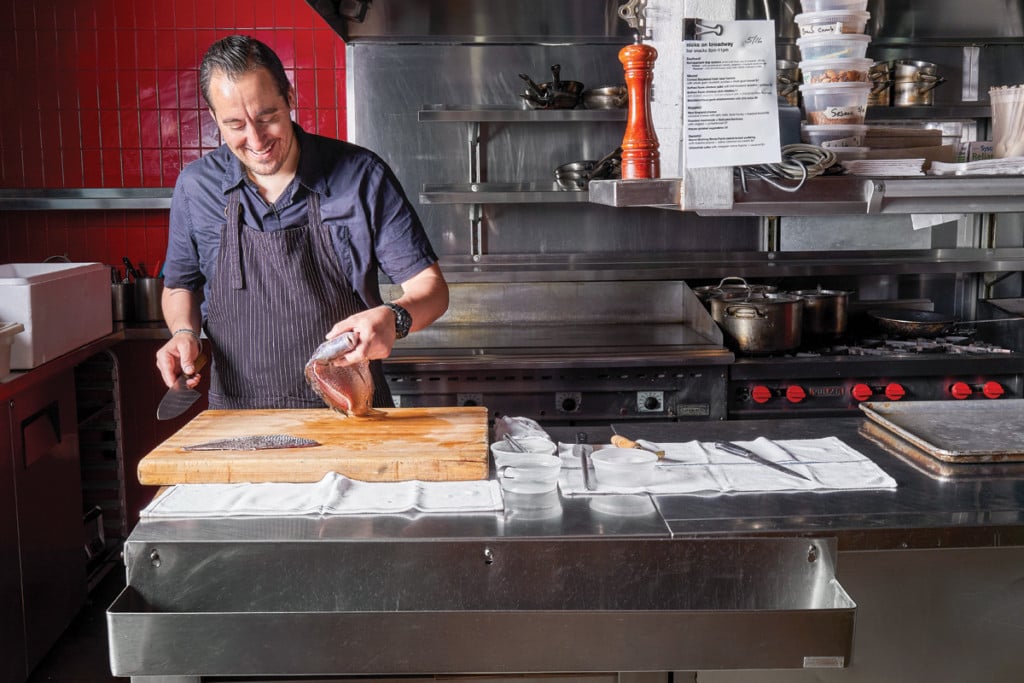 Benjamin Sukle tosses and turns at night over $11. It shows in the corners of his bright blue eyes and his tousled brown hair. The chef and co-owner of birch restaurant recently raised the price of his four-course menu another $5 to $60 per person, up $11 from its original $49, and the decision is stressing him out. "I am losing sleep over $11, but that makes my food costs go down, which means more can go into paying rent," he says.
Sukle's lauded but tiny eighteen-seat restaurant opened with much anticipation in 2013 on Washington Street in Providence, featuring counter seating and creative, modern cuisine using the best produce of New England's seasons gathered from local farms and fishermen. It's the type of place where chefs deliver plates directly to guests and tell stories about where the ingredients come from: squid collected from the docks of Point Judith; herbs harvested that morning at the restaurant's greenhouse garden at Roger Williams Park's Botanical Center; and sugar kelp grown by a Jamestown oyster farmer.
In the five years birch has been open, thirty-three-year-old Sukle, a Johnson and Wales University graduate, has been nominated as a finalist for Best Chef: Northeast by the James Beard Foundation several times, including last year for his work at birch, and this year, for his sister restaurant, Oberlin, a bigger, more rustic-style restaurant that opened down the street from birch in 2016. Birch has also been included in Bon Appetit's list of "Top 50 Best New Restaurants in the Country," and Oberlin recently earned a coveted review from Pete Wells of the New York Times as well as a top ten mention from Bon Appetit.
Sukle's restaurants have captured national attention along with some other great city eateries including north, Gracie's, Nicks on Broadway, Persimmon and others, which have all helped build Providence's reputation as a culinary capital. These chefs are also graduates of Johnson and Wales University's culinary school, and the fact that they've chosen to remain in Providence to open or work at these restaurants is a credit to the school and the city.
"I think Rhode Island is a culinary mecca. I give Johnson and Wales credit for this as the incubator, because even though the chefs may not all come from Johnson and Wales, they've learned from other Johnson and Wales chefs," says Dale Venturini, president and CEO of the Rhode Island Hospitality Association. "It's like tentacles that have gone out to so many different restaurants, and when they own their own, they've still left their mark in all the places they've worked."
Providence has been ranked as the city with the most restaurants per capita in the nation, right ahead of San Francisco. The National Restaurant Association cites 2,798 food and drinking establishments in Rhode Island with a projected sales of $2.4 billion in 2017. The Rhode Island Department of Health documents 816 food service establishments in Providence alone, with more on the way. The downtown area is saturated with so many options for dining out in close proximity that it's a wonder how all of the businesses can stay afloat with a city population just shy of 180,000.
Even with these restaurants' accolades, competition is fierce and bad-weather winters are brutal. It can be tough when college students leave and the arts scene breaks for the summer. It's becoming increasingly difficult for some restaurant owners to take a pay for themselves.
The industry average for food costs at a restaurant is 33 percent; it's closer to 40 percent for those buying from local farms and fishermen. Rising rent, food and labor costs have called for an increase in menu prices, but that might not be enough. In May, a one-year-old restaurant on the West Side of Providence, Pastaio, closed because of the high costs of running a small restaurant that relies on local ingredients.
"There's a saying that goes, 'To make a small fortune at a restaurant, start with a large fortune,' " says Venturini.
Many of these fine dining, local food-driven restaurant owners are not getting rich off of $25 entrees and $12 glasses of wine. It's quite the opposite: Some can barely scrape by on low profit margins. On the outside, they might have a line out the door on a Saturday night or weekend morning for brunch, but it's a different story on weekdays, and especially during the winter.
"Friday and Saturday nights don't pay the bills," says Venturini. "Yes, they're busy, but they need to be busy during the week, too."
Getting a customer in the door is one thing, but getting them to return is another. "Because we have such great food, the consumer is more sophisticated and has a higher level of expectations," says Venturini. "You've probably heard this: 'I can make that hamburger at home for $3. Why am I paying…whatever it is.' You are paying for the food, but you're also paying to turn the lights on. The experience is not just the food. It's the service and everything else that is included."
Sitting at a table inside Oberlin, Sukle explains why he's decided to raise prices. Over the years, he and his wife, birch and Oberlin co-owner Heidi Sukle, have been able to pay staff, but there's not much left over for them. "We've been raising prices at birch, and that's because when it first opened, it was just me and two other guys in the kitchen, and Heidi was in the front of the house," says Sukle. "How we first opened was I was going to cook my ass off, I am going to live at the restaurant and we're going to be able to pay the cooks. There's this nihilistic approach, which is what we wanted, but priorities change."
Between the two restaurants, they now have about thirty-five employees, and 60 to 70 percent of the price of each dish goes into labor and food costs, then there's rising rents and other expenses in the mix. Oberlin picks up some of the slack with a more casual approach, fifty seats and the ability to use more product. "The restaurants have a symbiotic relationship," he says. At one point during an interview, he said he'd have to transfer money from Oberlin over to birch to pay a plumber to fix a leaking sink.
"There are only so many things I can stress about, so I don't know how long birch is going to last in the grand scheme of things," Sukle says. "We're renewing birch's lease this year, and starting negotiations. Part of me is very proud and wants to keep something like birch going because it's important, it adds some
integrity to the city that can support something like that. It's a nice thing to have."
Sukle does not take raising prices lightly. The chef fears people might look at the birch menu changes and consider it only for special occasions, or worse, think he's pocketing the money for his own gains. "I am not raising prices so I can line my pockets and buy seven cars. I still drive my hand-me-down truck that I was given from my grandfather when he passed away. It's a '98. I have yet to own a car in the 2000s," says Sukle with a laugh. A few weeks later, that trusty truck was crushed by a tree during early March's Winter Storm Riley. After the incident, Sukle upgraded to a 1999 Honda Accord.