Trinity Rep Named State Theater of Rhode Island
The theatrical company celebrated success with simultaneous plays House and Garden.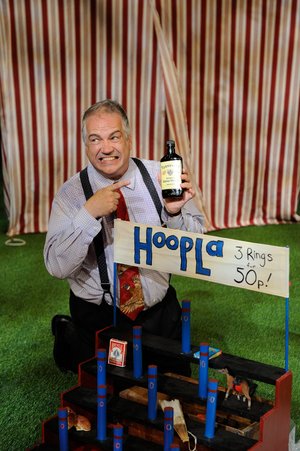 The first things you notice when walking into Trinity Repertory Company's production of Garden are the giant trees growing out of the floor and the flawless green grass blanketing the stage. Plants and bushes border the area and a dysfunctional stone fountain – worthy of a Newport mansion but filled with murky water – appears in the middle of it all. The scenery, created by renowned resident set designer Eugene Lee, makes it clear that the audience is in for a visual treat. It is this attention to detail and miraculous transformation of the stage that are a signature attribute of Trinity Rep productions.
So it came as no surprise when resident actor Joe Wilson, Jr. appeared on stage with members of the cast to announce that on Tuesday, Trinity Repertory Company had officially been named the State Theater of Rhode Island. What better way to commemorate the theater's fiftieth anniversary and honor its humble 1963 beginnings in the Trinity United Methodist Church. The Tony Award-winning company has produced sixty-two world premieres, mounted national and international tours, and, through the Brown University/Trinity Rep MFA program, trained the next generation of actors and directors, many of which appear in House and Garden. On that positive note, let the show (or shows) begin.
While we watched Garden in the first floor theater, the interlocking play House was being performed simultaneously in the upstairs theater. English playwright Alan Ayckbourn wrote the productions intending for the same actors and actresses to rush up and down the stairs to appear in both plays for two different audiences in one night. Spectators can watch either play in any order, as each tells a different side of the same story. To read Casey Nilsson's review of House, click here.
Garden begins with the quirky Joanna Mace (Angela Brazil), hiding in the bushes while the gardener (Barry M. Press) listens to his wife Izzie (Janice Duclos) talk about the garden party that will take place later that day. Other topics of her one-way conversation include an affair taking place between a married man and woman, resulting in the flattening of every bush in the garden. The gardener has also apparently been sleeping with his step-daughter, and Izzie repeatedly tells him at age thirty, she needs a father. The beauty of Press's role is his silence. His raised eyebrows, plodding gait and exasperated sighs say much more than words.
Meanwhile, we hear lewd noises coming from the bushes and Joanna emerges in tattered dirty clothes while neighbor Teddy Platt (Fred Sullivan, Jr.) stands by. We learn of their love affair, and as Teddy attempts to break it off, Joanna begins to lose her mind. After begging him to return to her but to no avail, she decides to come clean by telling her family and Teddy's wife, the truth – though most of them already know. The affair proves to be a very stressful situation for her son, Jake (Steven Jaehnert), who happens to be in love with Teddy's daughter, Sally (Bridget Saracino). Joanna's husband, a genuinely sweet and endearing Giles (Stephen Thorne), is the last to know about the affair, and he blames himself for her indiscretions.
Throughout the play, we see the affair wreak havoc on the families involved, though all the drama is worthy of a circus sideshow at the garden party. The fountain at the center of it all is symbolic for Teddy's philandering behavior, causing much laughter. However, I often felt like I was missing a part of the story or that I wasn't in on the joke (I haven't seen House), but I know this is intentional, and that I must see the other play for everything to really come together. Garden might leave you bewildered, but that just means you have another night at the theater to look forward to.
House and Garden are on stage through June 30. Tickets are $28−$68, and may be purchased by calling 351-4242 or visiting trinityrep.com.