Trendy Rhode Island Restaurants
These are the places you'll want to clog your friends' newsfeeds with pictures of -- and they'll thank you for it!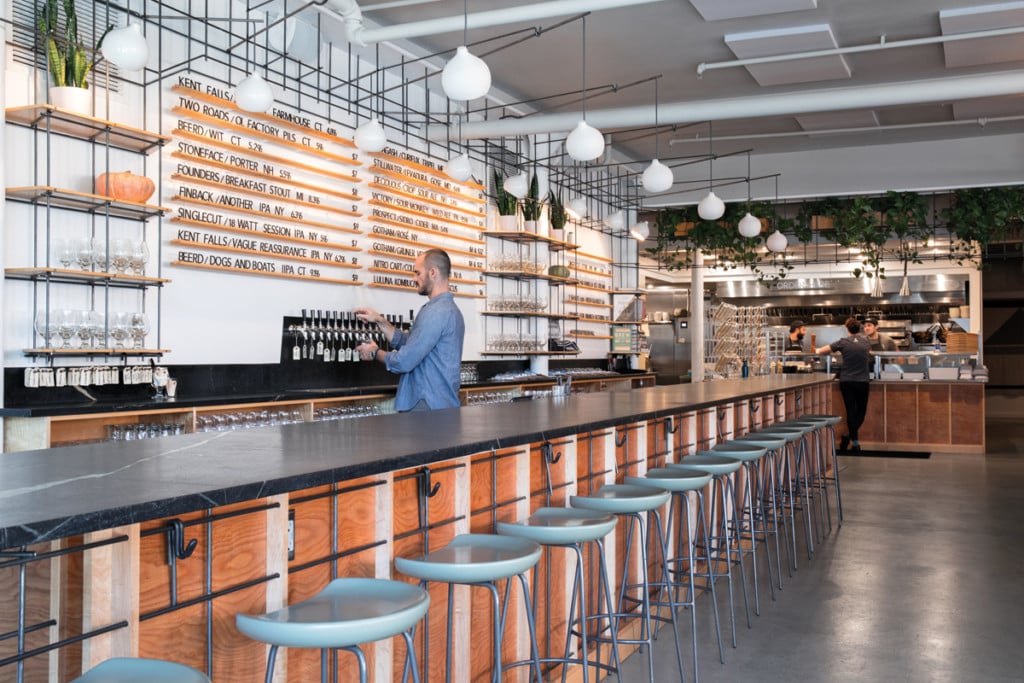 Bayberry Beer Hall
Location: Providence
Aesthetic: Instagram come to life, complete with pendant lights, an abundance of greenery and suspended chairs.
Menu: It's a beer hall, so of course it serves numerous local and international brews, but it also offers up snacks like sourdough pretzels and fried peewee potatoes, and entrees like Gastros hot dogs and chicken raggu.
Worth noting: The space is filled with long communal tables, meaning you're bound to make a few new friends every time you visit.
Bucktown
Location: Providence
Aesthetic: Picture a cozy, indoor picnic area.
Menu: Southern-meets-northeastern comfort food. Translation: The choices involve everything from fried green tomatoes and hush puppies with honey butter to crispy oysters and large shrimp plates.
Worth noting: Its use of underutilized yet delicious local catches — like fluke, cusk and monkfish — for its fish "sandos."
The Vig
Location: Providence
Aesthetic: Retro sports bar complete with moody lighting, hardwood floors and mid-century leather seating.
Menu: Chock-full of upscale American classics. Between the bread you can get fried chicken, a French onion burger and a duck confit grilled cheese, and on the plate you can get a grilled pork porterhouse, seared salmon and a bookmaker's toast (read: filet mignon).
Worth noting: Sports fan? It may look old-school, but the Vig's still boasts many a high definition flat screen, so you'll never worry about missing the big game (whether it be baseball, football, soccer, hockey, what have you).
Winner Winner
Location: Newport
Aesthetic: Despite the farm-reminiscent name and menu, we get relaxing, tropical vibes from the interior's chic palm tree leaf wallpaper.
Menu: All the chicken dinners, including dark meat sandwiches, buckets of fried or rotisserie chicken, and two or three-piece combos with a biscuit on the side.
Worth noting: No need to pay up the wazoo for a drink; you can BYOB all day and night.
Milk Money
Location: Providence
Aesthetic: Its exposed brick walls, reclaimed wood furnishings and cutting board serving platters give the restaurant a distinct sense of rustic-chic charm.
Menu: Very new-age with lunch options like hand-cut chips, quinoa bowls and warmed lentil salads and dinner options like Brussels sprouts with honey vinaigrette and sweet potato polenta.
Worth noting: Milk Money prides itself on only using the freshest, highest quality ingredients available in the state.
Schastea
Location: Cranston and Providence
Aesthetic: Warm. Minimalist. Zen.
Menu: A growing list of more than fifty premium loose-leaf teas paired with a number of savory (i.e. smoked salmon, three cheese and buffalo turkey) and sweet (i.e. blueberry, dark rum chocolate ganache and coconut delight) crepe selections.
Worth noting: While the lower level of the Cranston locale looks inviting enough, don't pass up the chance to check out the upstairs lounge. It has comfy couches and a full bar that mixes up specialty tea-infused cocktails.
---
These other #ontrend restaurants
Kleos, Providence
North, Providence
Zambrero, Warwick
Craft Burgers and Beer, Pawtucket
Troop, Providence
White Horse Tavern, Newport