Treasure and Ghost Hunting at Brown and Hopkins Country Store
One of the oldest country stores in America houses penny candy, vintage wares and a ghost named Ella.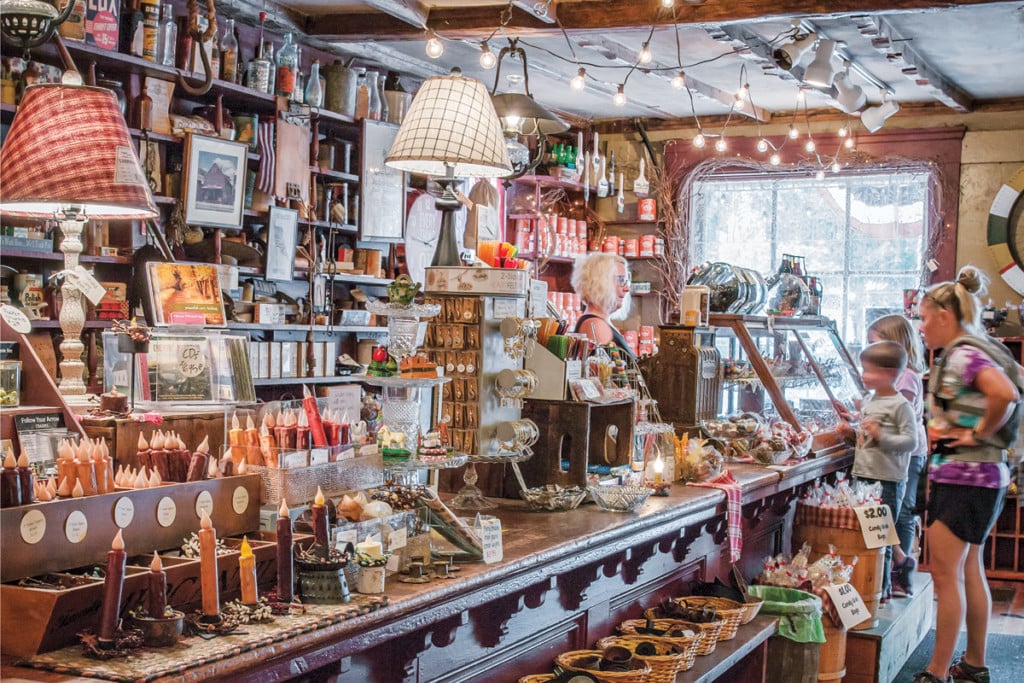 Where to Eat
The Village Bean
Open from 6 a.m. to 3 p.m., the Village Bean is the place to go for breakfast and lunch in Chepachet. The casual, inviting atmosphere makes it easy for families to enjoy the menu, which ranges from freshly made baked goods to breakfast burritos to hot sandwich melts. Grab a cup of coffee and a galaxy cinnamon bun in this cozy, cabin-like cafe. 15 Money Hill Rd., Chepachet, 710-9470.
A Short Drive Away
Cook and Dagger
If you want to feel good about what you're eating, stop by Cook and Dagger in Greenville. Using beef, pork and cured meats from Rhode Island-based purveyors, Cook and Dagger ensures that customers know where their meat comes from. Enjoy traditional American cuisine while supporting multiple local businesses. 566 Putnam Pike, Greenville, 349-392, cookanddagger.com.
Where to Explore
Purple Cat Winery
The Purple Cat Winery is the purr-fect place for food, drink and entertainment. Widely known as a winery and brewery combo, the Purple Cat also serves handcrafted drinks and grub at the bistro. But wait, there's more! While enjoying drinks and food, you can also attend performances at the Purple Cat Playhouse, an onsite theater that hosts a local performance troupe. 11 Money Hill Rd., Chepachet, 566-9463, purplecatwinery.com.
A Short Drive Away
Jaswell's Farm
Starting in 1899, Jaswell's Farm is a generationally owned and operated farm in nearby Smithfield. This summer, the popular farmstand and bakery will feature blueberries, sweet corn, tomatoes and more. Summer berry picking is also available to groups of twenty or fewer during weekday hours. 50 Swan Rd., Smithfield, 231-9043, jaswellsfarm.com.
Where to Shop
A Village Coin and Bullion
Whether you're looking to shop or sell, A Village Coin and Bullion offers both options. In the store, you can buy coins and currency, jewelry and emergency preparedness supplies such as water purification sets, solar power kits and freeze-dried food products. You can also sell or get coins and jewelry appraised. 1191 Putnam Pike, Chepachet, 710-7200, villagecoinandbullion.net.
A Short Drive Away
Chamonix Antiques
Nick and Jess Rochefort started Chamonix Antiques in 2016. Their antiques are curated and chosen based on the strong style of the pieces. They carry furnishings from various design movements, from Victorian to Art Deco to Mid-Century Modern. 985 Chopmist Hill Rd., Scituate, 999-8899, chamonixantiques.com.
More Chepachet Haunts
The Tavern on Main
It's no surprise that more than just the living frequent this popular restaurant, which was built in the 1700s. Both patrons and staff have identified four ghosts at the Tavern on Main: a little boy fond of the women's restroom, a female believed to be killed by a jealous lover, a shadowy man and Thomas Dorr of the Dorr Rebellion fame. There's nothing scary about the food, however; try the seafood, veal or Sunday's Colonial cuisine or grab a seat at the bar and drink a spirit with a spirit. 1157 Putnam Pike, Chepachet, 710-9788, tavernonmainri.com.
Cady's Tavern
A staple in the Chepachet community since 1810, this bustling tavern is full of haunted happenings. The original building burned down in the 1920s, but it was later rebuilt just across the street and it seems the ghosts have followed. Several investigators have been to Cady's and found little activity on the main floor, but the upper floor appears to have several paranormal patrons. Among them are a solemn man and woman and a jovial little boy. While you don't have to worry so much about ghosts while eating wings or nachos downstairs, it's important to remember who else is staying in the tavern. So, make sure to order a hearty helping of comfort food in the case of a ghostly encounter.
2168 Putnam Pike, Chepachet, 568-4102.