Treasure and Ghost Hunting at Brown and Hopkins Country Store
One of the oldest country stores in America houses penny candy, vintage wares and a ghost named Ella.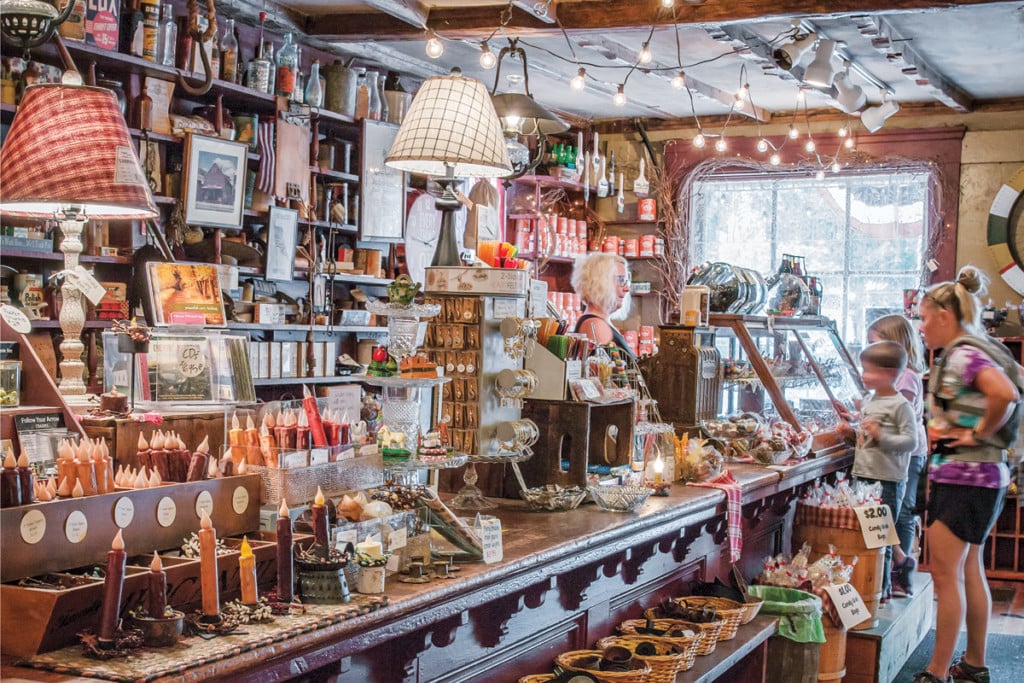 I never thought the day would come when the sight of a bonafide hitchhiker would catch memore off guard than the time I saw a six-foot, ponytail-clad man vaping as he navigated rush-hour city traffic on a hoverboard. And yet, as I drive down Putnam Pike and come upon a portly, white-bearded fellow with his thumb out, I slow down.
Not to offer him a ride — I've seen enough horror films where twenty-something blondes meet their demise in such a manner, thank you very much — but to marvel.
Up close, Mr. Hitchiker seems more like a Santa Claus than a Ted Bundy, but you can never be too careful. After I pass, I wonder if anyone else is feeling more altruistic and check my rearview mirror. A green pickup truck has pulled over, but I round a corner before I can see what happens next.
One thing's clear: Toto, we're not in Providence anymore.
Chepachet, a village in the town of Glocester, is starkly different from the concrete jungle where I've worked for the past four years, with its winding rural roads lined with looming trees and squat homesteads, generously spaced apart.
I count four deer corpses and two "No Power Plant in Northern RI" signs before I reach my destination of Brown and Hopkins, one of the oldest country stores in the United States. As I park, I note that the street is considerably busier than the ones I took to get here, boasting a post office, an antique store, eateries and more.
A bell jingles when I push open the door on Brown and Hopkins's forest green facade.Once my eyes adjust to the soft illumination of fairy lights, I see that every square inch of the interior is bedecked in vintage decor and trinkets. I hardly know where to start, but then on my right I hear a chorus of greetings from the employees behind a long counter. When I mention that I am here to speak with the owner, one employee promptly scuttles away to fetch her, while another demands, "How tall are you?"
Seeing that I'm not wearing heels and that we're of similar heights — about five-seven, five-eight — she delightedly exclaims that it's so great to see another tall woman and then offers me a piece of candy. It's the closest thing I've experienced to Southern hospitality since my trip to New Orleans back in 2009.
Less than a minute later, Elizabeth Yuill, Brown and Hopkins's owner and operator of fourteen years, appears in the main foyer. A Rhode Island native with an infectious laugh, Yuill says she's always been in the country store business, having started out in customer service and later co-owning a shop down in Wickford. But once she parted ways with her old partner, she found herself in the market for a new venture.
"One day I bumped into an old customer — this is the cute part of the story — and she asked what I was doing now. I told her I didn't know, maybe I'll go get a part-time job at Brown and Hopkins," Yuill recalls. "She just looked at me and said, 'I heard they're thinking of selling.' The lightbulb didn't just go off in my head; it almost exploded. It's my dream store."
Yuill contacted a friend in real estate and then marched herself right to Chepachet, with which she was already familiar, having previously worked in nearby Scituate. The rumors were true: Brown and Hopkins was indeed looking for a buyer and, as Yuill says, it all just worked out.
"I love working here. Someday down the road I am hoping to retire, and I would love to put that in the story in case anybody is interested in taking over the reins of this great tradition!"
And it certainly is a tradition. Originally constructed by Timothy Wilmarth as a residence and hattery in 1799, Brown and Hopkins became a general store when it was sold to Ira Evans in 1809. It didn't attain its present-day name, however, until 1921 when it was purchased by James L. Brown and William W. Hopkins.
"Back then, it would have sold anything from brooms, long johns and spices to straw hats and rifles and gun powder — all sorts of things that people would have needed to live in the 1800s," Yuill explains. "It probably transformed into a country store in the late '70s, when country decorating became huge."
Today, Brown and Hopkins sells a little bit of everything. It still displays a lot of vintage wares and local products like jams, honey, maple syrup, soaps and soy candles, but it has ventured into modern trends, as well. There are bath bombs (made of goat milk powder, they retain a farm-like element), veggie dips and margarita mixes for entertaining, witty greeting cards, Stonewall Kitchen supplies, craft brew paraphernalia, dish towels, handmade clothing, wall art and more.
Still, despite being around for more than 200 years, the business has hung on to quite a few relics from the nineteenth century, including a twenty-four-foot pine wood counter that makes up not only the checkout area, but also the penny candy display.
From day one, Yuill had people asking if she planned to get rid of the candy counter.
"Absolutely not!" she says with a laugh. "People love it, and we do still sell some things for just a penny!"
There are also plenty of other antiques, from a tall potbelly stove that she describes as retired yet still admired to two dry sinks installed on the second level to a mysterious vault that Yuill says she's never managed to crack in the fourteen years she's operated the store.
Plus, they have Ella.
When I ask if it's true that the building is haunted, all of the surrounding employees laugh and nod knowingly.
"There have been a few encounters," Yuill says.
One time an employee happened upon an unknown woman with long brown hair in the upstairs bedroom, solemnly staring into an open suitcase. When the employee returned with a coworker, the figure had vanished.
"We don't know that her name is Ella," Yuill says. "But we do know that a woman named Ella Hopkins, the daughter of one of the original owners, did work here at one point. And Ella just seemed like a good ghost name!"
Yuill herself has had a few run-ins with the supernatural at the store. Once, while taking down a chandelier in the very same room where the suitcase anomaly occurred, she felt an odd sensation.
"After I put it down, I went to walk into the other room, but it felt like I was caught on something," she recalls. "Like something was pulling me back."
Her clothes were snag-free, but when Yuill looked back at the chandelier on the ground, it was spinning.
"I thought, okay, we're going to put this right back where we found it! Right where Ella wants it," says Yuill. "Funny enough, it's since been sold."
Over the years, both customers and employees have claimed they witnessed random flashes around the establishment, and paranormal investigators have visited and documented unexplained voice recordings (see for yourself on Brown and Hopkins's website). A former tenant of the upstairs living quarters even lined the windows and door frames with salt, said to ward off malevolent spirits. But Yuill doesn't believe the ghost of Brown and Hopkins is evil. In fact, she seems to be more good-humored than anything.
"We have a display of draped scarves, and a couple of times we came in to find that all of them had been braided overnight. Perfectly, too, with three strands and everything," Yuill says. "It would have taken someone a long time to do that, so we surely would have noticed if a customer had been messing with them the day before. It was freaky."
I would love to say the lights flickered or that I felt a sudden chill at some point during my visit, but the quaint store is the opposite of spooky. Even the supposedly haunted second floor feels homey thanks to its cabin-woodlands-meets-local-history theme (think adorable owl statues and George Washington prints). I find the area even less intimidating when Yuill reveals that, come Columbus Day, the entire upper level gets stripped and transformed into a winter wonderland.
"It's spectacular. Christmas is a huge time of year for us. You really have to come before Thanksgiving, though, if you want to shop our full holiday inventory, because we run out of things quick," says Yuill. "But our fall business does even better. We start prepping for that in mid-July. There's an order for apple and pumpkin butter on my desk right now."
One of the best spots for leaf peeping in the state, Chepachet is often considered a "perfect fall day" destination. Many people, local and non, will come for the foliage and stay for the apple picking at Snowhurst Farm, the scavenging at Old Stone Mill
Antiques and Treasures, the shopping and company at Brown and Hopkins and the good eats at Tavern on Main (also said to have ghostly inhabitants, for all you thrill seekers out there). Being a fall fanatic myself, I know for a fact that such an itinerary will certainly make its way onto my September/October calendar.
"Everybody thinks we're so far away," Yuill says when I tell her I plan on coming back. "We will get people in Cranston saying, 'Can you ship that item to me? It's too far of a drive,' all the time. But it's only twenty-five minutes, tops!"
Twenty-five minutes well spent if it means you get a little more hitchhikers, hauntings and Hopkins in your life, I'd say.