Thanksgiving Tradition with a Twist
From time-tested turkey recipes to the top-knotch tools of the trade, we have everything you need to pull off the best Thanksgiving ever.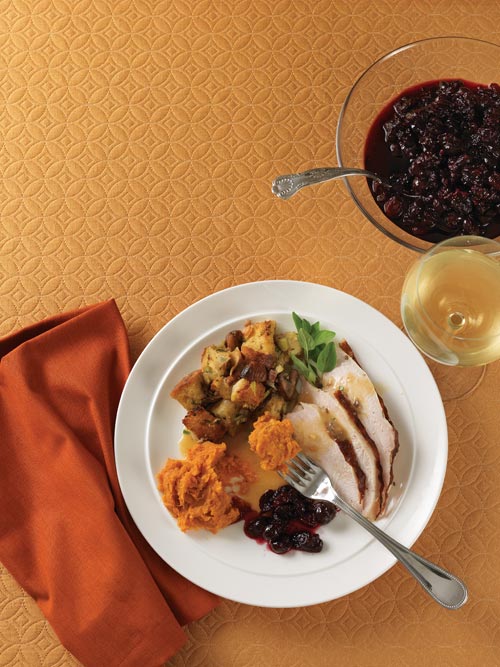 If there was a seasonal culinary oasis, it's Thanksgiving. Bare trees, Northeasterly winds — even a sixty-day boat ride tinged with scurvy — all lose some of their severity when the gravy hits the grub. It's also a holiday with a menu that has changed only slightly over four hundred years. We've stayed close to the tried and true with just enough variation to let you wander off tradition's path. After all, nothing says thanks like a mouthful of stuffing.
The Turkey
The size may vary, but the end goal remains the same: avoiding a dry turkey. Unless you have no way of keeping a submerged turkey cold, there's no reason not to brine your bird. Sodium helps the meat retain its moisture while sugar and herbs infuse the turkey with great flavor.
Brine
Plan on brining the turkey for an hour per pound. Since part of the brine needs to be boiled and then cooled, make this two days before Thanksgiving.
2 gallons water
1 ½ cups Kosher (or coarse) salt
1 cup packed brown sugar
1 lemon, cut into wedges
1 onion, cut into thick slices
8 cloves garlic, crushed
4 bay leaves
1 tablespoon dried thyme
1 tablespoon peppercorns
Place two cups of the water in a saucepan. Bring to a low boil. Add salt and sugar, stirring to dissolve. Squeeze lemon juice into pot and drop in rinds. Add all remaining ingredients. Keep refrigerated until ready to use. Add the additional cold water (30 cups) before adding turkey. Line a large stock pot (or small garbage can) with a heavy-duty plastic bag. Add turkey and brine and keep cool (about 40˚), brining 8 to 15 hours. Remove turkey and rinse completely. Discard brine.
Brine variations:
SWEET: Use maple syrup, molasses or honey instead of brown sugar.
GINGER: Chop 1 tablespoon candied ginger and add to the salt and sugar while cooking.
MUSTARD: Add 1/2 cup of Dijon mustard to the brining liquid.
APPLE: Use 1 1/2 gallons of water and 8 cups of cold apple juice.
HERB: Substitute rosemary or sage for the thyme.
Roasting
Though some people like to roast their birds at higher temps, avoid cooking brined birds at 400˚ or above because the sugar can cause them to burn
1 turkey, 12 to 20 pounds
1 onion, cut in quarters
1 lemon, cut in half
1 sprig fresh thyme
olive oil or butter
water or chicken stock
additional onions and carrots, optional
Position rack in bottom third of oven and preheat to 350˚. Add onion, lemon, fresh thyme to main cavity. You can also place a few slices of lemon and some herbs between the skin and the meat by sliding your hand between the two, creating a pocket. Tuck wings under turkey; tie legs together loosely to hold shape. Place turkey on rack or on a bed of onions and carrots set in large roasting pan. Pour 2 cups water or chicken stock into pan. Rub turkey all over with 2 tablespoons olive oil or butter. Cover with heavy aluminum foil.
Roast turkey 1 hour. Baste turkey. Remove foil and continue to roast until turkey is deep brown and thermometer inserted into thickest part of breast registers 165˚ and 180˚ in the thigh. It should take about 12 minutes per pound or 2 K hours for a twelve-pound bird, 3 hours or so for a fifteen pounder and 4 hours for a twenty-pound turkey. Continue to baste every 30 minutes. Cover loosely with foil if turkey is browning too quickly. Transfer turkey to platter. Tent turkey with foil and let stand 30 minutes. Pour pan juices into large glass measuring cup or fat separator.
Fry Away
Deep-frying has gained cachet in the past several years but, if you're opting for hot oil, there are some things you'll need to know and others you'll need to buy. The easiest way to get the job done is with a turkey fryer, basically a large (twenty-two- to thirty-two-gallon) stockpot with a perforated basket or tray to lift the turkey. A fifteen-pound turkey is about as big as you'll want to go; larger birds often cook unevenly and won't fit in a standard pot. Turkeys cook at 350˚ for three to three-and-a-half minutes per pound, which means a twelve-pound turkey will take about forty minutes.
Fryers come with propane attachments though some are electric. Both must be used outside (not on the wooden deck!) given the volume and flammability of oil. Grass or dirt is your best bet. Before cooking, place the plain (unseasoned) turkey in the pot and cover with water. Lift the turkey out, marking the fill line; this avoids an overflow of hot oil. Dry the pan and the bird completely.
If you brine your turkey it must be rinsed and dried completely. A wet bird will make for hot oil fireworks. You can also inject your favorite marinade into the meat about a half-hour before cooking. (Injectors look like extra-large syringes and are sold at cooking stores.) Fill the pot with corn, peanut or vegetable oil (all of which have higher smoking temps) and heat to 350˚ to 375˚ — this may take close to a half an hour. Gently lower the turkey, in its basket or lifter, into the oil. The oil temperature will drop but try to maintain 350˚. Internal temperatures of a fully cooked bird should read 165˚ in the breast and 180˚ in the thigh.
Tools of the Trade
As with any holiday, retailers push a host of Thanksgiving items that no one needs. (Do we really want a contraption that wedges lemons? Isn't that called a knife?) On the flip side, a handful of well-chosen tools will serve you (and your dinner) well for years to come.
Roasting Pan Get a hefty, aluminum-based roaster and you're set for the next decade. Opt for stainless on the inside or nonstick. (The latter is easier to clean, but you'll never get the sucs — the tiny burnt pieces — needed for a truly sublime gravy.)
Instant Read Thermometer Give up on your oven's variable thermostat. The only way to know for sure if your turkey's done is with an instant read: 165˚ in the breast, 180˚ in the leg.
Twine This is optional for smaller turkeys, but larger birds need a quick twist of twine around the ankles or you risk losing them, especially when they're removed from the pan. At $5 or less, better safe than sorry.
Baster Honestly: Are you going to try and dig a soup spoon into the oily depths of a roasting pan and then spend all night in the ER with second-degree burns on your hands?
Fat separator Gravy's not as bad as you think as long as you monitor the fat. Fat separators, which are measuring cups with a spout that comes out of the bottom rather than the top, skim off the grease without waiting for it to solidify. Allow warm drippings to sit for a minute and then pour out the stock to use in gravy.
Ricer Yes, it's one more thing to wash, but there's no better way to prep smooth mashed potatoes. Don't even think about using a mixer or blender unless you want to be chewing potato-flavored gum.
Carving Knife Eight-inch or longer, high carbon, full-tang, with or without grooves in the blade. Yes, a good knife is pricey. Yes, it's worth it. No, you don't need the matching fork for another $75.
Carving Board with groove Unless you want your juice all over the counter, get one with a channel