Top Dogs
Four sets of medical volunteers prove that comfort comes in all shapes, sizes and breeds.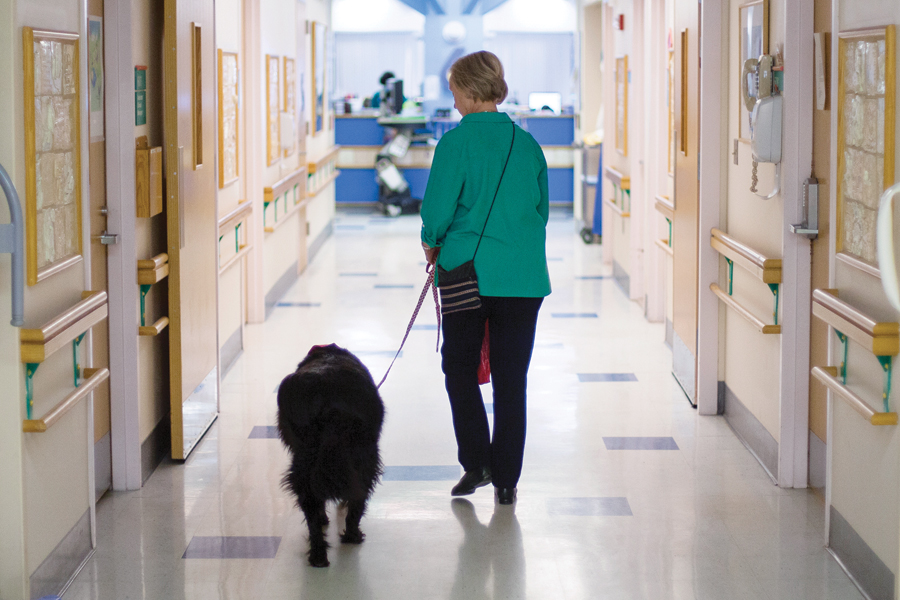 They're not trained to see for the blind or sense a seizure, yet therapy dogs take on all-important, oft-forgotten tasks in hospitals and nursing homes: They cheer up the bedridden, elicit giggles from sick kids and motivate the elderly to take one more step.
Studies show therapeutic pet visits reduce respiratory rate, pain and psychological distress. But volunteers for the two major animal-assisted therapy certification organizations in Rhode Island — Therapy Dogs International and Pet Partners — understand the root of it: Patients just feel good in the company of a tail-wagging, tender, all-around-friendly dog.
Auggie's a career-minded canine. He has a business card, is a dog blood donor — "which is exactly what it sounds like," says his owner, Peter Manning — and is employed as a certified Therapy Dogs International (TDI) volunteer, badge and all, at the oncology unit at Women and Infants Hospital in Providence.
The five-year-old black lab worked hard to get to this point in his career. In addition to regular vet check-ups, Auggie must annually pass a thirteen-point therapy dog evaluation to guarantee proper behavior in the hospital. He's tested on his ability to ignore bits of food on the floor, navigating a crowd, reactions to unusual situations and more.
Whether the pressure is on or off, Auggie's a pro. "His job is to be petted, to be attentive and sweet and to brighten someone's day for just a few moments," says Peter, a TDI evaluator and owner of the Pet Connection, a mobile pet-training service on Aquidneck Island.
Peter and Auggie are a perfect team to charm patients, doctors and nurses who must confront cancer on a daily basis. They stroll around the facility, seeking out people who might be interested in a little puppy love. Auggie's birthday is around the corner, so Peter breaks the ice by announcing the big day.
"Happy birthday, Auggie! Sit closer, my love," says Rose, who is finishing up her final chemotherapy treatment. Indifferent to the needle taped to Rose's hand, Auggie leans up for a wet kiss. Rose laughs, and Peter apologizes. "He'll clean your glasses for you if you let him."
Auggie snorts, sneezes, then heaves his front paws up on a free chair to say his prayers, a trick Peter orchestrates often in the oncology unit. Rose's parting advice: "Be nice to everyone here, Auggie."
"And you be well," says Peter, a southern gentleman trapped in the Carhartts of a bona fide New Englander.
"I will be," Rose says, "we caught it early."
Peter and Auggie's therapeutic visits often extend beyond the hospital doors. Just a few weeks before this visit, the pair attended a wake for one of the young victims of the Sandy Hook tragedy in Newtown, Connecticut. "This was unlike a hurricane or tornado," Peter says. "This was a human experience, and it was something Auggie was well-suited for. We just worked the receiving line; it was over a block long. It was an opportunity to redirect to something pleasurable — it's as simple as that."
A couple from Vermont, seated in the oncology waiting room, warmly welcomes the distraction. She's wearing a purple knit cap, looking down at her hands, and he's zoning out on a small television switched to "We the People." But when Auggie saunters in, the mood shifts.
"He looks just like Bella!" she says, waving Peter and Auggie over. And for one moment in what's sure to be a long day, she's not thinking about her cancer. He's not thinking the worst. They're not worried about work or bills. They're just looking at Auggie and seeing the dog that's waiting for them at home.
She won't pet him, no; her hands are just-washed. But Peter gives him a big rub on the head, and Auggie flops down on the spotted carpet by the woman's feet. "We have the same dog, they even sit the same way," she says, her bright green eyes peeping through a squinted smile. "What a good dog. A good dog with a good job."
After two hours of visits, Auggie climbs into shotgun for the ride back to Portsmouth — and a drive-through cheeseburger, his favorite post-work treat.
Jack: Jack of all Trades
If dogs could be citizens, ten-year-old Jack would undeniably be American. Mixed in heritage — a bit of coonhound; some beagle — Jack rose from squalid conditions to become a bimonthly remedy for the ailing and elderly.
Jack and his owner, Kate Fantoli of Coventry, were brought together in 2007 through Beagles of New England States (BONES). Jack was living in Maine with several other dogs in the care of an elderly man, a "hoarder situation," Kate says.
A BONES foster volunteer, Kate quickly fell in love with her twinkly eyed houseguest and took him in as her own. Jack's mild, sweet temperament inspired Kate to get certified for therapeutic pet visits through Pet Partners, a national organization that, unlike TDI, requires its volunteers to take a preparation course and be recertified every two years.
After trial-runs with different facilities, Kate and Jack found their way to Cedar Crest, a nursing home in Cranston that also houses Beacon Hospice patients. "We talked at length about difficulties with working with the elderly, some with a deteriorating mental state," Kate says. "But any sadness I feel is a small, small part of it. The happiness far outweighs the difficulties."
While Cedar Crest offers the quiet, predictable atmosphere best-suited for Jack's even keel, Kate had other reasons for choosing to work with the elderly — hospice patients in particular. "One of my grandmothers had severe dementia up until her death," she says. "Toward the end, animals got her talking. I want to give that to someone else's grandmother."
Jack, too, prefers Cedar Crest over the hustle and bustle of a school or hospital. He likes to hunker down on the tiled floor, squirming and sliding around to put a belly scratch within reach of a passerby. He can do a few tricks, but Kate, who trains therapy dog candidates at Your Courteous Canine in South Kingstown, knows that the presence of a dog is therapeutic enough.
"When we see someone with Alzheimer's or dementia, they're not interacting. But there's something about a dog that brings them back," Kate says. "Maybe they had to leave an animal behind, maybe they say, 'Well, I never liked dogs,' but it keeps them engaged on a personal level."
Doris Peasley, a petite eighty-three-year-old woman with a surging crest of black hair, is shuffling through some paperwork when Jack trots into her room for a visit. Doris leans down to give Jack a rub between the ears, and recalls her duly coiffed companion, Snoopy, an Irish setter. She remembers Snoopy's magnificent red coat, and his premature death. "He was a big puppy, but he was oh so good," she says.
Jack spots Doris's roommate, Gloria Richter of Cranston, sitting in a chair across the room and gazing out a window. He moseys over and lets Gloria cradle his head in her hands; she looks deep into his eyes and tells him how good it will feel to go home. Gloria's been in and out of Cedar Crest for rehab. "It's the sedentary life that keeps me coming back here," she says. "There isn't much to do at home besides read and watch TV; I'm not getting out walking to build my strength, and that's why I fall."
After learning that therapy dogs like Jack can schedule private visits, Gloria perks up. Her vision of a strong and lively future just got a little clearer.
Pepper: Trick Distraction
Sit. Shake hands. Speak. High five. Nose-to-mouth. Nighty night. Pepper, an eleven-year-old flat coat/golden retriever mix, can do it all. And her tricks don't go unnoticed by the patients at Hasbro Children's Hospital in Providence.
Pepper and her owner, Lynne Mallonee of Portsmouth, are a TDI-trained team that pays weekly visits to the children of the sixth floor at Hasbro. "The kids and the families and the staff — our visits really give them a break in the day, a sense of normalcy," Lynne says. A former director of humane education at the Potter League for Animals in Middletown, Lynne worked with Peter Manning of Pet Connections to earn her pet therapy accreditation. "It's really gratifying because I can still use her at work; dogs and kids are my thing."
Armed with a pack of dog treats, stylish black pants that hide Pepper's shedding and a bevy of commands, Lynne and Rona Principe, Hasbro's child life specialist, set out to brighten up the state's youngest patients. While Lynne can't predict how a child will react to her slow-moving black dog, she says Pepper's talents often warm them up.
On this occasion, however, the tricks of the trade aren't required. A squeal comes from a dark room. Fifteen-year-old Agnella Dougal pushes aside a mounted television with her right hand. She's been bedridden at the hospital for four days in recovery from an appendectomy, and she has two more weeks of rest at home. Her homework is piling up, and she's already itching to go back to school. Her mom tries to distract her with a movie, but only a chubby, aging retriever mix does the trick.
Agnella sits up, calling Rona, Lynne and Pepper into her room. "She looks just like Spot!" Spot was Agnella's first dog, a border collie who had the same long snout, shaggy black fur and skinny paws. She now has a chocolate lab and a German shepherd, but it's Spot she sees in Pepper's coffee-colored eyes.
Lynne asks if Agnella's dogs can do any tricks: "Sit and beg. That's pretty much it." The floodgates of conversation soon open. Agnella laughs as she explains her mom's habit of talking to their guinea pigs. A small hospital room with three new people crowding in and Agnella has no trouble sharing stories, thanks to Pepper. She giggles when Lynne defends her mom by calling her the "guinea pig whisperer." Agnella does a little of her own pet talk, stroking Pepper's snout and telling her what a good dog she is, how smart she is, how beautiful she is.
Ever the doting mother, Lynne pulls out Pepper's baby book for Agnella to see. Movies, Facebook and cell phones are all within reach, but Agnella and her mom crunch together and flip through, cooing at an eight-week-old dog that's quickly become a bright spot in a long hospital stay.
Pepper doesn't get very far from Agnella's room before a little voice asks: "Hey. Can I pet you?" A dark-eyed guy of three, Henry spent the last few nights at Hasbro Children's Hospital for epilepsy treatment. He holds out his hand in a compact fist and allows Pepper to sniff away.
Though he's sleepy and cranky and just wants to go to a restaurant for dinner, Henry pauses to play with the dog. "Nighty night," Lynne commands, tapping her foot in front of Pepper. But she doesn't want to lie down. Like any kid — big, small or canine — she wants to hang out with her new friend.
Pepper stares intently at Henry, but he knows the rules. Henry giggles, gesturing with a pointed finger for Pepper to rest her head. Lynne taps her foot once more, and Pepper concedes. But not for long. She'll give high-fives, dance in a circle, even fetch a squeaky toy and mouth-deliver it to Henry, which he promptly drops to the floor with a laugh and an "Eww." Doggy drool.
Winston: Visits with Winston
Four-year-old Winston, a regal-looking corgi covered in a cloud of downy fur, nudges a tennis ball toward Nancy Griggs's chair. He looks up, ears playfully perked, and nudges it once more. The ball hits Nancy's shoe; Winston's advances are deliberate.
"Oh, alright," she sighs, leaning with a bit of effort to retrieve and toss the toy. He doesn't catch mid-air, but Nancy knows he could; she gives him a bacon treat and a pat on the head for a good try under pressure.
Nancy and Winston first made each other's acquaintance in May of 2012. Nancy's daughter, Chris, wanted to do something special for her mom's birthday, which the seventy-four-year-old was spending in a Coventry nursing home while recovering from painful hip surgery. Nancy still has the birthday card bearing a promise of bimonthly visits with Winston — "as in Churchill" — a therapy dog who wanted to be her friend.
Winston and his owner, Lynda Ingalls of Richmond, are certified volunteers through Pet Partners and were evaluated at Your Courteous Canine in South Kingstown. Lynda is no volunteer novice; she once worked with the Professional Association of Therapeutic Horsemanship (PATH), which pairs trained horses with physically and developmentally disabled individuals.
"I wanted to bring Winston to the barn, since the kids were sometimes intimidated by the horses," she says, but the stable where she volunteered shuttered after the economy took a turn. So Lynda set her altruistic sights on pet therapy in nursing homes and scheduled her first — and only — client: the vivacious Nancy Griggs.
Winston and Lynda saw Nancy several times in the Coventry facility, but upon her release, the trio decided to keep up with visits in Nancy's secluded Apponaug Cove cottage. "Oh, I just love to see Winston," Nancy says with a cry. "He's very laidback, which was a good thing because I couldn't really do much after I had the surgery. But now that I'm getting better, come spring and summer we'll be out together a lot."
Though she still struggles with long walks, Nancy says she owes a portion of her steady recovery to Winston. He was there for some of her first steps after surgery, walking alongside her in physical therapy, and now motivates her to take strolls along the cove.
But perhaps most importantly, the visits award Nancy a bit of companionship in the midst of the cove's off-season, when nearly all of her neighbors relocate to warmer climes. "This is the time of year when we hold all the wild parties," she quips.
She sees her four children often, but they're busy with their own growing families and careers. And while she keeps up with her old colleagues from the Rhode Island Department of Labor and Training, Nancy says she enjoys the pressure-free visits with Winston.
"The dogs don't care what you look like, and you don't always have to talk," Nancy says. However unexpectedly, Lynda and Nancy formed a friendship based around gossip, old stories and, of course, Winston. The two exchanged Christmas gifts — a ragdoll gag-gift for Lynda and a photo of Winston with Santa for Nancy — and Lynda checks on Nancy during bad weather.
On this particular visit, Nancy is readying herself for a weekend blizzard. As she waves goodbye to Winston, stepping out into the cold rain and slush to see him off, she throws out one last joke about the inanity of buying bread and milk before a storm. "That's why I go to the liquor store; booze is the last to go bad," she says. "Bye, bye, Winston!"