Top Dentists 2013
177 dentists who will make you smile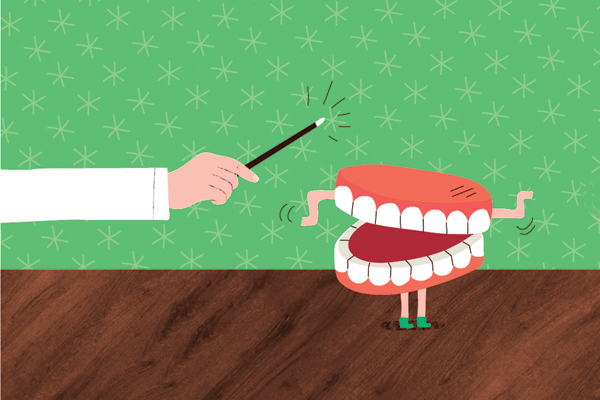 Insurance companies will be required to offer kids dental coverage once Obamacare takes effect. But will parents buy in?
By Ellen Liberman
When the state's Rhode Island Health Benefits Exchange opens for business in October, pediatric dental coverage will be among the essential health care services that are covered.
"That's big because most medical plans now don't cover pediatric dental," says John Cucco, senior policy analyst for the Rhode Island Health Benefits Exchange. "It's a new piece of medical coverage."
The American Academy of Pediatrics and the American Academy of Pediatric Dentistry recommend kids see a dentist by age one.
"Regular preventive dental care visits beginning in early childhood can reduce the need for restorative and emergent care, particularly for children at high risk of developing tooth decay," says Dr. Michael Fine, director of the Rhode Island Department of Health. "Many people do not consider tooth decay to be a serious problem for children, yet if ignored, the pain, infection and disability caused by untreated tooth decay may limit a child's ability to focus in class, leading to missed school days and falling behind, both academically and socially."
Nationally more than one in five children is not covered by dental insurance. Rhode Island children have fared better, with 89 percent insured for at least routine oral care. Some of that increase is credited to the introduction in 2006 of RIte Smiles, a dental plan for children born after May 1, 2000, who are eligible for state medical assistance programs, such as RIte Care. By the close of last year, 61,258 children were enrolled in the RIte Smiles program.
That doesn't mean, however, that children's dental needs are being met. According to Kids Count, during the 2010–2011 school year, 26 percent of third graders had untreated tooth decay. And between 2007 and 2011, 826 children younger than twenty-one, on average, were treated for a dental-related condition in hospital emergency rooms; fifty-six children younger than nineteen were hospitalized with a diagnosis that included an oral health condition.
"Access is improving, but those with disabilities still have challenges due to financial status and their special needs," says Dr. Shirley Spater Freedman, director of the Samuels Sinclair Dental Center at Rhode Island Hospital, which serves adults and children with special needs. "The biggest problem is lack of access to oral surgery. We are bombarded with calls from ERs."
Under the Affordable Care Act, the federal legislation governing the health exchanges, medical plans for the individual market and for businesses with fewer than fifty employees will be required to offer pediatric dental coverage. According to Cucco, if a stand-alone dental plan is available on the exchange, then the medical benefits plans sold do not need to cover pediatric dental service. State officials implementing the program here say that pediatric dental coverage will not be packaged with overall medical plans, because not all carriers were interested in offering it, and they wanted consumers to be able to make apples to apples comparisons for health plans.
The ACA only mandates that individuals buy medical insurance. Officials say a requirement to buy pediatric dental coverage, along with medical plans, would help to lower the overall cost, because the risk would be spread among all consumers in the pool. But, says Cucco, that may meet with some consumer resistance from people who don't want to buy it. Still to be worked out: who, if anyone, will be required to buy dental coverage for their kids.
Under-insured? No insurance? No problem. These professionals offer free and low-cost dental services to thousands of Rhode Islanders every year.
By Ellen Liberman
or hours in 2012, they waited in the summer rain for an appointment most people avoid like the dentist — except they had lined up, more than 800 deep — to see a dentist. According to the state Health Department, about one in five Rhode Islanders lacks dental insurance, and even among those who do, there is wide variation in what services are covered. The result? The uninsured and under-insured regularly forego basic oral care.
To Dr. Steven Brown, an oral surgeon and president of the Rhode Island Dental Association, the response to the state's first Mission of Mercy 2012 — a weekend of free dental care, first-come, first-served — said it all. "Unfortunately, in this economy, the population has taken a big hit."
Most dental professionals do informal pro bono work within their own practices, he says. Others, such as Arrowhead Dental Associates in Charlestown, offer a free dental day in conjunction with the national nonprofit, Dentistry from the Heart. One day in August, Arrowhead has twelve chairs staffed with dentists and hygienists who treat more than 100 patients. "Dentists are caring, compassionate people," Brown says.
Michelle Palmer of Donated Dental Services agrees. "Our participation rate is among the highest in the country," she says. "Our dentists and our labs are phenomenal. They really want to help these people."
Nonetheless, most dentists will not take patients on Medicaid, because the reimbursement rates have not risen since 1993, making Rhode Island among the lowest in the nation. The problem is particularly acute for low-income patients requiring oral surgery.
"It's near to impossible to find oral surgeons. We have our doctors ask their colleagues if they would help out. It's a difficult situation," says Lisa Pontarelli, director of dental services for CareLink Wisdom Tooth Mobile Dentistry.
The state is host to a variety of programs serving low-income and uninsured patients, including Rhode Island's community health centers' dental clinics. Here are some local low-cost and no-cost oral care programs:
Donated Dental Services
Sponsored by: Dental Lifeline Network, a national foundation with a local board of directors and volunteer dental professionals Treatments: comprehensive dental care Who's eligible: the permanently disabled, medically at risk or age sixty-five and older The details: This program is means-tested; applicants must lack adequate income to pay for dental care. On average, about 105 patients are treated each year. Last year, dentists contributed $325,401 worth of care, with the average treatment costing $3,000. More information: call Michelle Palmer at 866-572-9390
Give Kids a Smile Day
Sponsored by: the Rhode Island Dental Association; it's the centerpiece to National Children's Dental Health Month. This year, the program celebrated its eleventh birthday. Who's eligible: low-income children who do not have access to dental care, with or without insurance Treatments: chair-side education, preventive and restorative care. In 2012, thirty-four dentists, 116 dental hygienists, dental assistants and other volunteers provided screenings, education, fluoride treatments and sealants, X-rays, fillings and extractions to 653 children. The details: In past years, GKAS day has been held on the first Friday of February, but the possibility of winter storms may cause the day to be scheduled in the spring. More information: To make an appointment for your child (after the first of the year), call the Samuels Sinclair Dental Center at Rhode Island Hospital at 444-5284. Dental professionals interested in volunteering for the 2014 event, call Debbie Bergh at 444-7195. To make a donation, call the Rhode Island Dental Association at 825-7700.
Mission of Mercy
Sponsored by: the Community College of Rhode Island's dental hygiene clinic at the Lincoln campus, which one weekend each year becomes a large-scale dental office with digital radiography, a sterilization center and electronic dental records and more than twenty-five dental chairs. The massive clinic is run by the nonprofit Rhode Island Oral Health Foundation. In 2012, 654 dentists, physicians, dental assistants and hygienists, nurses, pharmacists and other volunteers donated $293,365 in services to more than 800 patients. Who's eligible: the uninsured and under-insured who can't afford a dentist Treatments: All patients get a health and dental evaluation, and then a treatment, on first-come, first-served basis. The details: There are no appointments, doors open at 6 a.m. and patients should expect a long wait to be seen. More information: Rhode Island Oral Health Foundation;
rimom.org
The Molar Express
Sponsored by: Ronald McDonald House Charities, which developed the program, and run by Thundermist Health Centers, East Bay Community Action and Comprehensive Community Action Who's eligible: kids ages two to twenty-one, at no out-of-pocket costs for those attending participating schools, Head Start or other programs provided by these agencies. Also limited opportunities for kids from non-participating institutions to receive services. Treatments: a mobile van program providing comprehensive dental services, the Molar Express goes to nearly 100 sites in twenty-one cities and towns throughout the state. Served more than 7,000 children since 2006. More information: call Tara Johnson at 427-4092 or email
tpratt@comcap.net
Still Smilin' Program
Sponsored by: the East Bay Community Action Who's eligible: patients in three East Bay nursing homes: Forest Farm Health Care Center, Grand Islander Center and Harris Health Care Center. The program serves about 100 residents. Treatments: a range of dental care services More information: call 845-0564
Wisdom Tooth Mobile Dentistry
Sponsored by: CareLink Who's eligible: fifty-three nursing homes, from Glocester to Newport, at no cost to the facilities. 2,200 patients are enrolled, with a waiting list of facilities that want to offer the program. Treatments: evaluations, fillings, simple extractions, denture repair, X-rays The details: Wisdom Tooth sets up a dental office within the nursing home, with a hygienist and a dentist that visit on separate days. Accepts insured, private pay and Medicaid patients. Each facility has a referral form for residents who wish to enroll. More information: call Lisa Pontarelli, director of dental services, at 654-4041