A Visit to the Tomaquag Museum in Exeter
This award-winning museum illuminates the culture and history of the Narragansett people.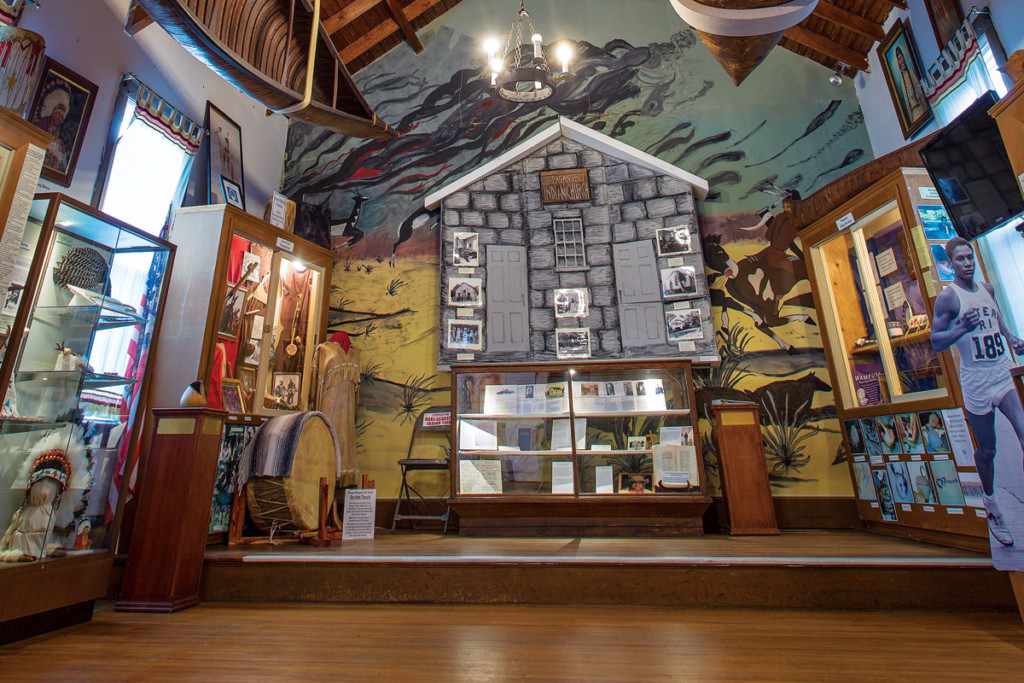 Where to eat
Cornerstone Pub
For the past six years, this spot has been the hub of Exeter dining. It may have "pub" in its name, but Cornerstone offers much more than the traditional casual fare. Start your meal with a seafood appetizer then move on to a sandwich, pasta dish or a nice, juicy steak. Cornerstone also offers daily specials that will divert your attention from your normal go-to meals. Enjoy the latest sports action on one of the big screen TVs while sipping on a cocktail or beer. 273 Nooseneck Hill Rd., Exeter, 385-3025, cornerstonepubri.com.
Middle of Nowhere Diner
The name doesn't lie. You have to really search for this place, but once you find the Middle of Nowhere Diner, you'll never forget where it is. You can order a hearty breakfast for dinner, sink your teeth into a burger or cut into one of many classic dinner entrees. You won't leave this place with an empty stomach or an empty wallet. 222 Nooseneck Hill Rd., Exeter, 397-8855, themiddleofnowherediner.net.
A Short Drive Away
Dan's Place
The vibe screams dive bar, the crowd is a mix of locals, bikers and people on their way somewhere, and the food is hearty with plenty of fried goodness. You won't want to miss the live music or the poutine and pickle chips, which are some of the best finger food you can find. 880 Victory Hwy., West Greenwich, 392-3092, danspizzaplace.com.
Wickford on the Water
Dog lovers know it doesn't get any better than being able to take your pooch with you everywhere you go, so make a point to bring them here. This casual waterfront cafe offers traditional American food for breakfast, lunch and dinner. Enjoy some clam cakes and a lobster roll (just one of a number of sandwich options) while your dog munches on a treat on the back porch overlooking the harbor. 85 Brown St., Wickford, 294-7900, wickfordonthewater.com.
Where to shop
Twisted Throttle
Exeter is a great town for motorcycle riders and fanatics with its long open roads and wooded trails, so of course the town has a couple of shops for riders to stock up on accessories and parts for their bikes. The employees at Twisted Throttle understand the mechanics of motorcycles and that each bike and rider is different. 570 Nooseneck Rd., Exeter, 855-255-5550, twistedthrottle.com.
Davin and Kesler
Thomas Davin and Mary Kesler are known for their handmade contemporary crafts, including the couple's gorgeous wooden jewelry. There's also a vast selection of items for your foodie friends and family, such as handcrafted sushi boards and chopsticks. 24G Dorset Mill Rd., Exeter, 295-7515, davinandkesler.com.
A Short Drive Away
Different Drummer
This is the ideal place to shop small and local, especially because it showcases many products and works by local artists. It's home to hidden treasures including distinctive handcrafted jewelry, pottery, artwork, ornaments and paper goods. 7 West Main St., Wickford, 294-4867, differentdrummerri.com.
URE Outfitters
Whether you're gearing up for backpacking, rock climbing, hiking, kayaking or canoeing, this place is the jackpot for your outdoor activity needs. 1009 Main St., Hope Valley, 539-4050, ureoutfitters.com.
Where to explore
Tilted Barn
For the past decade, Matt and Kara Richardson have been growing hops on their family farm in Exeter. In 2014, they opened their own brewery that focuses on New England-style IPAs that sell out quickly. Be sure to arrive early to head home with some four-packs of their hoppy brews. 1 Hemsley Pl., Exeter, titledbarnbrewery.com
Pine Ridge Shooting Range
This shooting range allows the not-so-sharpshooter to pretend they are one for the day. The indoor range measures up to 20,000 square feet and has ten lanes that are open to the public. The air filtration system makes it one of the cleanest ranges in the country. Pine Ridge also offers handling and shooting classes for those interested. 560 South County Tr., Exeter, 667-6133, pineridgeindoorshootingrange.com.
A Short Drive Away
Mystic Aquarium
A quick drive from Exeter, the Mystic Aquarium is a great day trip for the entire family. With an array of aquatic learning programs and animals, including beluga whales and African penguins, be prepared to explore the depths of your knowledge. 55 Coogan Blvd., Mystic, Conn., 860-572-5955, mysticaquarium.org.